High-powered BB rifles found at Antioch home where officer shot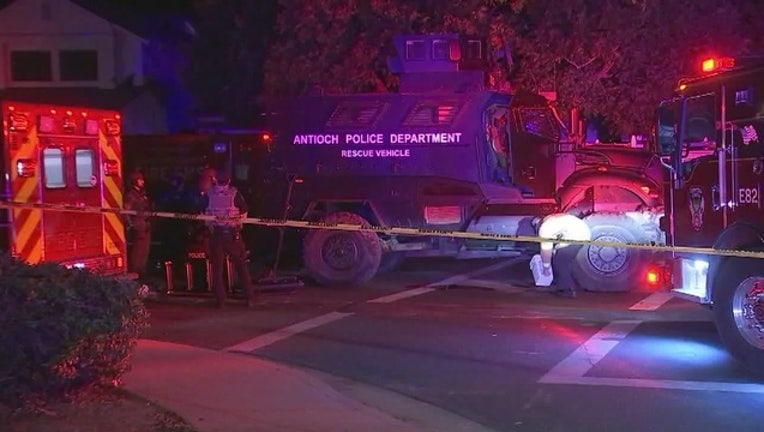 article
ANTIOCH (BCN) Two high-powered BB rifles and a BB replica automatic pistol were seized today at an Antioch home after a suspect shot an officer in the head and held police at bay for five hours, Antioch police said.
The 32-year-old suspect, whose name was not released, was arrested on suspicion of assault with a deadly weapon other than a firearm on a peace officer, criminal threats, and brandishing a deadly weapon at a peace officer.
Police were first called at 7:26 p.m. Monday to the home in the 4500 block of Deerfield Way by a neighbor who said the suspect had threatened him with a firearm, police said in a news release.
When officers approached the suspect's home, he called to them from an upstairs window and said he would be right down. When the front door opened, however, the officers were immediately fired upon with what turned out to be a high-powered BB firearm, police said.
One officer was hit in the head, and was taken to John Muir Hospital in Concord, bleeding profusely, according to Antioch Police Chief Tammany Brooks. The officer was treated and released, police said.
After the officer was shot police sent backup, including a hostage negotiation team, and the area was cordoned off and a shelter in place was established for the neighborhood.
During the standoff, one family member left the home and another stayed inside. Police didn't know whether the second person was being held against their will, Brooks said. It was also discovered that the suspect had a history of law enforcement contact in another city and that a firearm was currently registered to him.
Negotiators worked with family members to build a rapport with the suspect, leading to his peaceful surrender sometime after midnight.
A subsequent search warrant was served at the home, where two high-powered BB-type rifles were recovered, along with a BB-type replica of a black full-sized automatic pistol, BB ammunition and live pistol ammunition, according to police.
Anyone with information is asked to call Antioch police at (925) 778-2441 or Detective Gonzalez at (925) 779-6923. Tips may also be texted to 274637 (CRIMES) using the key word ANTIOCH.