Homework assignment for a 'fabulous weekend'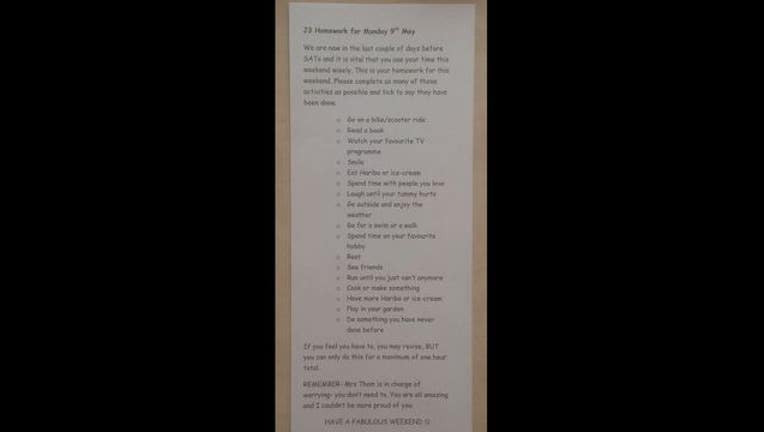 article
UPPER BUCKLEBURY, United Kingdom (KTVU) - A homework assignment for 6th graders at a school in England is gaining attention around the world.
The homework assignment is reminding students it's important to manage stress and live balanced lives. 
The assignment was handed out the weekend before testing and warns, "It is vital that you use your time this weekend wisely. This is your homework for the weekend. Please complete as many of these activities as possible."
The assignment contains 16 items that include simpling smiling, watching a 'favourite TV programme,' eating ice cream and "running until you just can't anymore." 
In a statement the head teacher acknowledges the importance of testing. "What children value is understanding where they are, what the goal is and guidance on how to close the gap. Whether it is teacher feedback, peer dialogue or a summative test, assessment is best for the child when it seeks to identify gaps in learning upon which future teaching can be based." 
The head teacher adds, "We strive to provide an education based on knowing every child, enabling personalised provision that is exceptionally delivered. If we get it right we will be passing on well-rounded pupils."
As of Thursday morning, the schools tweet about the homework assignment had been re-tweeted more than 293 times.