Housing activists shut down Oakland City Council meeting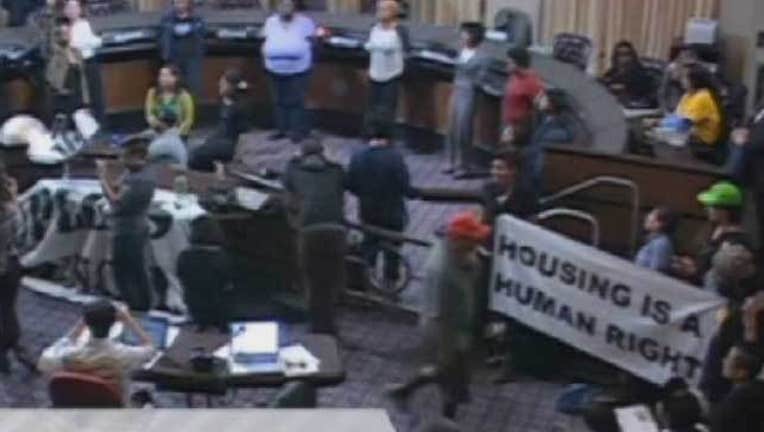 article
OAKLAND, Calif. (KTVU and wires) -- Affordable housing activists angry over a proposed high-rise near Lake Merritt shut down an Oakland City Council meeting Tuesday evening, forcing the Council to shout over singing protesters just to adjourn the disrupted meeting.
The activists arrived to protest the proposed $5 million sale of a parcel of city-owned land to a development firm for the construction of a 24-story apartment tower.
The proposed development at the corner of East 12th Street and Second Avenue near the east end of Lake Merritt would be comprised of 298 market-rate apartments and about 2,000 square feet of ground-level retail space, according to city documents.
The activists criticized the project as being unaffordable to most Oakland residents and the latest project changing the demographic landscape of Oakland with the city becoming unaffordable to long-term, lower-income residents.
Michal Jones from the group Black Seed characterized the municipal process surrounding the development as lacking community involvement.
Jones said economic conditions in Oakland have been pushing out longtime residents, often people of color or low-income families, which can lead to increased police surveillance and other problems associated with gentrification.
"Folks who have lived there for a long time can no longer afford the rent," Jones said. "This is our way of bringing the issues to the people and let the people decide."
Several of the activists locked their arms through pipes in the center of the Council Chambers between the councilmembers and the audience at about 6:30 p.m. Others unfurled banners and carried bullhorns.
The Council had accomplished little of its agenda, only having a short discussion of Mayor Libby Schaaf's proposed budget before the meeting was shut down during the public comment portion.
Councilmembers quickly called a recess and adjourned the meeting about an hour later, shouting over protesters singing "Which side are you on?"
The protesters, who had unfurled a banner reading "The People's City Council" continued their discussion well after the meeting adjourned, with residents taking turns telling their stories of how rising housing prices are affecting their lives.
The activists claim one-bedroom units in the new tower could cost more than $3,000 a month, making them unaffordable to many current Oakland residents. In a list of demands read during the protest, they said the plan should require a proportion of the apartments be set aside as affordable units.
Having effectively prevented a vote on the project tonight, the protesters decided to clear the Council Chambers as of about 9 p.m.
No arrests had been made in connection with Tuesday night's meeting as of 8 p.m., according to Oakland police.