Huge Southern California forest fire still growing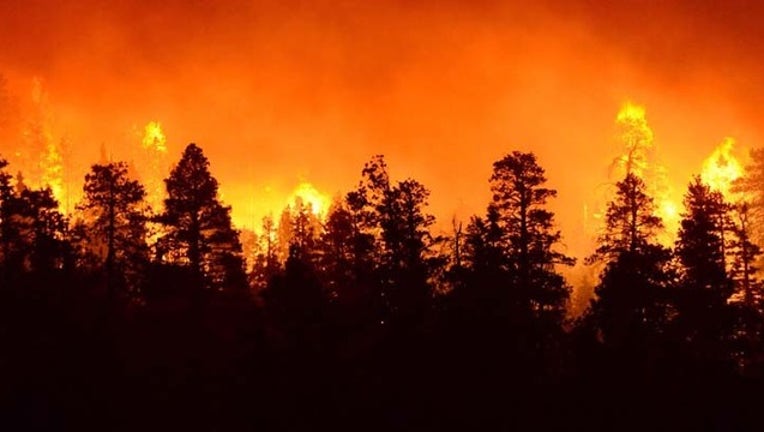 article
BIG BEAR LAKE, Calif. (AP) -- A fleet of helicopters dropped loads of water on flaming timber Friday as a huge fire churned through the San Bernardino National Forest, the largest among blazes burning in hot, dry California.
The blaze grew to more than 17 square miles and was just 10 percent contained as it pushed eastward through dense, old-growth wilderness in the San Bernardino Mountains, the towering range that lies between inland cities east of Los Angeles and the Mojave Desert.
Helicopters were considered the best option for attacking the fire. Weather conditions were too turbulent for air tankers, said Lyn Sieliet, a U.S. Forest Service fire spokeswoman.
About 1,200 firefighters were working the blaze. None had been reported injured since the fire broke out for unknown reasons on Wednesday near one of the many permanent camps along State Route 38. The fire forced several hundred people to leave the camps and some vacation homes.
The National Weather Service issued a heat advisory for high temperatures through Sunday evening because of strong high pressure aloft. Mountain temperatures were predicted to range from 90 degrees at 6,000-foot elevations to 100 degrees at 3,000 feet. Humidity levels were very low, which makes vegetation easier to burn.
About 150 structures, including old cabins and outbuildings, were threatened, but none were lost, Sieliet said.
The winds pushing the fire east carried the smoke even farther, into the desert and the Coachella Valley, where air-quality levels were reaching unhealthy levels Friday, the Air Quality Management District said.
The fire could eventually reach the desert, Sieliet said. Ten fire engines and a bulldozer were sent to patrol the Morongo Valley and Pioneertown areas at the east end of the mountain range.
The fire was not threatening Big Bear Lake, a year-round mountain resort destination to the north of the fire.
Elsewhere in the state, a 60-acre fire that on Thursday burned three residences in Thermal, 135 miles southeast of Los Angeles, was 25 percent contained.
Over 500 acres have burned in the Sierra National Forest, south of Yosemite National Park, where firefighters warned the blaze fed by heavy, dry brush could double in size in the next few days. Three air tankers were brought in to douse the blaze that was started by a vehicle, according to government reports.
A 500-acre blaze sparked by a vehicle fire burned near the Madera County community of Cedar Valley.
In Northern California on Thursday, firefighters worked until midnight snuffing patches of fire and embers in a blaze that burned over 1,500 acres in the Shasta-Trinity National Forest, east of Eureka. Its advance has been halted in virtually all areas, officials said, although hot, dry weather was expected to continue Friday.