Hundreds of firefighters join battle against fire near Tahoe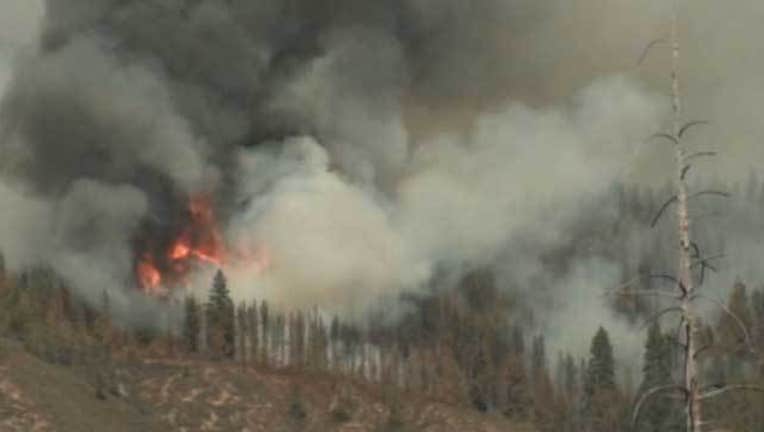 article
LAKE TAHOE, Calif. (AP) -- Air tankers and helicopters were helping hundreds of firefighters Monday battle a wildfire south of Lake Tahoe where no structures have been damaged but the California mountain town of Markleeville remained on standby for possible evacuations.
About 500 personnel were expected to be on the fire lines about 20 miles west of the Nevada border, Sierra Front fire spokeswoman Jenny Ramella said.
The fire was sparked by lightning on Friday and has burned nearly 15 square miles of timber and grass -- a total of about 9,500 acres.
It was about 10 percent contained after forcing the evacuation of some campgrounds, officials said.
Elsewhere, cooler weather was expected to aid crews making progress against a huge forest fire in a remote area of the San Bernardino Mountains -- the largest of the several blazes burning in California.
The fire about 90 miles east of Los Angeles was 21 percent contained and holding steady at about 27 square miles as firefighters attacked the flames with a fleet of water-dropping aircraft.
About 500 buildings, including old cabins, had been threatened, but none were lost. The flames forced several hundred people to leave camps and vacation homes in the mountains.
The National Weather Service said a high pressure system that pushed temperatures into triple digits in Southern California over the weekend was drifting east, prompting gradual cooling and increasing humidity.
The cause of the fire that began Wednesday remained unknown.
Another blaze that burned at least two homes near Santa Margarita in Central California held steady at just under 3 square miles. Helicopters took water from nearby Santa Margarita Lake to dump on the blaze that was 60 percent contained.
Glenn Westbrook said he and his son grabbed the family's goat, rooster and dog as the flames closed in on Sunday. When they returned, their home was a smoldering pile of rubble.
"It was pretty much ashes. It was pretty much gone," Westbrook told the San Luis Obispo Tribune.
A 920-acre fire in Madera County destroyed three structures and led to the evacuation of a handful of homes. It was 75 percent contained.
Firefighters also made gains against a blaze in Sierra National Forest, south of Yosemite National Park, that burned 500 acres of dry brush.
The fire was 40 percent contained after prompting the closure of some camp sites. Three air tankers doused the blaze that officials believe was started by a vehicle.
In Ventura County, firefighters scrambled to get in front of a 95-acre blaze that had moved quickly toward homes east of Santa Paula Airport, 40 miles outside Los Angeles.
Crews guided the fire around the homes and slowed its spread with air tankers that dropped flame retardant, said Capt. Mike Lindbery, a spokesman for the Ventura County Fire Department.
He said some homes were still considered threatened and a voluntary evacuation order was in place.
In the fire near Lake Tahoe, Highways 89 and 4 in the Monitor Pass area remained closed.
Five homes and 15 historic cabins had been threatened over the weekend, but no structures were damaged and no one was injured.
A smaller fire burning on the edge of Reno was about 60 percent contained. The fire had burned about 50 acres in the Mayberry Park area west of Reno since it broke out Sunday.
In Alaska, crews battled new wildfires that flared just as two large blazes waned.
Six homes were destroyed Sunday south of Nenana, and another new blaze burned near the Yukon River village of Nulato.