Hundreds of migrants feared drowned in Mediterranean Sea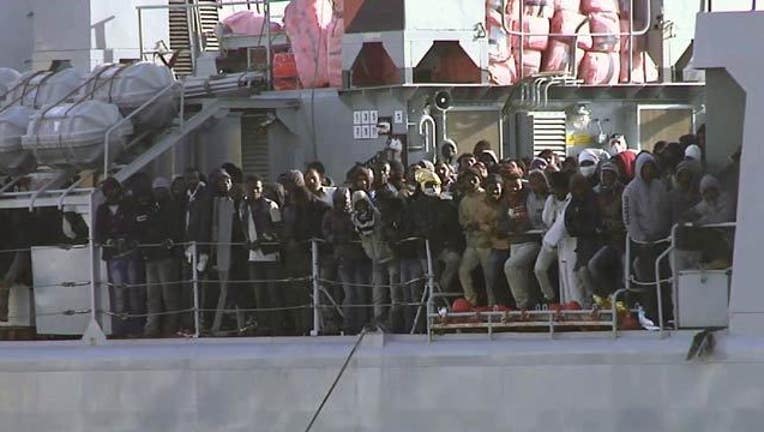 article
ROME (AP) — Only a few dozen people were saved Sunday after a fishing boat smuggling hundreds of migrants from Libya to Europe overturned in what could become one of the Mediterranean's deadliest mass drownings.
"How can it be that we daily are witnessing a tragedy?" asked Italian Premier Matteo Renzi, who huddled with his top ministers in an emergency strategy session in Rome.
Resisting rising political calls for military intervention, Renzi ruled out any naval blockade off Libya's coast.
He said that would only "wind up helping the smugglers" since military ships would be there to rescue any migrants, and because the chaos in Libya would make it impossible to force the passengers back to shore.
Italian authorities are "not in a position to confirm or verify" the estimate of survivor, who said 700 people were thrown into the water when their boat capsized in the darkness, Renzi said. By nightfall Sunday, rescuers had found 28 survivors and "alas, 24 dead," he said.
The premier of Malta, whose island nation participated in the search and rescue mission, put the number of survivors at 50 total.
Renzi said a total of 18 ships, including nearby commercial vessels pressed into service, were helping in the search mission. An Italian Navy helicopter carried one injured survivor to a hospital in Sicily.
The prospect of so many deaths dismayed politicians, aid agency officials and Pope Francis, all of whom are demanding more European or international action to prevent more deaths from the relentless waves of migrants.
Migrants have aimed for Europe's shores for many years, fleeing war, persecution and conflict in Africa, the Middle East and Asia. But the turmoil and warfare in Libya has made it easier for smugglers to take to the sea.
Rescuers Sunday were "checking who is alive and who is dead" among the bodies floating on the surface, said Maltese Prime Minister Joseph Muscat. He called it the "biggest human tragedy of the last few years."
The 20-meter (66-foot) vessel may have overturned because migrants rushed to one side of the craft late Saturday night when they saw an approaching Portuguese-flagged container ship, the King Jacob, which the Italian Coast Guard had dispatched to help them.
The ship was sent to the area in Libyan waters by Italy's Coast Guard, and once the crew spotted the overloaded boat, it "immediately deployed rescue boats, gangway, nets and life rings," a spokesman for the ship's owner said in a statement.
Renzi praised the King Jacob, saying the ship "immediately went into action" on what would become its fifth recent rescue operation.
International Organization for Migration spokesman Joel Millman said in a statement that 49 survived, and "since the waters of the Mediterranean Sea are not too cold at the moment, the authorities hope to find more survivors.'
A United Nations refugee agency spokeswoman Carlotta Sami tweeted that according to one survivor, the boat had set out with 700 migrants aboard. When the boat overturned, "the people ended up in the water, with the boat on top of them," Sami told Italian state TV.
U.N. High Commissioner for Refugees Antonio Guterres said in a statement Sunday that 219,000 people crossed the Mediterranean by sea and 3,500 died last year. This year, 35,000 asylum seekers and migrants have reached Europe so far and more than 900 are known to have died in failed crossings. Last week, 400 people were presumed drowned when another boat capsized.
The smugglers are capitalizing on the migrants' desperation and taking advantage of chaos and violence in Libya, where rival militias, tribal factions and other political forces have destabilized the country since bloody end of the long dictatorship of Moammar Gadhafi in 2011.
In Italy's Parliament, the leaders of foreign affairs and defense commissions pushed for the EU and the UN to prepare a naval blockade of Libya's coast to stop the human trafficking.
Without a military blockade, "the traffickers will continue to operate and make money and the wretched will continue to die," said Pier Fernando Casini, the Senate foreign affairs commission president.
The pope lent his moral authority to the political calls for action, urging "the international community to act decisively and promptly, to prevent similar tragedies from occurring again."
Until this Sunday's tragedy, calls for a naval blockade had mainly risen in Italy from the anti-immigrant Northern League party. That top lawmakers are now joining the chorus reflects rising impatience for decisive European action.
"Europe can do more and Europe must do more," said Martin Schulz, president of the European Parliament. "It is a shame and a confession of failure how many countries run away from responsibility and how little money we provide for rescue missions."
The EU's foreign minister, Federica Mogherini, added migration as a last-minute emergency issue to an EU foreign ministers' meeting on Monday in Luxembourg.
Europe must mobilize "more ships, more overflights by aircraft," French President Francois Hollande told French TV Canal +. He said he called Renzi to discuss emergency action.
The prime minister of Spain, another Mediterranean nation, also urged Europe to take swift action.
"Today, and this is the umpteenth time, we hear of yet another human tragedy in the Mediterranean, off the Libyan coast," Mariano Rajoy told a political rally. "It's a daily drama. Three days ago it was 400 people. Four days ago they were 10. Words won't do any more."
There was no immediate way to determine how many were on board the fishing boat, nor how many might still be rescued, the Coast Guard and other authorities said. The total number of passengers was expected to be clarified as authorities interview survivors.
Given that the sea is as deep as 3 miles (5 kilometers) or more in the area, it is possible that many bodies will never be recovered, as was the case in similar tragedies off the coasts of Libya, Italy, and other Mediterranean nations in recent years.
"There are fears there could be hundreds of dead," Pope Francis told the faithful in St. Peter's Square on Sunday. He bowed his head in silent prayer, as did many of the tens of thousands below him.
When asked whether migrants rushed to one side as the Portuguese vessel pulled alongside, Italian Border Police Gen. Antonino Iraso replied: "The dynamics aren't clear. But this is not the first time that has happened."
Rescuers reported seeing wreckage in the sea.
"There are large fuel stains, pieces of wood, life jackets," added Iraso, whose force has boats deployed in the rescue effort, told Sky TG24 TV.
The numbers of migrants attempting the dangerous crossing from Libya in overcrowded or unseaworthy boats swells as the springtime weather improves, providing calmer seas and warmer water.