Hundreds of thousands gather to celebrate the Chinese new year parade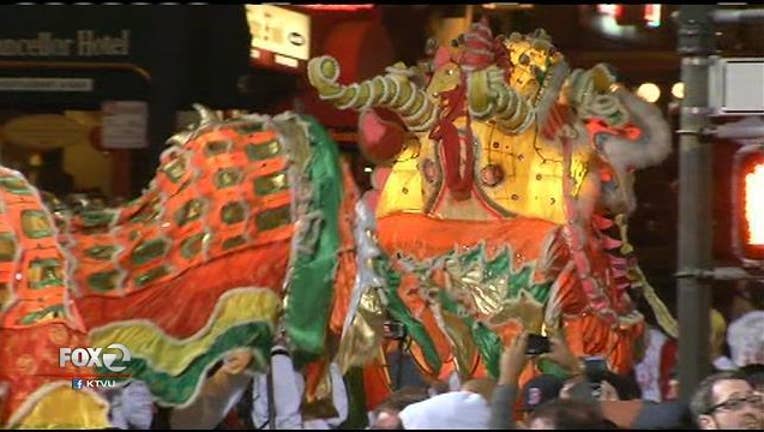 Hundreds of thousands of people lined city streets, following some 90 floats and attractions that were showcased on this year's parade route, which began at Market and Second Street, wound through Union Square and ended near Kearny and Columbus.
Dragon and lion dancers entertained the crowd, as did Chinese dance troops and colorful and glittery floats.
"I've been seeing dragons and I like dragons," said Leah Karrick, a 7-year old watching the parade for the first time with her family.
The beautiful weather helped draw big crowds. Many long time Bay Area residents made the trek to the city to see the parade in person for the first time.
"It's really exciting because I can actually see and almost touch people," said Victoria Yeh, of San Mateo. "So it's great. It's exciting!"
San Francisco's Chinese New Year Parade is the largest celebration of Asian culture outside of Asia.
"Being Chinese, of course Lunar New Year is a special one we celebrate every year," said Ancy Kwong, of San Francisco.
"The weather is just perfect and I think people are having great fun," said San Francisco Mayor Ed Lee. "It's the Year of the Ram. It's all about prosperity sharing. It's about kindness. It's about artistry. All of that is reflected in this parade."
Many of the parade's young participants study Chinese language and culture throughout the year.
"At our school, we focus on Chinese language and culture every day all year long, and this is an opportunity for them to share that with the entire city of San Francisco," said Jeff Bissell, of the Chinese American International School.
"I wish all the Chinese and everybody a very happy new year," said Jaggeet Singh, a South Bay resident watching the parade.