'I was in shock': Woman's finger severed by library book drop box
article
MOUNT DORA, Florida - Warning: The following contains graphic content that might be disturbing to some readers. 
A Florida woman's life was forever changed when she returned a library book one Friday afternoon in July.
Barbara "Bobbie" Haverly's middle finger on her left hand was chopped off above the top knuckle as she dropped the checked-out book into the drop box.
The freak accident unfolded July 28 around 12:30 p.m. at the W.T. Bland Public Library in Mount Dora. Haverly described to KTVU what happened that day, with the hopes of getting the word out and preventing others from getting injured.
"It was a busy afternoon at the library," she said. "There was a line of people waiting to check out books and lots of children around in the newly designed kids' area."
Haverly dropped the book into the box and the swinging metal door snapped back, trapping her hand. She realized her left middle finger was stuck on the other side of the flap. 
"I was in shock," she said. "It hit an artery, so there was blood squirting everywhere." 
Warning: The following photo gallery contains graphic content that might be disturbing to some readers.
A registered nurse, Haverly knew she had to get the detached portion of her finger from the box and put it on ice.
"I couldn't push the swinging door back in, so I told the staff to get my fingertip out and put it in ice," she said, adding there was so much blood coming from her finger that a man who was in line to check out a book, ran to get some paper towels from the restroom.
"The library staff might have been shocked too. Patrons were trying to check out books and they were helping them," she said. "But I insisted they retrieve the finger and get it into cold ice water."
Haverly said she took her fingertip with her to the hospital, where she underwent surgery and ultimately spent three days. Unfortunately, they were unable to reattach her finger, due to multiple severed nerve endings.
"Instead, more of my finger had to be taken off because it was cut off diagonally," described Haverly. "My surgeon said he had to cut straight across to allow skin to grow back."
ALSO: Boy falls from coaster at Florida amusement park, rushed to hospital with 'traumatic injuries': officials
She said the doctors and nurses who treated her couldn't believe what they saw. 
"They thought I must have cut myself with a knife, not returned a book to the library," Haverly said.
Mount Dora is approximately 30 miles northwest of Orlando. The library is part of the Lake County Library System.
An avid reader, Haverly has been going to this library for over 30 years. She has returned books to this drop box located inside the building, next to the circulation desk, several times before.
Bobbie Haverly has been a registered nurse in Mount Dora Florida for 30 years. Photo credit: Bobbie Haverly
Homebound and healing, Haverly said her life has been forever changed. Her days used to be filled with activities, whether it was water aerobics, yoga, or golf.
"I was very active, and now everything that brings me joy, I can't do," she said. "I had to cancel a visit with my grandkids because I can't lift them. My daily routine has been interrupted."
She still has about two-thirds of her finger, and the skin is expected to grow over the wounded area, but she will never be able to regrow a nail. She has been able to see the regrowth at follow-up visits with her surgeon.
Haverly's husband, Paul, went back to the library to look at the box and a sign was placed on the outside that said the box was 'out of order.' He has been taking care of her since the accident, and said he also wants to bring awareness to these dangerous boxes that might exist in other libraries around the country.
"There's no reason for this type of protective swinging door inside a library," he said, adding that most indoor library boxes he found in his online research are just open chutes, with no swinging, spring-loaded door.
KTVU reached out to the library for comment but hasn't heard back.
Library staff apparently created an incident report, but Haverly has not seen it. She recalls one staff member saying nothing like this has happened in the 14 years the box has been there.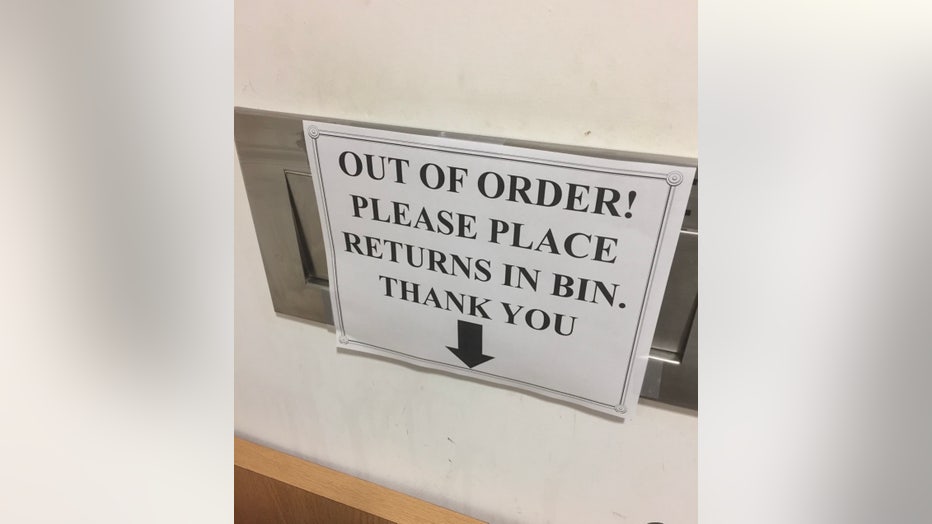 The library box that severed Bobbie Haverly's finger on July 28, 2023. The "out of order" sign was placed after the incident. Photo credit: Bobbie Haverly
Haverly's attorney, Chris Largey, said he would not be surprised if others have been injured by this box in the past. He said this case falls under 'sovereign immunity.'
"As a county library, owned by the government, there's a limitation on the kind of claims that can be made," Largey said.
Haverly's sister, who lives in Walnut Creek, California, set up a Gofundme account to help with costs associated with the accident. If you would like to donate, please click here.
Haverly said she brings her 2-year-old granddaughter to the library and said if something like this happened to her, it could have taken her whole hand.
"I wasn't taking any risks, I was just returning a book at the library," she said. "And now I'm permanently disfigured."