Ichiro Suzuki released by Mariners, moving to front office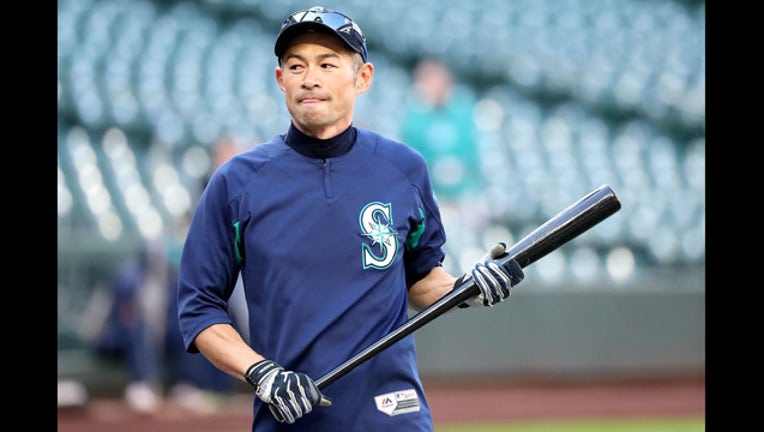 article
SEATTLE (AP) - Ichiro Suzuki was released Thursday by the Seattle Mariners and is shifting into a front office role with the team, although he is not completely shutting the door on playing again. 
The Mariners announced that Suzuki was becoming a special assistant to the chairman effective immediately. The team said Suzuki will have an active presence with the team and assist with outfield play, base running and hitting. 
But nowhere in the announcement do they say the 44-year-old is retiring, although Suzuki is precluded from returning to the active roster in 2018. 
"We want to make sure we capture all of the value that Ichiro brings to this team off the field," Seattle general manager Jerry Dipoto said in a release. "This new role is a way to accomplish that. While it will evolve over time, the key is that Ichiro's presence in our clubhouse and with our players and staff improves our opportunity to win games. That is our number-one priority and Ichiro's number-one priority."
Suzuki is in his 18th season and had appeared in 15 games this year for the Mariners. Suzuki started Wednesday night and went 0-for-3 with a walk and a run scored. He hit .205 in 44 at-bats and all nine of his hits this season were singles. 
"Now I don't feel as bad about walking Ichiro last night," tweeted Oakland A's lefty Brett Anderson , who started Wednesday's game and walked Suzuki in the third inning. 
Suzuki has spent parts of 13 seasons with the Mariners. He's also played for Miami and the New York Yankees. 
"With Ichiro's track record of success, his personality, his unique perspective and his work ethic, he is singularly positioned to impact both our younger players and the veterans in the clubhouse," Dipoto said. "We really don't want him to change anything that he's doing right now, with the exception that he will not be playing in games. We believe that Ichiro's signing and his assimilation into our team has helped us this season and we want to make sure we continue that."
While Suzuki can't return to Seattle's roster this season, anything beyond 2018 is unknown. While there are no guarantees of Suzuki returning, Seattle and Oakland do open the 2019 regular season with a two-game series in Tokyo. 
"While this agreement only covers the 2018 season, it is our goal that Ichiro be a member of the Seattle organization long-term," Dipoto said. "As his role evolves over the 2018 season, it will inform the team and Ichiro on his best fit with us in 2019 and beyond." 
After almost six years away, Suzuki returned this spring to help patch an injury-depleted outfield on the team he played for from 2001 to 2012. Suzuki was signed after Seattle learned Ben Gamel would miss the first few weeks of the regular season and the reunion was a feel-good story of the former star returning to where his career in the majors got started. 
While Suzuki struggled at the plate, he did have a few defensive gems, including robbing Cleveland's Jose Ramirez of a homer on the opening weekend of the season and reminding everyone of his greatness as an all-around player. Suzuki earned the 2001 AL Rookie of the Year and MVP with the Mariners and won a pair of AL batting titles. He was traded to the Yankees midway through 2012, played parts of three seasons with New York, then spent three seasons with Miami.
The 10-time All-Star has a .311 average and 3,089 hits, not including the 1,278 hits he amassed in nine seasons in Japan.