Bloody clues: Cops reveal what was found in Idaho murder suspect's apartment in newly unsealed documents
COLFAX, Wash. - A Washington court has unsealed the search warrants for the office and apartment of University of Idaho stabbing suspect Bryan Kohberger, a 28-year-old Washington State University Ph.D. student accused of murdering four undergrads in nearby Moscow, Idaho.
A search of his office in the school's department of criminal justice and criminology turned up nothing, according to the filings, but police found hair samples, fabric with dark red stains, and a single black glove and other evidence at his apartment.
The warrants were initially sealed but a Washington judge ordered the release of redacted versions of the documents Wednesday.
In the newly unveiled filings, investigators described previously undisclosed evidence they were seeking, including blood, DNA, shoes with diamond-pattern soles and "data compilations" of information about the victims and the King Road house where they were killed.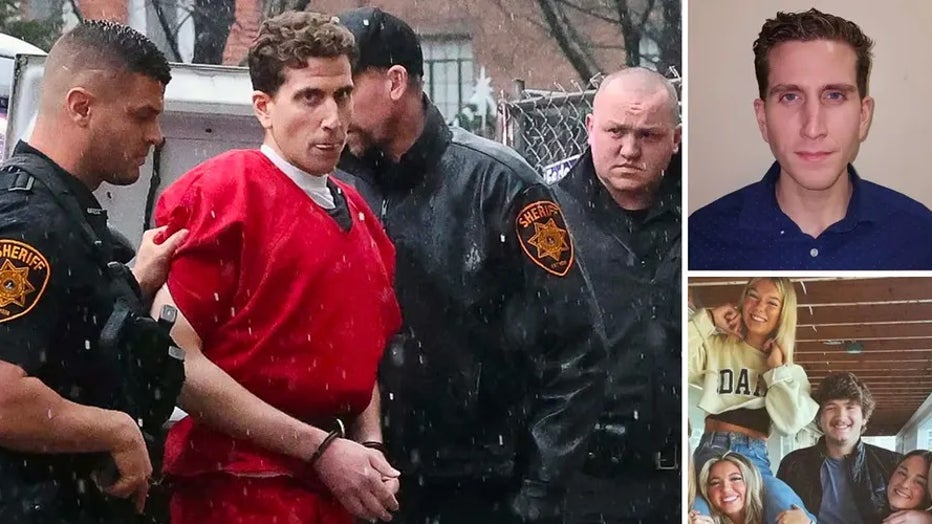 Bryan Kohberger is escorted to court in Pennsylvania prior to his extradition back to Idaho to face charges in the deaths of university students Madison Mogen, Kaylee Goncalves, Xana Kernodle and Ethan Chapin. Inset: Kohberger's WSU portrait and the
Kohberger is charged with four counts of first-degree murder and another of felony burglary after allegedly sneaking into a six-bedroom house near the University of Idaho, about 10 miles away from his Washington apartment, and ambushing four undergrads around 4 a.m. on Nov. 13.
RELATED: Idaho murders suspect Bryan Kohberger allegedly spammed one victim with Instagram DMs: report
The highly anticipated warrants contain new details about what investigators found after they arrested the suspect, who had a master's degree in criminal justice from DeSales University.
The warrants allege that Kohberger pre-planned the ambush and had studied other murders and how to avoid detection as part of his preparations.
RELATED: Idaho murders: Veteran defense attorney lays out case Bryan Kohberger team could make, 'holes' in affidavit
"These murders appear to have been planned, rather than a crime that happened in a moment of conflict," an affidavit seeking the search warrant reads.
READ: Search warrant for Bryan Kohberger's Washington apartment (App users go here)
From Kohberger's apartment, police seized a single "nitrite-type black glove," a Walmart receipt and Dickies tag, two receipts from a Marshalls store, the dust container from a Bissell vacuum, eight "possible hair strands," a Fire TV stick, a single "possible animal hair strand," four other "possible" hairs and a computer tower.
RELATED: Idaho killer 'most likely' has murdered before, may have left behind 'calling card,' experts say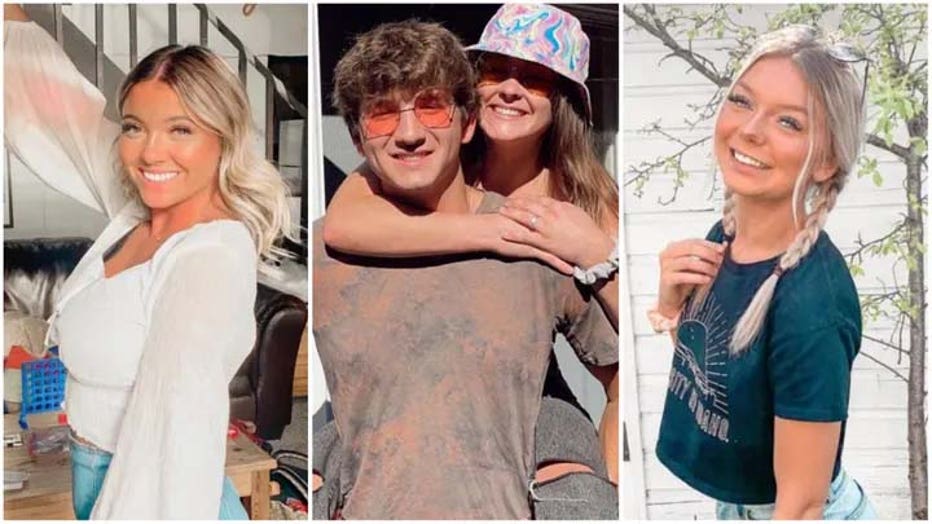 From left to right: Kaylee Goncalves, 21, Ethan Chapin, 20, Xana Kernodle, 20, and Maddie Mogen, 21, the victims of Nov. 13 University of Idaho massacre. (Instagram @xanakernodle / @maddiemogen / @kayleegoncalves)
Because the victims' home contained "a significant amount" of blood, spatter and castoff, investigators told the court they believed they would find some of that evidence transferred to Kohberger's apartment.
RELATED: Idaho murder suspect Bryan Kohberger had 'normal conversation' with neighbor: 'You heard about these murders?'
Once inside, police found several bedroom items: including a dark red spot, two "cuttings from uncased pillow of reddish/brown stain," and mattress covers with multiple stains. 
He lived in the apartment alone, according to the filings.
"I'm sure by now they have the DNA on the human and animal hair and know exactly where they came from," said Joseph Giacalone, a retired NYPD sergeant and adjunct professor at John Jay College of Criminal Justice. "If those hairs came back to any victim or the dog, they hit the jackpot."
He added that police had done an "excellent job" with the investigation and said that at this point, finding the murder weapon may not be necessary for a conviction.
"The only defense argument I can see to discredit the evidence is to say that it was transferred there by the police themselves, which of course depends on what substrate it was found on and if those cops were recently at the crime scene," he said.
READ: Search warrant for Bryan Kohberger's Washington State University Office (App users go here)
Kohberger allegedly ambushed the four victims around 4 a.m., as some of them were sleeping, according to authorities.
When police responded to a 911 call the following morning, they found 20-year-olds Xana Kernodle and Ethan Chapin dead on the second floor, and 21-year-olds Kaylee Goncalves and Madison Mogen dead on the upper level.
Officers found Kernodle and Chapin together in the same second-story room as they approached her bedroom, according to the filings.
RELATED: Idaho murders suspect Bryan Kohberger trades intensity for fear in 2nd court appearance: body language expert
They located Goncalves' dog, which also survived the attack, in her bedroom. She and Mogen were both found dead together in the other third-floor bedroom, in the same bed, along with a Ka-Bar knife sheath that authorities allege tested positive for male DNA that they later linked to Kohberger.
Two other roommates survived. One of them, identified in court documents only as DM, allegedly heard crying from Kernodle's room and a man saying, "It's OK, I'm going to help you." A short while later, police say she saw a masked man with "bushy eyebrows" leaving through a sliding door.
Authorities previously revealed that Kohberger finished out the semester following the crime, and in the newly unveiled filings, investigators said they believed he planned to return to class again after the winter break.
Pennsylvania police and the FBI arrested Kohberger on Dec. 30 at his parents' house in the Poconos Mountains, the same day their counterparts in Pullman, Washington, executed search warrants on his apartment and in his WSU office in connection with the stabbings, which took place roughly 10 miles away in Moscow, Idaho.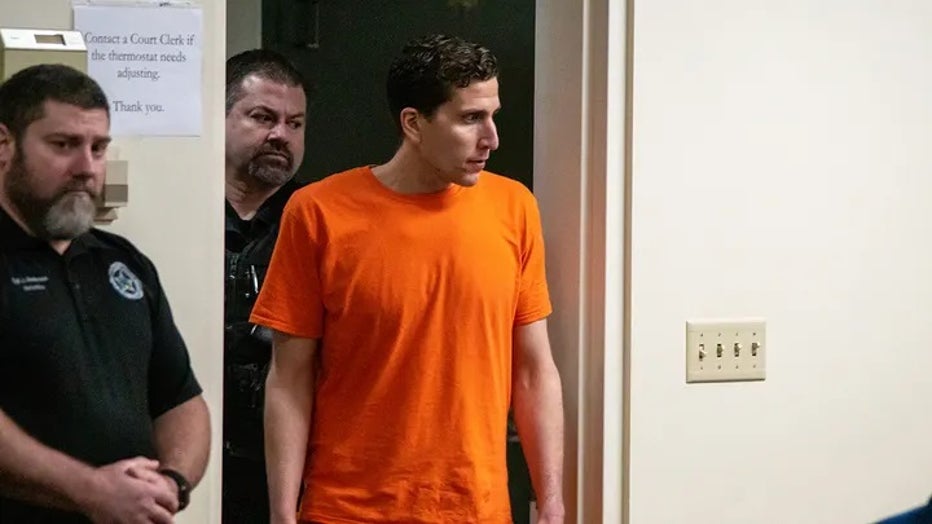 Bryan Kohberger enters a courtroom in Moscow, Idaho, Jan. 12, 2023, for a status hearing. He waived his right to a quick preliminary hearing and will appear in court again on June 26. (Kai Eiselein / Pool)
The court had previously ordered the warrants sealed for two months, citing the risk of possible threats to law enforcement, the integrity of the investigation and public safety, but left open the possibility that they could be made public earlier.
RELATED: Idaho murders: 5 key pieces of evidence against Bryan Kohberger
On Tuesday, Whitman County Prosecutor Denis Tracy moved to have them unsealed.
"These warrants were issued and served in Washington State, because a suspect in the crimes resided and worked here during the time of the murders," Tracy wrote. "These warrants and associated applications were sealed, due to the sensitive nature of the investigation at that time. Since then, an extensive probable cause affidavit has been unsealed in Latah County, Idaho, which has alleviated the need for sealing of the Return of Service here in Washington."
Fox News' Sarah Rumpf contributed to this report.
Get more from FOX News.