In Iowa, Trump ready to rally base, celebrate GOP resilience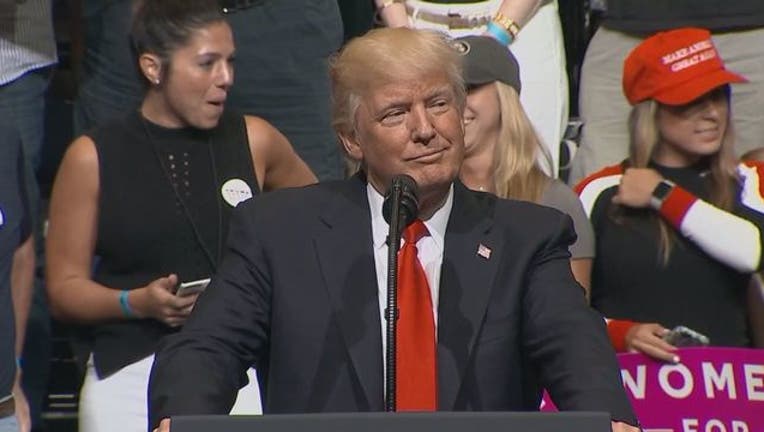 article
CEDAR RAPIDS, Iowa (AP) — Struggling to advance his agenda in Washington, President Donald Trump arrived in the Midwest on Wednesday in search of his supporters' warm embrace and to celebrate a Republican congressional victory in an election viewed as an early referendum on his presidency.
Trump touched down Wednesday evening in rainy Cedar Rapids, Iowa, and headed to a local community college, where he toured agriculture technology innovations and reveled in Karen Handel's victory in a special election in a House district in suburban Atlanta.
"We're 5-0 in special elections," said Trump at Kirkwood Community College ahead of a campaign-style rally.
He applauded Handel as well as Republican Ralph Norman, who notched a slimmer-than-expected win in a special election to fill the South Carolina congressional seat vacated by Mick Mulvaney.
"Last night was very exciting," the president said.
Trump, no stranger to victory laps, seemed poised to turn his visit to a battleground state he captured in November into a celebration of his resilience despite the cloud of investigations that has enveloped his administration and sent his poll numbers tumbling.
With the appearance in Cedar Rapids, he will have held five rallies in the first five months in office.
The event underscores Trump's comfort in a campaign setting. He has said he misses barnstorming and appears far more at ease when going after Democrats than pushing through his own legislative agenda.
The White House is making a renewed push to get the president out of Washington. The capital is consumed with the investigation into Russian meddling in last year's election and Trump's firing of his FBI director.
Campaign rallies energize Trump by placing him in front of supporters who have stuck by him and are likely to dismiss the investigations as Beltway chatter.
Iowa, with its large share of independent voters, could be a proving ground for whether Trump can count on the support of voters beyond his base. Unaffiliated voters, or "no party" voters as they are known in Iowa, make up 36 percent of the electorate, compared with 33 percent who register Republican and 31 percent registered as Democrat.
Self-identified independents in Iowa voted for Trump over Democrat Hillary Clinton by a 13-percentage-point margin last year, according to exit polls conducted for The Associated Press and television networks. That margin helped Trump take the state by nearly 9 points after Barack Obama won it for Democrats the previous two elections.
Trump held a Des Moines rally in December as part of his transition-era "thank you" tour of states he had won, but has not been back to Iowa since.
Trump's evening in Iowa began with a tribute to former Iowa Gov. Terry Branstad, whom he had just appointed the United States' ambassador to China.
Trump hailed Branstad as "a legend" and "one great man." Branstad was the longest-serving governor in the nation's history and an early Trump backer.
Trump's stop at Kirkwood Community College was intended to draw attention to the school's advancements in high-tech agriculture.
He was joined by Agriculture Secretary Sonny Perdue and Commerce Secretary Wilbur Ross as part of the administration's effort this week to highlight the importance of technology.
But much of Trump's attention was on the suburbs of Atlanta, in the 6th Congressional District race.
Democrats had lavished attention and money on Tuesday's special election, hoping for a victory that would underscore Republican worries about Trump and serve as a harbinger of a Democratic wave in 2018.
Instead, Handel's victory, in a traditional Republican stronghold that rarely produces a competitive contest, was met with a sigh of relief among the GOP. It was the fourth straight special election that went to the Republicans.
Trump tweeted several times during the night and capped the night off with a text message to supporters crowing:
"Congrats to Karen Handel on a HUGE win in GA! Democrats lose again (0-4). Total disarray. The MAGA Mandate is stronger than ever. BIG LEAGUE," he said in an apparent reference to his slogan, "Make America Great Again."
___
Associated Press writer Jill Colvin in Washington contributed to this report.
___
Follow Lemire on Twitter at http://twitter.com/@JonLemire