In threat to Pelosi, 16 Dems say they'll back new leadership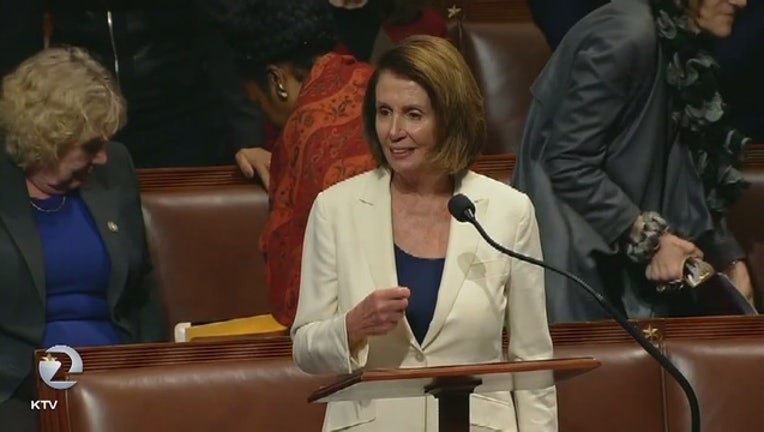 article
WASHINGTON (AP) - Sixteen Democrats who've opposed Nancy Pelosi's quest to become speaker released a letter Monday saying they will vote for "new leadership" when the House picks its leaders in January, underscoring a significant threat to her effort to lead her party's House majority in the next Congress.
The letter's release suggests that rather than spending the next six weeks focusing on a fresh agenda to present to Americans, House Democrats could be consumed with a bitter and attention-grabbing internal leadership fight.
The battle pits the party's largely liberal and diverse membership backing Pelosi, D-Calif., against a small group of mostly moderate male lawmakers. Of the 16 Democrats who signed the letter - which stops short of explicitly saying they will vote for an opposing candidate for speaker - all but two are men: Reps. Kathleen Rice of New York and California's Linda Sanchez.
"We promised to change the status quo, and we intend to deliver on that promise," the authors wrote, referring to campaign pledges to back new House leaders made by a number of Democratic candidates. "Therefore, we are committed to voting for new leadership in both our Caucus meeting and on the House Floor."
Pelosi has activated an aggressive campaign for the job involving House colleagues, prominent outside Democrats and party-aligned interest groups. She is known as a precise vote counter with a keen sense of her caucus' leanings and is aided by the lack of a declared opponent and many weeks during which she can dangle choice committee assignments, rules changes and other goodies to help attract support.
"Leader Pelosi remains confident in her support among Members and Members-elect," spokesman Drew Hammill said in a written statement. He said 94 percent of House Democrats declined to sign the letter, though Pelosi opponents said they expect others who didn't sign to vote against her.
Though the mavericks' numbers represent a handful of the 232 House Democrats elected - with a handful of races still undecided - they could still garner enough opposition to thwart her.
Pelosi seems certain to have enough support to become her party's nominee for speaker when House Democrats hold a secret ballot election on Nov. 28. She will need only a majority of Democrats in that contest.
But when the full House elects its new leaders Jan. 3, the speaker will need a majority 218 votes, assuming that no one votes "present" or misses the vote and Republicans oppose her en masse, as seems likely. At 232 seats, Pelosi could afford to lose just 14 Democrats and still become speaker.
The rebels' letter to their Democratic colleagues praises Pelosi, 78, for her long career and calls her "a historic figure" who helped the party win major victories. Pelosi was speaker from 2007 through 2010 when Democrats briefly held the majority and has been the party's leader since 2003.
"We also recognize that in this recent election, Democrats ran and won on a message of change," they wrote. "Our majority came on the backs of candidates who said that they would support new leadership because voters in hard-won districts, and across the country, want to see real change in Washington."
Pelosi's critics say the party's long-serving top leaders must make room for younger members. They say years of Republican ads portraying her as an out-of-touch liberal have made it hard for moderate Democrats to win elections in swing districts.
Pelosi allies counter that despite that, the party just won House control with their biggest gain of seats since the 1974 post-Watergate election. Many bristle at dumping her at a time when President Donald Trump and the #MeToo movement have helped attract female candidates and voters to the party.
Rep. Steny Hoyer of Maryland has been No. 2 House Democrat since 2003 and South Carolina's Jim Clyburn has been No. 3 since 2007. Both are in their late 70s and are running, unopposed so far, for those posts once again.
Of the letter's signees, five are incoming House freshmen or hope to be. Two of them - Anthony Brindisi of New York and Ben McAdams of Utah - are in races in which The Associated Press has yet to call a winner.
Pelosi critics assert there are several more Democrats who've not signed the letter who are prepared to vote for a candidate opposing Pelosi. That includes Rep. Marcia Fudge of Ohio, who has said she is considering running for speaker.
Trump has tweeted his respect and support for Pelosi and even offered to round up GOP votes to help elect her speaker. Pelosi's office has said she will win with Democratic votes, and it seems a stretch to expect Republicans to help elect her speaker - a vote that could open them up to primary challenges in 2020.
Others signing the letter were incumbents Jim Cooper of Tennessee; Bill Foster of Illinois; Brian Higgins of New York; Stephen Lynch and Seth Moulton of Massachusetts; Ed Perlmutter of Colorado; Tim Ryan of Ohio; Kurt Schrader of Oregon; and Filemon Vela and Texas. Incoming freshmen were Joe Cunningham of South Carolina, Max Rose from New York and Jeff Van Drew of New Jersey.