Inmates receive high school diploma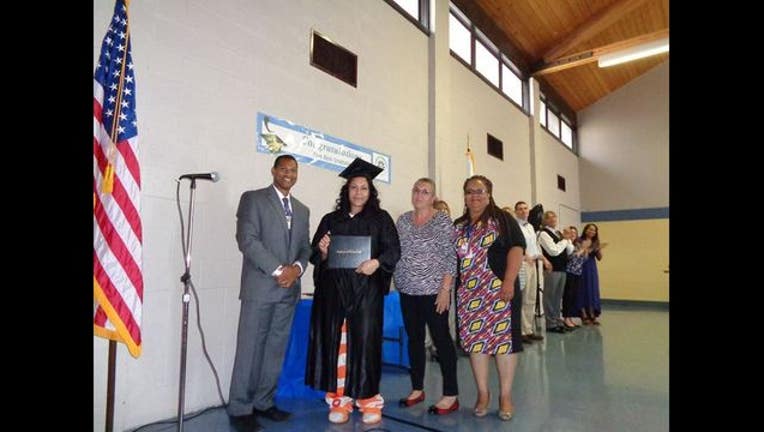 article
FAIRFIELD, Calif. - Seven inmates at the Claybank Detention Facility in Fairfield donned caps and gowns as they received their high school diplomas last week, through the Five Keys Charter Schools & Programs.
The Solano County Sheriff's Department posted a photo of one of their graduates on their Facebook page and shared her speech.  
"My name is Puna (last name) and in a few minutes I'm about to be a Five Keys graduate. First and foremost I would like to thank my Higher Power because without him I am lost. I would like to thank the Solano County Sheriff's Department and the Five Keys Charter School for the opportunity and privilege to accomplish one of my goals and that is earning my high school diploma. I really didn't expect to do anything but serve my two years and get out. There's this funny thing about pride. It gets in the way of everything. When I got here in 2014 I was so full of it. I thought I knew everything. I joined the GED program that was ran by this really mean teacher. I got F's on my first three or four tests and my pride was squashed, and I realized that I didn't know crap. That very same teacher never gave up on me though. When I learned to remove my pride, I allowed myself to be teachable and she inspired me to do my best and strive for better. The GED program turned into Five Keys Charter School and the doors of opportunities seemed to open up for me. Officer Grant and Officer Penrose you told me to start something and finish it and here I am. To every great student there's a great teacher and Ms. Sue Whiting you are that teacher for me. This has been a long and productive two years for me, but it has been the best two years of my life because I have gained the spiritual, educational, and mental tools to begin the foundations of my life.
I would like to honor the staff, officers, volunteers, and teachers because you do make a difference and influence inmates and people in this community whether you know it or not."