Jones-Drew retires, Woodley released by Raiders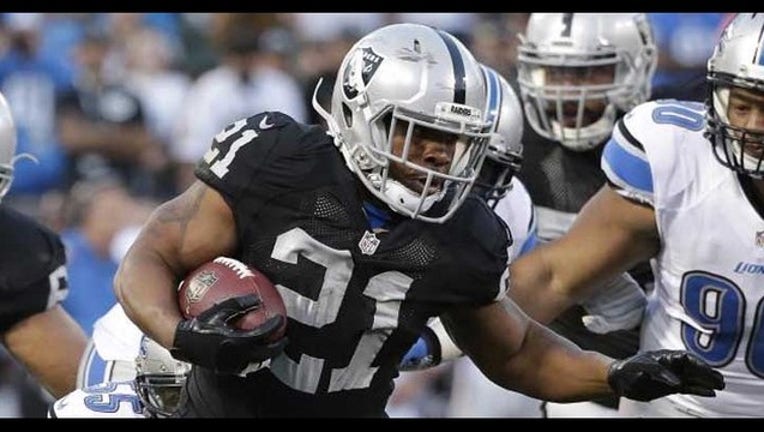 article
ALAMEDA, Calif. (AP) — Two of the Oakland Raiders' big free-agent acquisitions from last season are no longer with the team.
Running back Maurice Jones-Drew announced his retirement Thursday and defensive end LaMarr Woodley was released by the team.
The two were brought in last March as general manager Reggie McKenzie targeted veterans to help rebuild the struggling organization. But many of those players failed to reach the Pro Bowl levels from their past and the Raiders won just three games last season.
Jones-Drew and Woodley were two of the biggest symbols of that failed strategy.
Jones-Drew was paid $2.5 million last season but only rushed for 96 yards on 43 carries in 12 games. It was a major disappointment for him and the team as he came into the season healthy and excited about his return to his native Bay Area.
But he was unable to get back to the level he had reached in Jacksonville earlier in his career when he ranked second in the NFL with 4,321 yards rushing in a three-year span from 2009-11.
The 29-year-old Jones-Drew had 1,313 yards in his final three seasons — fewer than he had in each of the previous three years.
"After much discussion with my family and business team during this offseason, I've decided to retire from the National Football League," Jones-Drew said in a statement released on his Twitter account. 
"The past nine years were absolutely amazing! I'll be forever grateful to the countless people who have assisted me throughout my NFL journey. To my fans, and NFL fans worldwide, you are the absolute greatest! But for you, our league would not exist. Football has been a central part of my life for the past 24 years. But, now I'm excited about and looking forward to the next chapter of my life."
New Raiders coach Jack Del Rio coached Jones-Drew in Jacksonville.
"I have nothing but the utmost respect for Maurice Jones-Drew and wish him the absolute best," Del Rio said in a statement. "He is one of the top individuals, both on and off of the field, that I have had the privilege of coaching. He's one of my all-time favorites and I truly love the guy."
Jaguars coach Gus Bradley congratulated Jones-Drew on his retirement and said he will be welcomed back to Jacksonville at any time.
"Maurice has made so many contributions to the NFL over the past nine years, on and off the field," Bradley said. "He is one of the great Jaguars, and he will always be a Jaguar. He was always a fan favorite and he earned that every day with the way he immersed himself in the community. The traits that really stick out about Maurice are his competitiveness, determination and toughness. He is a role model to so many for the way he played the game each Sunday. I know he will continue to be around the game of football because he has a passion for the game and helping young people."
Woodley was paid more than $4.8 million last season when he had no sacks in six games before being sidelined by a season-ending biceps injury.
The moves save the Raiders about $7.7 million on this year's salary cap. Oakland now has more than $60 million in cap space heading into free agency next week, second most in the NFL, according to the Website overthecap.com. The Raiders can create even more room if they cut ties with backup quarterback Matt Schaub.