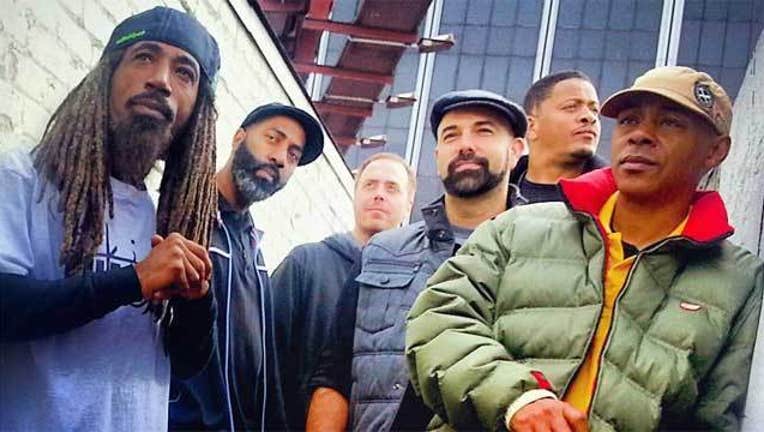 article
Emerging from the Los Angeles hip-hop underground in the midst of the early '90s gansta rap explosion, legendary throwback crew Jurassic 5 first came together in 1993. Sprouting from the same fertile scene at the Good Life Cafe that produced such artful like-minded groups as Freestyle Fellowship, Jurassic 5 was founded by members of two defunct acts, Rebels of Rhythm and Unity Committee. With masterful DJs/producers Cut Chemist and Nu-Mark providing well-crafted beats and the group's four gifted MCs -- Akil, Chali 2Na, Mark 7 and Zaakir -- trading lines and harmonizing in unison like pioneering old-school crews the Furious Five and the Treacherous Three.
While it took some time for the group to finally issue it's debut 12" record "Unified Rebellution" (a nod to the crews that the members had come from) in 1995, in the meantime J5 had honed their skills onstage to become a live powerhouse. By the time their Jurassic 5 EP was released two years later with it's hits "Jayou" and "In the Flesh" and Cut Chemist's turntable tour de force "Lesson 6: The Lecture," the group had established itself as a leading light of the underground
Jurassic 5 issued Quality Control on Interscope in the summer of 2000, breaking the group to a global audience as the album went gold on the strength of singles like "Quality Control" and "The Influence." Their follow-up effort Power In Numbers spawned more hits with the throwback fast-rap tune "Day at the Races" featuring legendary MC Big Daddy Kane and "What's Golden." Though the act continued to reach a bigger audience with television appearances and acclaimed sets at major festivals, J5 still hadn't scored the mainstream pop success of contemporaries like Black Eyed Peas.
Feedback attempted to remedy that situation in 2006 with high-profile producers like Scott Storch and even a song featuring the Dave Matthews Band, but despite a higher chart position the album was considered a step backwards by some critics (the departure of Cut Chemist for a solo career didn't help). The group split up for a number years, but reunited for a celebrated appearance at the Coachella Art and Music Festival in 2013.
Though J5 have only issued one song since the reunion -- the White Stripes sampling "The Way We Do It" -- the group has been touring the world steadily to ecstatic crowds, including a performance at UC Berkeley's Greek Theatre last summer with the Bay Area's own extended Quannum Projects family (DJ Shadow, Blackalicious and Latyrx) that was hailed as one of the hip-hop events of the year. Jurassic 5 headlines the Fox Theater Saturday night on their tour supporting the deluxe reissue of Quality Control. Washington, DC-based three man crew RDGLDGRN opens the show.
Jurassic 5
Saturday, July 11, 8 p.m. $45
Fox Theater