Juvenile stabbed Saturday night outside Six Flags in Vallejo
VALLEJO, Calif. - A fight outside Six Flags in Vallejo on Saturday night resulted in one juvenile suffering from life-threatening injuries after being stabbed. 
KTVU received a tip regarding the stabbing late Saturday night and the incident was confirmed with Vallejo police Sunday evening.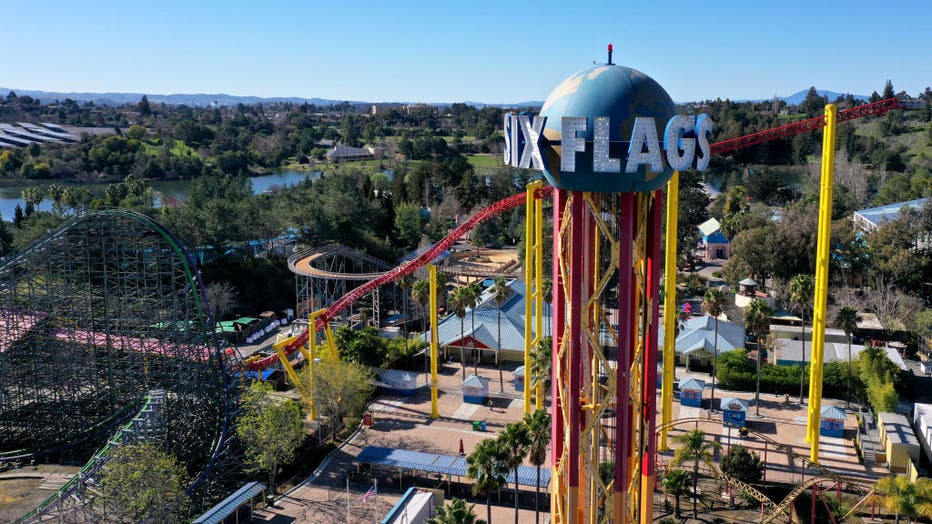 VALLEJO, CALIFORNIA - FEBRUARY 24: An aerial drone view of the Six Flags Discovery Kingdom theme park on February 24, 2021 in Vallejo, California. Despite a fourth quarter loss due to the COVID-19 pandemic, Six Flags posted better than expected reven
Around 9:30 p.m. Saturday, the Vallejo Police Department received a report of a fight involving "multiple juveniles" at the park. 
One juvenile was stabbed "at least once," VPD said, and was taken to a nearby hospital with life-threatening injuries. 
Another juvenile received an undisclosed citation at the scene and was released, but no arrests have been made for the stabbing incident, VPD said. 
Six Flags said the people involved in the stabbing were not guests of the park and that the fight occurred due to an "argument they began earlier via social media."
Due to the fight's proximity to the park, Six Flags security personnel responded to the incident.
"Six Flags has zero tolerance for this type of behavior. Anyone that violates our code of conduct, anywhere on park property, including outside the park, will be reported to the police and, where appropriate, prevented from ever visiting the park," a spokesperson for Six Flags told KTVU. "Safety is our number one priority. Misbehavior will not be tolerated."