Kazmir pitches into 8th, A's hold off Pujols, Angels 3-2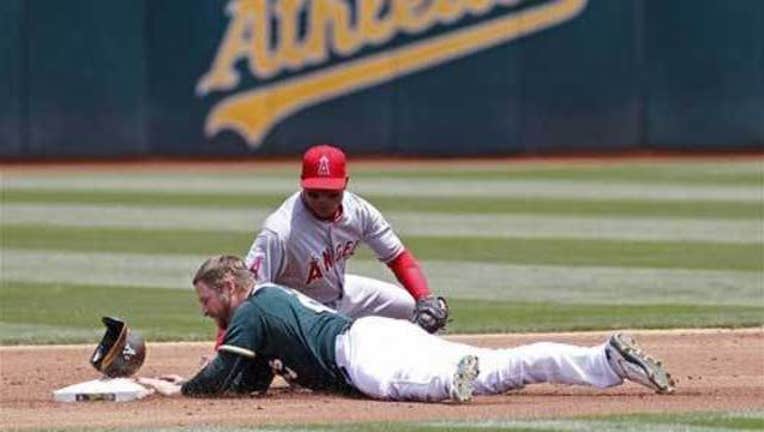 article
OAKLAND, Calif. (AP) - Athletics closer Tyler Clippard nearly paid a hefty price after lobbying manager Bob Melvin to work the ninth inning for a second straight day.
Having given up a two-run home run to slugger Albert Pujols in the eighth that trimmed Oakland's lead to one run, Clippard convinced the skipper to extend his workload then held his breath when Johnny Giavotella hit a deep fly out to the fence in left field with the tying run on base.
"I thought it was gone," Clippard said after recording his 12th save in the A's 3-2 win over the Los Angeles Angels on Sunday. "I wasn't happy with the execution, for sure. The left field fence veers out just enough and it stayed short, thank goodness."
Clippard was only scheduled to pitch the eighth after getting the final four outs of Saturday's 4-1 win.
Melvin changed his mind when Clippard came off the mound following Pujols' home run and asked to go back out for the ninth.
"I didn't come here to lay up, you know what I mean?" Clippard said. "If I'm going to do it, I'm going to do it. It's not something I'm going to be able to do a lot but if I can do that, especially in these kind of games ... and we need wins right now ... I'm happy to do it."
Scott Kazmir (4-4) gave up one run in 7 1/3 innings before Clippard took over.
The A's won the final two games of the series between the two teams after losing five of six to their division rivals.
"We had a pretty spirited series overall, the way they won the first one and then how we won the second one and then today," Melvin said. "Three really hard-fought games."
A's third baseman Brett Lawrie, who made a catch while falling into the Oakland bullpen on Friday night, turned in another nifty defensive play when he stumbled over the mound in foul territory to catch Carlos Perez's pop fly.
Sam Fuld doubled with one out in the A's third and scored on Billy Burns' single. Burns extended his hitting streak to 12 games, matching his career high.
Lawrie and Ike Davis added RBI singles in the sixth to put the A's up 3-0.
Pujols hit his AL-leading 21st homer of the season, and tied Tim Salmon's team record with 13 home runs in June.
David Freese followed with a bloop single, but Clippard went on to finish for the save.
"I thought we had pretty good at-bats," Angels manager Mike Scioscia said. "We just couldn't get a hit with guys in scoring position."
Garrett Richards (7-5) gave up three runs in six innings.