Klay Thompson scores 42, Warriors down Memphis 111-107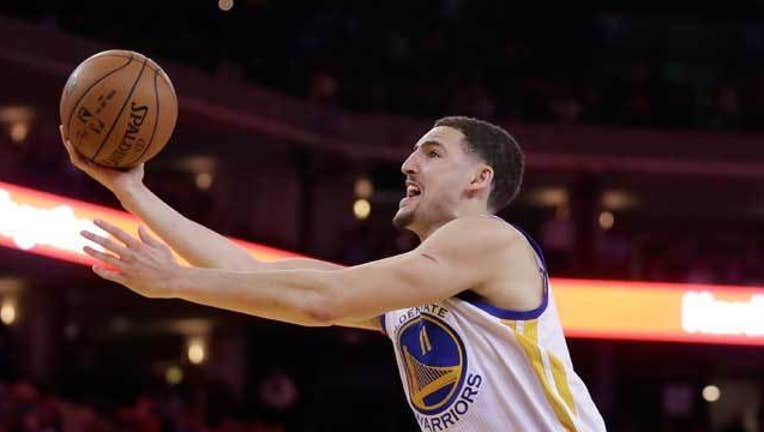 OAKLAND, Calif. (AP) — Klay Thompson scored 26 of his 42 points in a sensational second quarter, and the Golden State Warriors beat the undermanned Memphis Grizzlies 111-107 on Monday night.
The All-Star guard outshined teammate and MVP candidate Stephen Curry for a change with his own streaky shooting stretch. Thompson finished 15 of 21 from the floor, including 8 of 10 from 3-point range, to help the top-seeded Warriors (66-15) tune up for the playoffs with another impressive performance.
Golden State led by 32 points in the third quarter before resting its regulars. Memphis moved within four in the final seconds to give the game a little drama.
But the rally came too late.
The Grizzlies (54-27) slipped to sixth in the Western Conference standings, including a game behind San Antonio (55-26) and Houston (55-26) in the Southwest Division. Memphis, which is trying to win its first division title, hosts Indiana in Wednesday's season finale.
Besides improving their playoff seeding, the Grizzlies are trying to get healthy.
All-Star center Marc Gasol (sprained left ankle) and forward Jeff Green (lower-back tightness) played through injuries, while point guard Mike Conley (sprained right foot) and swingman Tony Allen (strained left hamstring) sat out.
Gasol had just six points and four rebounds in 21 minutes. Grizzlies coach Dave Joerger rested most of his regulars after Memphis fell behind by 32 points in the third quarter.
Not that anybody could stop Thompson's touch.
Thompson made his first eight shots from the floor, mixing in mid-range jumpers and crafty layups with his usual 3-point prowess. He scored 11 points in the first quarter to help Golden State go ahead 36-21, then showed off his near-unstoppable stroke.
Thompson made 10 of 13 shots in the second quarter, including 6 of 7 from 3-point range. He was in such a groove that his teammates turned down open shots, frantically looking to get him the ball, while the announced sellout crowd of 19,596 chanted, "Klay! Klay! Klay!"
In a nearly 9-minute span, Thompson scored 23 straight points for the Warriors. He ended the half with 37 points.
The scene brought back memories of Thompson's record-setting performance against Sacramento on Jan. 23, when he scored 37 of his career-high 52 points in the third quarter. It was the most points in a quarter in NBA history.
This time, Thompson lifted the Warriors up 22 at the half and 32 in the third quarter. Curry added 15 points, eight assists and four rebounds as Golden State sent another strong message to the conference-contending Grizzlies.
The Warriors whipped the Grizzlies 107-84 in their last meeting March 27 in Memphis.
The Warriors, who have already secured homecourt advantage throughout the playoffs, have won 17 in a row at rowdy Oracle Arena. They're a league-best 38-2 at home.
TIP-INS
Grizzlies: Memphis went 1-2 against Golden State this season. ... Conley has missed three straight games, and Allen has sat out eight in row. It's unclear when they'll return.
Warriors: Only 10 teams have ever won 38 home games in a season. ... The franchise record for consecutive home victories is 19, accomplished earlier this season.
UP NEXT
Grizzlies: Host Indiana on Wednesday.
Warriors: Host Denver in regular-season finale Wednesday.