Ko returns to Lake Merced to defend Swinging Skirts crown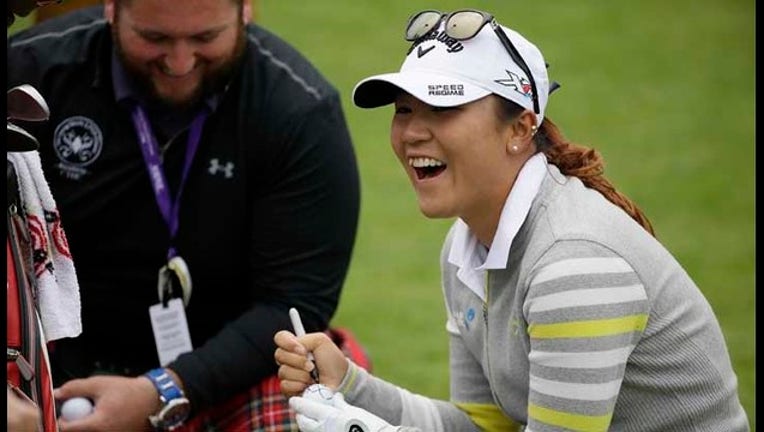 article
DALY CITY, Calif. (AP) -- Lydia Ko looks back at the year she's had since winning her first LPGA Tour title as a professional and credits the great golf she played at Lake Merced with helping to launch her young career.
She even celebrated her 17th birthday during the inaugural Swinging Skirts LPGA Classic last spring, and the world No. 1 will try to defend her title this week in a field that initially featured 19 of the top 20 players in the world before eighth-ranked Suzann Pettersen withdrew Wednesday.
Pettersen has a nagging shoulder injury. Kelly Shon replaced her in the field.
Ko should be well rested after two weeks off, too.
''The first win is always important because it kind of gives you that first stepping stone where the path or the door is kind of open from there,'' said Ko, a two-time winner in the tour's Canadian Women's Open as an amateur. ''Winning here was really important to me. The first is definitely one of the most memorable ones.''
Ko turns 18 on Friday, and might just receive another on-course ''Happy Birthday'' serenade from the gallery as she did in 2014 at the first tee box. She has earned three more victories since her Swinging Skirts title with its $2 million purse.
She overcame a one-stroke deficit on the final day last year with birdies on three of her last four holes on the front nine of her final round to overtake runner-up Stacy Lewis with a 3-under 69 to finish 12 under 276.
It will be equally tough this time, and the cool weather, mist and wind coming from the ocean near San Francisco again look to pose a challenge on an already rigorous course. Lewis is playing again, along with U.S. Women's Open champion Michelle Wie and local favorite Paula Creamer.
''It's a great field. It's not a major but it feels like a major,'' Ko said. ''The top players are here. You have to play well week in, week out. Everybody's playing so well. With this course, the person who's going to be consistent is going to win it.''
Ko would rather focus on consistency than setting specific goals such as winning five tournaments.
Wie insists that's the key to her game, too.
Winning a major certainly meant a lot. She hopes to perform in another place she considers home after playing last week in her native Hawaii.
''I think I'm a lot more confident player now than I have been. It's just nice to know that I can do it,'' Wie said. ''Lake Merced is a championship golf course. When you make a birdie out here it feels great. When you make a par out here it feels great.''
Wie's week started off well with a quick visit to alma mater Stanford, except that her favorite frozen yogurt shop was closed and even ''banging on the door'' didn't do the trick.
''This is definitely something I look forward to all year,'' Wie said. ''It feels like home.''
Creamer, the 2010 U.S. Women's Open champion, has established a new routine, regrouped and worked to improve her ball striking after struggling earlier this year in a swing through Asia. She even adjusted her contact lenses that were so strong she thought she had vertigo.
''I went through some highs and lows the last couple of years, by far the worst that I was playing was last year. I've been very lucky that I've never really experienced anything like that,'' the 28-year-old Creamer said. ''I changed all my equipment in my bag to what I have now after Asia. I just kind of had to start over. It was hard when you have to look at yourself and realize that I need to work a little harder and do these things.''
The Swinging Skirts brought the LPGA back to the Bay Area last year for the first time since 2010.
Swinging Skirts chairman Johnson Wang is an art aficionado, so there again will be colorful sculptures around the par-72 course.
''All the art on the golf course is just fantastic,'' Wie said. ''It's a beautiful golf course. It's a tough golf course. I love all the trees. California has been struggling with the rain a little bit. I was actually expecting it to be a lot browner, firmer.''