Lafayette home vandalized with swastika graffiti, owners urge public to vote
LAFAYETTE, Calif. - A swastika symbol with the word "Trump" written underneath was spray-painted on a home in Lafayette Monday night. 
Homeowner Katie Peacock posted an image of the graffiti found on her garage in a private Facebook group. 
It's unclear why the home was targeted, but the family has a Joe Biden flag flying in their front yard.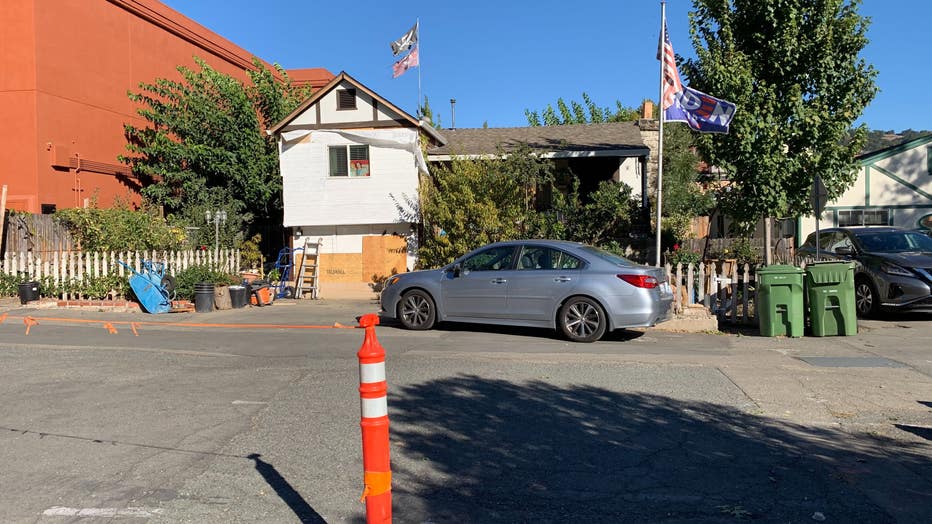 Outside view of Katie and Robbie Peacock's home in Lafayette.
Another member of the Facebook group said the same tag was found along the St. Stephens overpass to Highway 24 in Orinda on Tuesday. 
DOWNLOAD: Get breaking news alerts on the go with the KTVU mobile app
Peacock and her husband Robbie said the "message of hate and violence" underlines the importance of getting out to vote. 
In a statement to KTVU, the couple said: "We have 7 days until the next election. Seven days to choose love over hate, unity over division, and bravery over fear. Seven days to protect our children's future and to make our parents proud. Get out the vote."
Lafayette Mayor Mike Anderson said police are actively investigating the crime and all potential aspects of it, including as a possible hate crime. 
"Lafayette stands together in the face of any act involving prejudice or racism; this act will not be overlooked and will be vigorously prosecuted," Anderson said. 
RELATED: Oakland police make hate crime arrest in synagogue vandalism
Seth Brysk, regional director of the Anti-Defamation League also condemned the graffiti, saying, "The issue here is that you have the normalization of an extremist symbol, one which has proven to be deadly."
A woman who organizes weekly rallies in support of Joe Biden on the overpass where graffiti was sprayed told KTVU that she was disturbed by the vandalism.
"It was incredibly, incredibly upsetting," said the woman, who didn't want to be identified. "It feels very targeted, given the visibility of the bridge and where we have been every Friday."