LeBron scores 42, Cavs beat Warriors for 18th win in last 20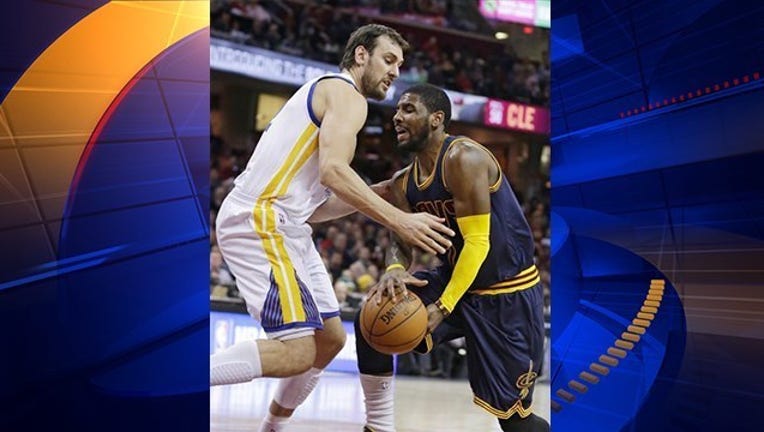 article
CLEVELAND (AP) — LeBron James scored a season-high 42 points and the Cleveland Cavaliers beat the Golden State Warriors 110-99 on Thursday night for their 18th victory in 20 games.
James added 11 rebounds, outplaying fellow MVP candidate Stephen Curry and leading Cleveland past the team with the NBA's best record for its 11th straight home victory.
Curry scored 18 points, but had only six after the first quarter and was 5 of 17 from the field. David Lee led Golden State (44-11) with 19 points.
James was out with knee and back injuries when the teams met Jan. 9, a 112-94 win for Golden State. Although the four-time MVP hit 15 of 25 from the field Thursday, the back apparently is still an issue. James stretched out on the floor instead of sitting on the bench when he had a rest in the fourth quarter.
Cavaliers guard Kyrie Irving, who scored 24 points, left the game in the third quarter with an injury to his left shoulder, but returned early in the fourth.
Kevin Love added 16 points for the Cavaliers.
Cleveland, leading 61-56 at halftime, took control in the third quarter. James scored 12 points, including two 3-pointers, and found Timofey Mozgov for an open jumper to push the lead to 86-70.
Warriors coach Steve Kerr was given a technical foul in the second quarter and had to be separated from official Bennett Salvatore after Draymond Green was assessed a technical in the third.
The game was tied eight times and featured 12 lead changes in the first half. James scored 13 points in the first quarter and finished the half with 24. Curry made three 3-pointers in the opening period.
Curry missed Sunday's game at Indiana with a sore right foot, but returned to score 32 points Tuesday at Washington.
Green added 16 points for Golden State, but Klay Thompson was held to 13 on 5 of 13 from the field.
Center Kendrick Perkins, signed by Cleveland on Tuesday, entered the game midway through the second quarter and received a loud ovation in his home debut. He committed two fouls in 2:13 and was pulled.