Leonard has 26, Spurs snap Warriors 12-game streak, 107-92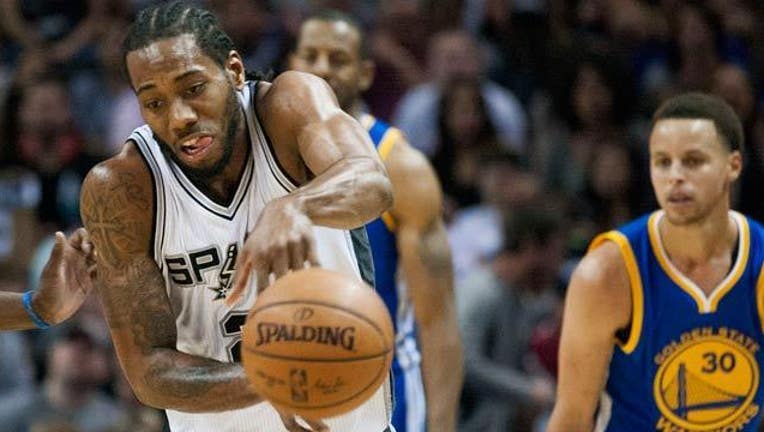 article
SAN ANTONIO (AP) — The Golden State Warriors have steamrolled teams for the past month, but they ran into a huge roadblock named Kawhi Leonard.
Leonard matched his career-high with 26 points and set a career-high with seven steals and San Antonio rolled past Golden State 107-92 on Sunday, snapping the Warriors' 12-game winning streak while extending its own to seven straight.
"Kawhi was magnificent at both ends of the court," San Antonio coach Gregg Popovich said. "He is really playing confidently, but he hasn't forgotten to predicate his game on defense and on the boards. It kind of fuels him offensively."
The surging Spurs won for the 17th time in 20 games and also extended their home winning streak over the Warriors to 32 straight.
Tim Duncan had 19 points and Danny Green added 18 points for San Antonio (51-26), which led by as many as 28 points against the Western Conference's top seed.
Stephen Curry had 24 points, but was harassed into 9-for-17 shooting by Leonard. Klay Thompson was held to six points on 3-for-11 shooting for Golden State (51-27).
"Kawhi was phenomenal, he was the best player on the floor," Warriors coach Steve Kerr said. "It was Kawhi's night."
A battle between the teams with the longest active winning streaks in the league grew one-sided quickly with Leonard firmly imprinting his stamp on the game.
"This is the first time I think since Christmas that we haven't really been in a game," Curry said. "We'll be fine going forward."
Leonard, who did not play in the fourth quarter, was 11-for-17 shooting, but it was defense that proved key.
Curry had 13 straight points for Golden State in a two-minute stretch early in the second half, pulling the Warriors within 67-53 with three 3-pointers. The Spurs snuffed the rally by having Leonard defend the Warriors' sharpshooter.
Leonard would strip Curry near the 3-point line in his first defensive assignment after the switch, batting the ball with his left hand from Curry's right-handed dribble and raced downcourt for an emphatic one-handed dunk ahead of Draymond Green.
"He was frustrating those guys by getting deflections and getting a lot of hands on basketballs," Spurs forward Danny Green said.
Half of Leonard's steals came from direct swipes off Curry's dribbling, but did the Finals MVP get an added sense of satisfaction from shutting down Curry.
"Not really," Leonard said. "I mean he's a great player and I just get joy in my heart when I'm playing a game out there. Just trying to do my job."
It was part of a rough evening for Curry.
"I didn't get too many looks but for a couple of minutes," Curry said. "But we can run on our same offense and try to look for mismatches that might be somewhere else on the floor. He's a great defender, but if we run our offense, we feel like there's nobody that can really take us out of that."
TIP-INS
Warriors: Golden State has not won in San Antonio since Feb. 14, 1997, the season before Duncan arrived. The Warriors had lost by an average of 16.5 points prior to Sunday's blowout. ... The Warriors won by an average of 15.2 points during their winning streak.
Spurs: San Antonio C Tiago Splitter (tightness, right calf) sat out and is expected to miss the team's next three games at least. Popovich said the injury is "not real serious, but enough to keep him out for a while." ... The Spurs are 10-0 when Bonner starts alongside Duncan, Parker, Leonard and Green and 14-3 overall when the "Red Rocket" is in the starting lineup.
NOT HAPPY
Warriors guard Shaun Livingston did not play Sunday, serving a one-game suspension for hitting Dallas Mavericks forward Dirk Nowitzki in the groin on Saturday night.
Kerr said he was "disappointed" by the suspension that resulted from the flagrant foul.
"I know it was inadvertent, but whether that matters or not, I'm not sure," Kerr said. "I was more disappointed that (Dallas guard J.J.) Barea didn't get a flagrant foul for just chucking Shaun in the throat. Clear retaliation."
Livingston was assessed a flagrant foul with 1:28 remaining in the third quarter after officials reviewed the play, but Kerr said the initial view that led to the review was incorrect.
UP NEXT
Warriors: Visit New Orleans on Tuesday.
Spurs: Visit Oklahoma City on Tuesday.