Lydia Ko defends her title at Lake Merced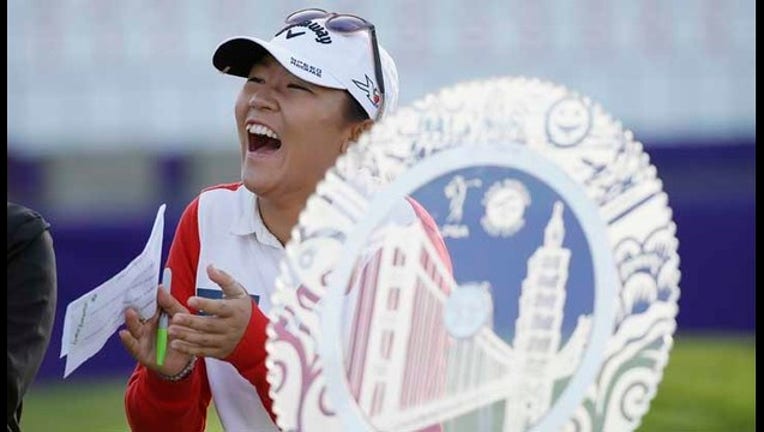 article
DALY CITY, Calif. (AP) — The steady hands over important putts. The easy laughter even while playing a sudden-death playoff. Lydia Ko can make it seem like child's play on the LPGA Tour even as she keeps piling up victories at an alarming rate.
The 18-year-old says she gets just as nervous as anyone else.
"You have to take my word on that," Ko said with a smile after winning the Swinging Skirts LPGA Classic for the second straight year.
It sure didn't look that way Sunday at Lake Merced. Not after she opened with a pair of bogeys when she needed to make up ground on the leaders. Not after she missed a 6-foot birdie putt on the 17th hole to tie for the lead.
Instead, the Korean-born Kiwi calmly sank an 8-foot birdie putt on the par-5 18th hole for a 2-under 70 that got her into a playoff with Morgan Pressel. She won on the second extra hole — her third time playing the 18th — by rolling in a 5-foot birdie putt for her second LPGA Tour victory of the season, and the seventh of her career. She now has won five of her last 25 starts on the LPGA Tour.
"She's very, very impressive and always there," Pressel said. "At her age, she plays with so much poise and calmness I don't think you see from other kids her age."
Pressel caught herself and smiled.
"I guess she's not a kid anymore," she added.
Ko celebrated her 18th birthday Friday, and then had cause for another celebration by outlasting Pressel and 17-year-old Brooke Henderson of Canada on a back nine that featured a burst of great shots followed by some sloppy game that turned the final hour into a test of survival.
Ko had reason to believe this week wasn't going to end favorably for her. Right when she was about to fall three shots behind, Ko made a 40-foot birdie putt on the par-3 15th hole that curled in from the left side on the final turn. And then she chopped up the 16th hole for a bogey and failed to convert a great birdie chance at the 17th.
Just her luck, Pressel and Henderson were struggling, too.
Henderson holed a bunker shot for eagle on the par-5 14th to get within one shot of Pressel, but only as long as it took Pressel to get up-and-down behind the 14th green for birdie to stretch the margin to two shots.
Pressel made bogey on the next two holes. Henderson chunked a chip on the 15th and made bogey.
"I think it's always very close whenever I play this event," Ko said.
A year ago, she had to make a 6-foot birdie on the last hole to hang on for a one-shot victory. She learned then that every shot counts, so Ko figured she had wasted a chance when she missed her short birdie try on the 17th hole for a chance to catch Pressel.
"I said, 'If I want to put some pressure, I need to make a birdie or better on 18,'" Ko said. "Ended up being good for that. But yeah, this tournament always makes my heart clench. I got so nervous. It's a good thing they're going in the hole."
It was a crushing loss for Pressel, who missed a playoff at the ANA Inspiration by one shot earlier this month and has not won on the LPGA since 2008 at Kapalua. It was a wild day for Pressel, who made a 40-foot eagle putt on the front nine, along with missing three putts from about 4 feet — two for birdie, one for par — that kept her from getting some separation she could have used.
Pressel had a 15-foot birdie putt for the win on the 18th in regulation. She missed and shot 72.
Ko was on the putting green listening for a cheer that never happened. She figured the 18th would come down to putting, and she was right. The 18th hole could not be reached in two, so it effectively became a wedge-and-putt contest.
Pressel had a 10-foot birdie putt for the win on the first extra hole that grazed the edge of the cup. On her third try, an 8-foot birdie putt was pulled and never had a chance. Ko calmly stepped in and made her 5-footer.
"I just couldn't convert the putts," Pressel said. "It all comes down to putting. She birdied it twice and I didn't."
Ko hit a 4-iron hybrid for her second shot on the 18th in regulation and then a 5-iron hybrid in the playoff. Both times left her with an easy pitching wedge. On the third time, she decided to get more aggressive by hitting a 3-iron hybrid. That left her 96 yards, and she was able to close the face on a 54-degree wedge that she could hammer. It was her best shot of the tree, leaving her 5 feet below the cup for the winner.
Henderson opened with two bogeys in three holes to fall out of the lead for the first time since Friday morning. The Canadian never caught up, though she was never out of it until missing her 25-foot birdie putt on the final hole.
"It was one of the least nervous putts I had all day," Henderson said. "I could see it going in in my mind, but it didn't happen in real life."