Man shot at New Orleans international airport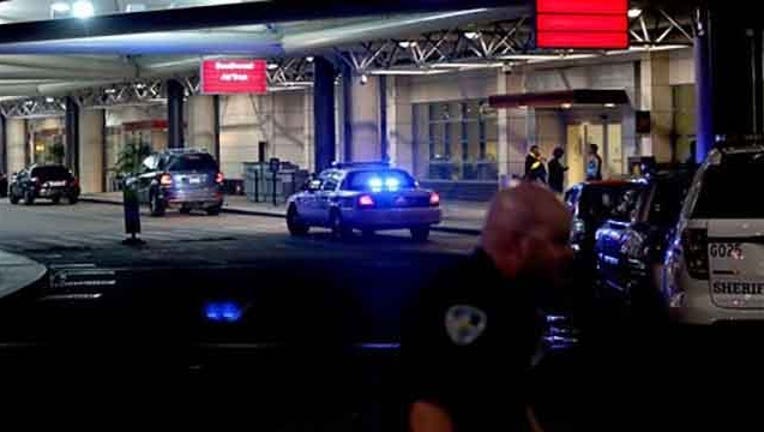 article
KENNER, La. (AP) — A man sprayed a TSA agent in the face with wasp killer then slashed a second guard with a machete before a third agent shot him three times at a security checkpoint in the New Orleans international airport Friday.
Richard White, 63, entered the airport and went through the TSA line where boarding passes are checked when he was confronted by one of the guards, Jefferson Parish Sheriff Newell Normand told a news conference outside the airport.
White responded by spraying the guard with wasp spray, then struck a female officer with a machete, cutting her right arm, Normand said. White sprayed the male officer again before a third officer shot him, striking him in the left chest, left thigh and left facial area, the sheriff said.
Normand said White was transferred to an area hospital but was "unresponsive."
A bystander was grazed by a bullet in the arm and others received minor cuts and bruises during the scramble to get out of the area, the sheriff said.
Brett Leonard, whose flight from San Francisco landed in New Orleans shortly before the attack, says passengers had no indication of what happened until they walked outside after picking up their bags. He says dozens of police cars were parked outside the terminal with lights flashing, and a nearby police officer told him that someone had attacked a TSA officer moments before. Leonard said he was put into a cab with several strangers as police tried to evacuate the area.
"It was just very confusing - we didn't know what was going on. No alarm, no announcement, just word of mouth," Leonard said.
Normand said investigators are still trying to determine what White was doing at the airport.
"We don't know if he was traveling. We're still piecing together witness interviews."
Logan Tucker, 26, of Meridian, Mississippi, and Phillip Green, 33, of Houston, both deckhands on a tugboat headed to Houston for work, said they were about 25 yards from where the incident unfolded.
"I heard the gunshots," Tucker said.
"It was pandemonium after that," Green said. "I took cover. I didn't want to become part of the story."
Green said they saw the machete and the suspect on the ground as they were leaving. The knife was about 14 inches long, he said.
He said there was a person in his 20s with a wound sitting in a nearby bookstore and a TSA agent nearby with a cut on her forearm.
"It was not something you expect in an airport, and I've traveled a lot," Tucker said.