Italy's No. 1 wanted Mafia boss arrested after 30 years on the run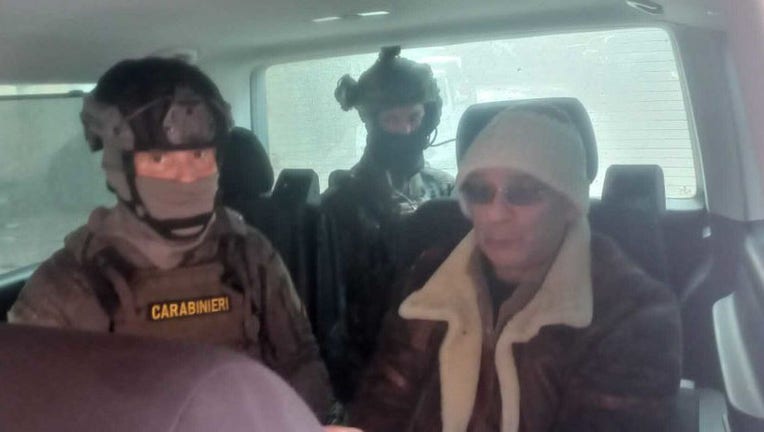 article
ROME - Italy's No. 1 fugitive, Matteo Messina Denaro, a convicted Mafia boss who ordered some of the nation's most heinous killings, was arrested Monday at a private clinic in Sicily after three decades on the run, Italian paramilitary police said.
Messina Denaro was captured at the Palermo clinic where he was receiving treatment for an undisclosed medical condition, according to Carabinieri Gen. Pasquale Angelosanto, who heads the police force's special operations squad.
A pair of Carabinieri officers, each holding an arm, walked him down the front steps of the upscale clinic and led him to a waiting black van in pouring rain. Messina Denaro was wearing a brown leather jacket trimmed in shearling, a matching white-and-brown skull cap and his trademark tinted glasses. His face looked wan and he stared straight ahead.
A young man when he went into hiding, he is now 60. Messina Denaro, who had a power base near in the western Sicilian port city of Trapani, was considered Sicily's Cosa Nostra top boss even while a fugitive.
He was the last of three longtime fugitive top-level Mafia bosses who had for decades eluded capture, and hundreds of police officers over the years had been tasked with tracking him down.
Italian news reports said that when Carabinieri came up to him in the clinic and asked if he were Messina Denaro, the fugitive admitted that he was.
Palermo Chief Prosecutor Maurizio De Lucia told Rai state TV that the fugitive had been using the pseudonym Andrea Bonafede. The last name roughly means "good faith" in Italian.
Shortly after his arrest, Messina Denaro appeared before a court in Palermo, where a judge sought to confirm his identity and ask basic questions to fill out documents.
Reminded by the judge that he must answer truthfully, Messina Denaro replied: "Aware." When asked his occupation, he replied "farmer" and added that his brother was a banker and his four sisters homemakers.
For his residence, he cited Castelvetrano, a farm town near Trapani which was his crime clan's power base and where he was assured of logistics support during his time as a fugitive, according to investigators.
He also told the court he was one of six children, including a brother in banking.
The brief hearing ended with Messina Denaro telling the judge, who wasn't identified by state TV, "Thank you, good day."
Messina Denaro, who was tried in absentia and convicted of dozens of murders, faces multiple life sentences.
He is set to be imprisoned for two bombings in Sicily in 1992 that killed top anti-Mafia prosecutors Giovanni Falcone and Paolo Borsellino, Falcone's wife and several of their bodyguards. Other grisly crimes he was convicted of is the murder of a Mafia turncoat's young son, who was abducted and strangled before his body was dissolved in a vat of acid.
Monday's arrest came 30 years and a day after the Jan. 15, 1993, capture of convicted Mafia "boss of bosses" Salvatore "Toto" Riina, in a Palermo apartment after 23 years on the run. Messina Denaro went into hiding in the summer of that same year, as the Italian state stiffened its crackdown on the Sicilian crime syndicate following the murders of Falcone and Borsellino.
Italian Premier Giorgia Meloni tweeted that Messina Denaro's capture is a "great victory of the state, which shows that it doesn't surrender in the face of the Mafia."
Italy's Mafia boss who set the record for the longest time on the lam was Bernardo Provenzano, captured in a farmhouse near Corleone, Sicily, in 2006 after 38 years as a fugitive. Once Provenzano was in police hands, the hunt focused on Messina Denaro, but despite numerous reported sightings he managed to elude arrest, until Monday.
That all three top bosses were ultimately arrested in the heart of Sicily while they conducted decades of a clandestine life won't surprise Italy's police and prosecutors. Law enforcement have long said that such bosses rely on contacts and the confidentiality of fellow mobsters and complicit family members to move them from hideout to hideout, supply food, clean clothing and communication, and a code of silence known as "omerta."
But Messina Denaro, besides staying in hideouts in Sicily, also traveled abroad while a fugitive, including to Marseille, the French port city, where he underwent surgery some years ago, according to investigators.
Riina and Provenzano lived out the last years of their life in the strictest of Italian prison conditions reserved for unrepentant organized crime bosses and refused to cooperate with investigators.
Messina Denaro was believed to have enjoyed a more comfortable lifestyle in his decades hiding from police, leaving some to speculate whether he might agree to cooperate with prosecutors in exchange for more lenient prison conditions.
During his years on the run, he had a series of lovers and passed time by playing video games, according to Italian media reports.
One of his girlfriends was arrested and convicted of having hidden him for a time while he was a fugitive. But while he had a weakness for women, Messina Denaro could be cruel, strangling a woman while she was pregnant, according to Italian media.
Right after he went into hiding, Messina Denaro sent a letter to his then girlfriend, saying, "You'll hear talk about me, they will paint me like the devil, but it's all falsehoods,'' ANSA quoted the letter as saying.
Wary of being tracked down by cellphone use, Mafia bosses frequently resort to handwritten notes known as "pizzini." When Provenzano was nabbed in his rustic, almost primitive, hideaway in the countryside, police found a stash of such notes.
With the crackdown that began in the 1990s against Sicily's Cosa Nostra, the island's mafiosi started losing their dominance in Italy compared to other organized crime syndicates.
While the Sicilian Mafia was significantly weakened by a small army of turncoats, on the mainland, the 'ndrangheta syndicate, based in the "toe" of the Italian peninsula, steadily eclipsed Cosa Nostra in reach and influence. Unlike Sicily's crime syndicates, the 'ndrangheta draws its footsoldiers based on family ties, leaving it less vulnerable to turncoats. The 'ndrangheta is now one of the world's most powerful cocaine traffickers.
But the Sicilian Mafia still runs drug trafficking operations. Other lucrative illicit businesses include infiltration of public works contracts and extortion of small business owners who are threatened if they don't regularly pay "protection money."
RELATED: FBI: No sign of Jimmy Hoffa under New Jersey bridge
___
This story has been corrected to show that Messina Denaro is one of six children, not the father of six children.