Memorial service in Dallas honoring fallen officers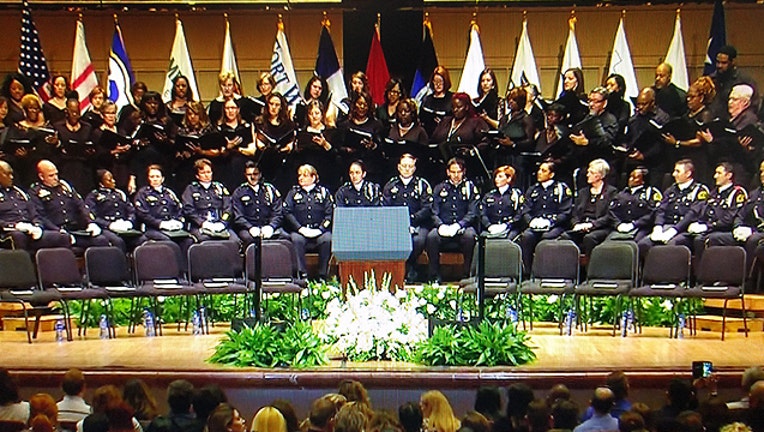 article
President Barack Obama arrives in Dallas Tuesday to lead the memorial service for the police officers killed last week in a downtown Dallas ambush.
He will speak at the interfaith service at the Meyerson Symphony Center. First Lady Michelle Obama and Vice President Joe Biden will also be there, as well as former President George W. Bush and former First Lady Laura Bush.
White House spokesman Josh Earnest said Obama recognizes that people across the U.S. join Dallas in grieving over the recent, troubling events.
"The president is hoping to offer some measure of comfort," Earnest said.
Just a few weeks ago, Obama traveled to Orlando to consoling the loved ones of 49 people who were killed in a shooting rampage at a nightclub. Leading the nation in honoring lives cut short has become an unwelcome but regular duty of his presidency.
Earnest said Obama and Biden also met Monday with police chiefs, sheriffs and rank-and-file officers to discuss adopting a series of reforms that were drafted by a White House task force on policing, as well as how to restore trust between police officers and the communities they are sworn to serve and protect.
Dallas Mayor Mike Rawlings said he invited the president to speak and hopes he'll offer a message of unity.
"We've been through a lot of pain over the last few days. So today is a day of healing, starting with unity. It's showing families that we love them and we'll never forget them and also bragging a little big on Dallas, having Dallas be prideful. We'll have two presidents here talking to us and I think we have a chance to show the country that Dallas is in a good place and we're going to rebound from this," he said.
Tuesday's service is not open to the public so that as many police officers as possible can attend. However, the service will be simulcast on screens at Klyde Warren Park at and broadcast live on FOX 7's Facebook page.
Afterward, Obama is expected to meet privately with the families of those killed and those injured in the attack.
The Associated Press contributed to this report.