Mexican man acquitted of Kate Steinle murder denied bail pending federal trial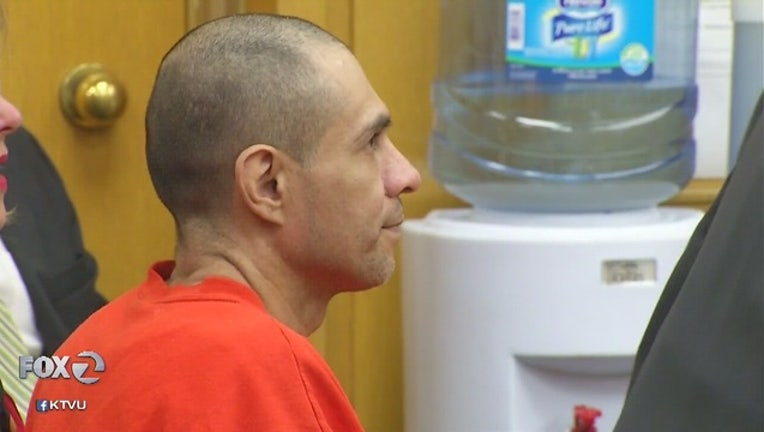 article
SAN FRANCISCO - An undocumented Mexican immigrant who was acquitted of murder in a 2015 fatal shooting on a San Francisco pier made his first appearance in federal court today on related gun possession charges.
Jose Ines Garcia Zarate is charged in a Dec. 5 federal grand jury indictment with one count of being an ex-felon in possession of a gun and one count of being an undocumented person in possession of a gun at the time of the shooting of Kate Steinle on July 1, 2015.
He appeared before U.S. Magistrate Maria-Elena James in federal court in San Francisco. Through his lawyer, veteran defense attorney Tony Serra, Garcia Zarate postponed his arraignment on the charges until Feb. 13.
Serra told James he was not asking for bail because there is a hold on Garcia Zarate from a federal court in Texas for allegedly violating the conditions of his supervised release after completing a prison term for illegal re-entry to the United States following deportation.
Serra said after the hearing that he expects Garcia Zarate to be imprisoned for two years in Texas for the release violations.
Zarate was acquitted in San Francisco Superior Court on Nov. 30 of state charges of murder and assault with a deadly weapon in Steinle's death.
He was convicted of being an felon in possession of a gun and was sentenced to three years in prison, which was time already served while he was awaiting trial. He was then transferred to federal custody.
Steinle was killed while walking with her father on Pier 14 when a bullet from a gun held by Zarate ricocheted off part of the pier and hit her 90 feet away.
The defense claimed the shooting was an accident, while prosecutors contended it was deliberate and intentional.
President Donald Trump and Attorney General Jeff Sessions weighed in after the verdict, blaming the shooting on San Francisco's "sanctuary city" policy that limits cooperation between local law enforcement and federal immigration authorities.
At a news conference after today's hearing, Serra said the federal prosecution of Garcia Zarate was "politically motivated and will be politically defended."
He said that at the not-yet-scheduled federal trial, he will try to persuade the jury that "a vote for guilt is a vote for Donald Trump and a vote for not guilty is a vote for justice."
Serra said he plans to file two defense motions seeking dismissal of the federal charges. One motion will argue that the federal case is vindictive prosecution. The second will contend that the federal firearms charge is unconstitutional double jeopardy.
"Trump has an appetite for vengeance," Serra said. "We're going to collect everything he ever said about this case in our motion for vindictive prosecution," he said.
Serra said that in order to win a double jeopardy motion, he would need to find evidence of collusion between federal and state authorities. He said he will seek evidence through the discovery process before he files the motion. 
Serra also said that if there is a trial, he plans to use the same argument that defense attorneys used in the Superior Court trial -- that Garcia Zarate did not actually possess the gun, but held it only momentarily after finding it under his seat and before throwing it into the Bay as soon 
as it went off.
Assistant U.S. Attorney Shiao Lee told James that Garcia Zarate's alleged violations of his Texas supervised release were failing to report to Texas probation officers within 72 hours after he was released from San Francisco jail; possessing a gun; and committing a federal, state or local 
crime.
Serra said Garcia Zarate served between four and five years of his Texas sentence. Garcia Zarate has had several other convictions and sentences for illegal re-entry.
Speaking through a translator, Garcia Zarate told James he prefers to go by the name Juan Jose Domingues de la Parra. Outside of court, Serra said his client used several different names when he entered the United States, but said the defense believes his real name is Garcia Zarate.