Michelle Obama had miscarriage, used IVF to conceive girls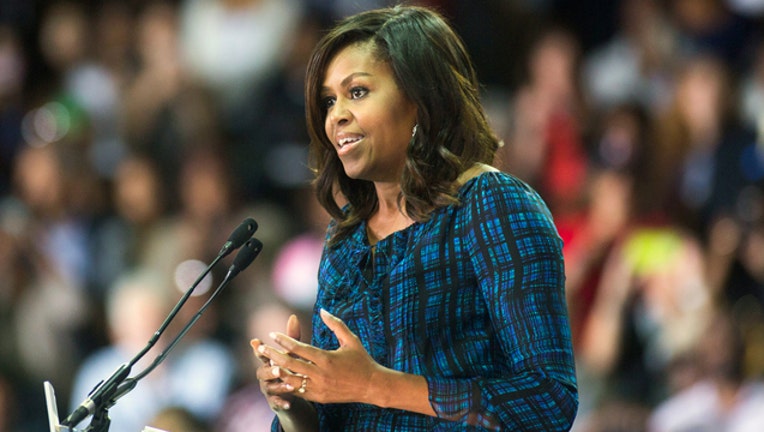 article
WASHINGTON (AP) — Michelle Obama says she felt alone after a miscarriage 20 years ago and she and Barack Obama underwent fertility treatments to conceive their two daughters, according to her upcoming memoir.
In some of her most extensive public comments on her White House years, the former first lady also lets her fury fly over President Donald Trump's "bigotry and xenophobia" — dangerous, deliberate rhetoric, she wrote, that risked her family's safety.
"For this," she writes, "I'd never forgive him."
But it's her deeply personal account of her marriage to the future president that shed new light on the Ivy League-educated couple's early struggle with issues of family, ambition and public life.
"We were trying to get pregnant and it wasn't going well," Mrs. Obama, 54, writes in "Becoming," set for release Tuesday. The Associated Press purchased an early copy. "We had one pregnancy test come back positive, which caused us both to forget every worry and swoon with joy, but a couple of weeks later I had a miscarriage, which left me physically uncomfortable and cratered any optimism we felt."
The Obamas opted for IVF, one form of assisted reproduction that typically involves removing eggs from a woman, fertilizing them with sperm in a lab, and implanting the resulting embryo. It costs thousands of dollars for every "cycle," and many couples require more than one attempt.
Mrs. Obama writes of being alone to administer herself shots to help hasten the process. Her "sweet, attentive husband" was at the state legislature, "leaving me largely on my own to manipulate my reproductive system into peak efficiency," she said.
"Becoming" is one of the most anticipated political books in memory, ranking at the top of Amazon's best-sellers on Friday. That's often the case with the memoirs of former first ladies, including Hillary Clinton and Laura Bush. But Mrs. Obama defied her exalted status in the annals of history by cultivating an image of a modern woman with whom many Americans would like to sip wine and chat.
But until now, she's not extensively shared so many details. Some family struggles, such as losing a baby, are known by millions of women.
"I felt like I failed because I didn't know how common miscarriages were because we don't talk about them," the former first lady said in an interview broadcast Friday on ABC's "Good Morning America." ''We sit in our own pain, thinking that somehow we're broken."
Mrs. Obama, said they underwent fertilization treatments to conceive daughters Sasha and Malia, now 17 and 20.
She also writes about falling in love. The Obamas met at the Chicago law firm Sidley Austin LLP, and Michelle was skeptical at first. But she was then impressed by his "rich, even sexy baritone" and by his "strange, stirring combination" of serenity and power.
Their first kiss set off a "toppling blast of lust, gratitude, fulfillment, wonder," she wrote.
Confronting racism in public life — being the first black first lady, wife of the nation's first black president — has been a bracing experience, in Mrs. Obama's telling. She agonized over what she feared was a cartoonish, racist image. She remembered being labeled "angry" and, by the Fox network, "Obama's Baby Mama."
In the White House, she knew she would be labeled "other" and would have to earn the aura of "grace" given freely to her white predecessors. She found confidence in repeating to herself a favorite chant: "Am I good enough? Yes I am."
In the memoir, Mrs. Obama lets loose a blast of anger at Trump.
She writes that Trump's questioning of whether her husband was an American citizen was "crazy and mean-spirited" — and "dangerous." Trump suggested Obama was not born in the U.S. but on foreign soil — his father was Kenyan. The former president was born in Hawaii.
"What if someone with an unstable mind loaded a gun and drove to Washington? What if that person went looking for our girls?" she writes in the memoir. "Donald Trump, with his loud and reckless innuendos, was putting my family's safety at risk. And for this, I'd never forgive him."
As he left for Paris Friday, Trump chose not to respond to the former first lady, telling reporters, "Oh, I guess she wrote a book. She got paid a lot of money to write a book and they always insisted you come up with controversial." Trump instead changed the subject to his predecessor, Barack Obama, saying, "I'll never forgive him" for making the country "very unsafe."
Mrs. Obama also expresses disbelief over how so many women would choose a "misogynist" over Clinton in 2016. She remembers how her body "buzzed with fury" after seeing the infamous "Access Hollywood" tape, in which Trump brags about sexually assaulting women.
She also accuses Trump of using body language to "stalk" Clinton during an election debate. She writes of Trump following Clinton around the stage, standing nearby and "trying to diminish her presence."
Mrs. Obama launches her promotional tour Tuesday not at a bookstore, but at Chicago's United Center, where tens of thousands of people have purchased tickets — from just under $30 to thousands of dollars — to attend the event moderated by Oprah Winfrey.
___
Follow Kellman on Twitter at: http://www.twitter.com/APLaurieKellman