Mission District LGBT mural vandalized for the fourth time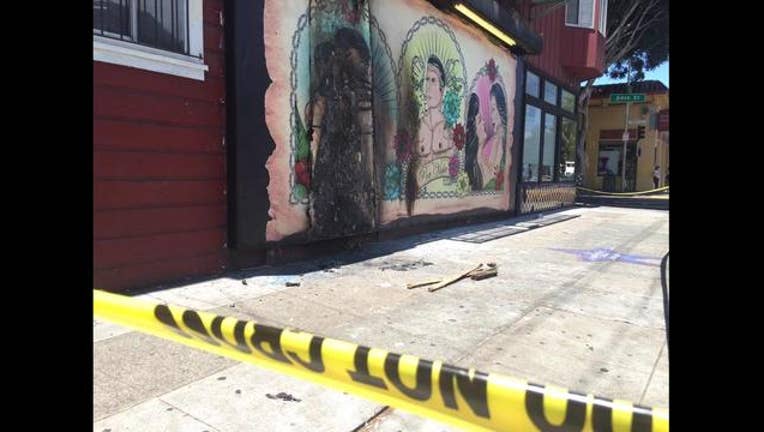 article
 SAN FRANCISCO (KTVU and wires) -- A colorful mural illustrating queer love in San Francisco's Mission District was vandalized late Monday night for the third time since it was unveiled earlier this month, police said Tuesday.
All three acts of vandalism are being investigated as hate crimes, according to San Francisco police spokesman Officer Albie Esparza.
The artwork, which is a digital mural, was created by Manuel Paul of the Los Angeles-based Maricon Collective.
Titled "Por Vida" or "For Life," the mural was unveiled by San Francisco's Galerie de la Raza on June 13th and is located close to the gallery, on the side of a building at the intersection of 24th and Bryant streets.
The mural depicts three scenes mixing queer and low-rider culture. One scene shows two men together, another shows a transgender person and the third shows two women together.
The most recent act of vandalism was reported at about 11:20 p.m. on Monday. The suspect set fire to the mural before fleeing the scene, Esparza said.
A Good Samaritan put the fire out with a fire extinguisher before it spread to the rest of the building, according to Esparza.
The arsonist had set fire to the part of the mural depicting two men together.
Esparza said that on June 16th and again on June 21st, the mural was vandalized with graffiti.
Police do not have video footage of the first act of vandalism, but video surveillance equipment was installed prior to the second attack and footage showed a suspect wearing a black hoodie.
The footage from Monday, Esparza said, showed a male suspect between 20 and 40s years of age who is either Hispanic or white. He is covering his face with a black cloth and wearing a black sweatshirt, black pants, white tennis shoes and white gloves.
Galeria de la Raza's executive director Ani Rivera released a statement today following the most recent act of vandalism, stating that "Galeria de la Raza strongly condemns last night's act of terrorism to try to yet again silence Chican@/Latin@ LGBTQ visibility."
While no one was physically hurt, Rivera said the act caused "emotional trauma" for neighbors and endangered the lives of families.
Rivera said the gallery will host a community conversation on Saturday, July 18, and that event details will be announced soon.
On June 21, following the first two acts of vandalism, Rivera released a statement saying, "The defacement and re-defacement of the current digital mural by Manuel Paul of Maricon Collective has only proven the credibility of its purpose."
Rivera said that the defacement proves that "homophobia is alive and well in our communities; however, we will not let it thrive."
Paul, the muralist whose work has been repeatedly defaced, also released a statement on the gallery's website regarding the vandalism.
"Por Vida was created to celebrate the LGTBQ Chican@/Latin@ culture within the context of a historically Chicano Barrio," Paul writes.
"Through our art and our work we present counter-stories that reflect queers growing up in the Barrio. Barrio Queerness is not a new concept or trend, it has always existed but has been silenced by centuries of patriarchy and machismo that plague our communities."
Paul said he hopes that people will be able to see the love depicted in the mural and that they will try to understand the obstacles faced in life by those who are victims of racism, sexism and homophobia.
A fundraising campaign to restore the mural has been set up at this website.