Missouri governor admits having affair but denies blackmail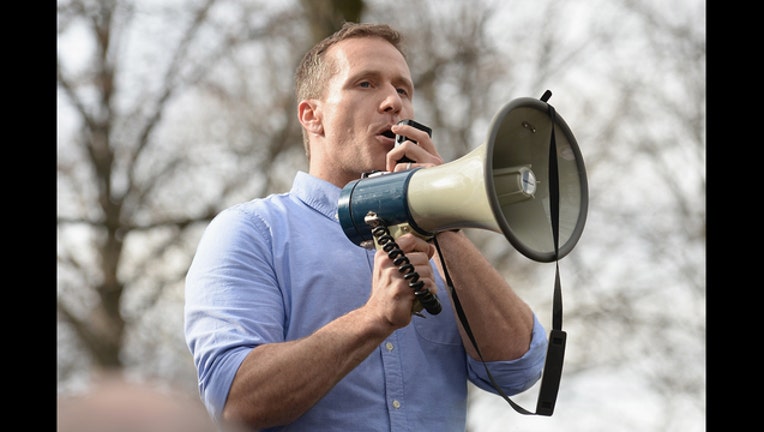 article
JEFFERSON CITY, Mo. (AP) - When Eric Greitens sought Missouri's highest office, his resume seemed hard to top: former Navy SEAL, former Rhodes scholar and founder of a veterans' charity. Most important, he said during the campaign, was his role as "a proud husband and father."
On Thursday, the square-jawed 43-year-old was fighting allegations that he photographed a hairdresser naked while having an affair with her and threatened to publicize the image if she spoke about their relationship. The top prosecutor in St. Louis quickly launched an investigation, and a bipartisan group of state lawmakers asked the attorney general to investigate as well.
Greitens acknowledged being "unfaithful" in his marriage before he was elected governor but denied taking any naked photos and threatening the woman to stay quiet.
The governor and his wife released a statement late Wednesday after St. Louis television station KMOV reported that he had a sexual relationship with his former hairdresser in 2015. The bombshell report overshadowed his annual address to the Legislature and included blackmail allegations from the woman's ex-husband, who secretly recorded a conversation with his ex-wife discussing the affair.
The affair was "a deeply personal mistake," the statement said. "Eric took responsibility, and we dealt with this together honestly and privately."
Through his attorney, Grietens also denied an allegation from the ex-husband that Greitens slapped the woman, saying any accusation of violence is "completely false."
During the 2016 campaign, Greitens cast himself as an outsider going up against a career politician, the state's Democratic attorney general. He has barely hidden his higher political ambitions and reserved the web address ericgreitensforpresident.com years ago.
The woman involved did not comment on the record to the TV station, which did not name her. But her ex-husband, who also was not named, provided the audio recording to KMOV in which the woman gave details about a sexual encounter she says she had with Greitens in March 2015 at his St. Louis home. The woman did not know her then-husband was recording their conversation.
The alleged encounter came after Greitens created a committee to explore a bid for governor but before he officially announced his candidacy. She said on the tape that he invited her downstairs at his home because he wanted to show her "how to do a proper pull-up."
She said: "I knew he was being sexual, and I still let him. And he used some sort of tape, I don't know what it was, and taped my hands to these rings and then put a blindfold on me."
She said she later realized he took a photo of her.
"I saw a flash through the blindfold and he said, `You're never going to mention my name."'
The woman did not immediately return a call left by The Associated Press at the salon where she worked.
A bipartisan group of state senators signed a letter asking the state attorney general to investigate the blackmail allegations. Attorney General Josh Hawley's office said it would defer to local prosecutors, as required by state law.
The letter signed by both Democrats and Republicans called the allegations "deeply disturbing" and said a swift investigation was necessary to avoid having the matter "overpower" the 2018 legislative session.
GOP leaders in the Missouri Senate released a joint statement Thursday describing the allegations as "shocking and concerning" and urging Greitens to be "honest and forthright." At least two Democratic state lawmakers called on the governor to resign.
The Legislature adjourned Thursday for the long Martin Luther King Jr. holiday weekend. Lawmakers were not scheduled to return until Tuesday.
Months after the affair, the hairdresser sent Greitens an email asking him to stop booking appointments at the salon where she worked.
The St. Louis Post-Dispatch reported that the email was sent Oct. 20, 2015, three weeks after Greitens filed papers formally starting his 2016 gubernatorial campaign. It was sent to the same account that Greitens listed on a website he used in the campaign.
The newspaper did not say how it obtained the email.
She asked Greitens, whom she called by his first name, to "please consider all who are involved and the circumstances around us." She said returning to the salon "isn't fair to me, nor anyone close to us" and that she needed to "move forward."
The lawyer for the ex-husband said the FBI has contacted him several times since October 2016 about the affair. Attorney Al Watkins said the agency has spoken to him about the affair and the blackmail allegations. He did not say if the ex-husband has also heard from the FBI.
A spokeswoman for the FBI's St. Louis office said the agency could not confirm or deny that it was investigating.
Bennett denied that authorities are involved.
"The claim that this nearly three-year-old story has generated or should generate law enforcement interest is completely false," he said.
St. Louis Circuit Attorney Kim Gardner said Thursday that no criminal complaint has been filed against Greitens and no evidence of a crime has been presented to her office. But the city's top prosecutor encouraged anyone with evidence of a crime to come forward.
Sheena Greitens is an assistant professor in the political science department at the University of Missouri and co-director of the university's Institute for Korean Studies. Much of her research focuses on China and North Korea.
The Greitens married in 2011 and have two young sons. The governor was married once before and divorced in 2003.
Watkins said his client and the woman who had the affair tried to reconcile but that the relationship with Greitens continued for several months and caused their breakup.
The ex-husband told KMOV that he believed the story would eventually be made public and he wanted to protect his family.
------
Associated Press writers David A. Lieb in Jefferson City, Missouri, and John Hanna in Topeka, Kansas, contributed to this report.