MLK day protestors who shut down San Mateo Bridge plead not guilty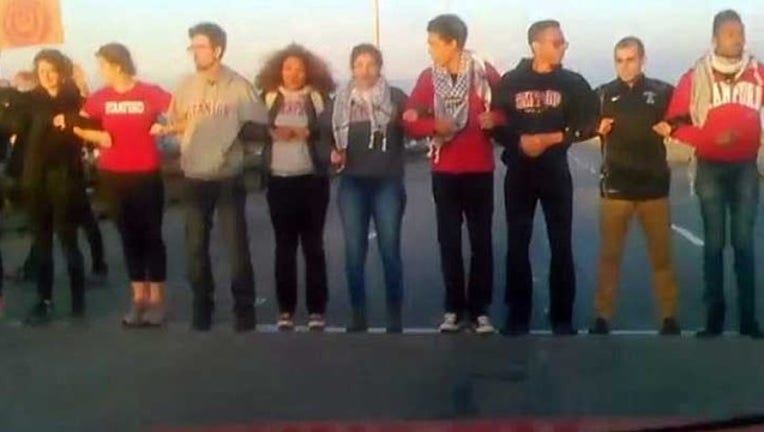 article
REDWOOD CITY (KTVU and wires) -- The last 58 defendants who were arrested after shutting down the San Mateo Bridge as part of the Black Lives Matter movement on Martin Luther King Day pleaded not guilty to misdemeanor charges in a San Mateo County court Thursday, according to prosecutors.
A total of 68 defendants were cited for obstructing the roadway and creating a public nuisance after allegedly failing to leave the scene when ordered to do so by California Highway Patrol Officers during afternoon rush hour on Jan. 18.
CHP officials said after the arrests that there were four confirmed collisions involving property damage or minor injuries during the protest, which shut down all lanes on the bridge for at least 25 minutes.
The protesters, who were affiliated with a group called Silicon Shutdown, said they were demonstrating to honor the legacy of Dr. Martin Luther King Jr.
They planned to hold the bridge for 28 minutes, which is symbolic of the frequently cited statistic that a black person is killed every 28 hours by a police officer, private security guard or vigilante.
The first 10 defendants were arraigned in February. Several of them have retained private attorneys, but most defendants are being represented by San Mateo County's Private Defender Program, according to prosecutors.
Defendant Elliot Williams was represented by attorney John Burris, who is well known throughout the Bay Area for his work on police brutality and officer involved shooting cases.
At that time Burris said he had been brought into the case on the request of the family, but because the charge filed is a misdemeanor, an associate in his office will probably handle the case.
Burris' office did not immediately respond to a request for comment Friday afternoon.
The protester's next court appearance will be for pre-trial conferences in April. Their cases are expected to go to jury trial in May, according to prosecutors.
Silicon Shutdown and the Public Defenders Program could not be immediately reached for comment.