'Momo' the monkey captured after running loose through Indiana neighborhood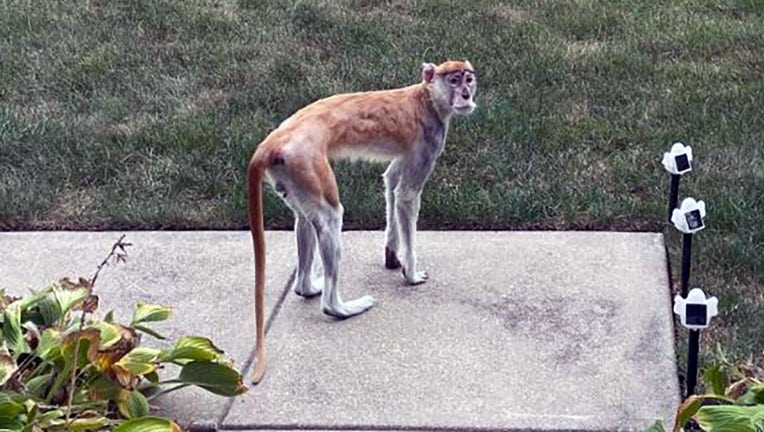 article
INDIANAPOLIS - A pet monkey named Momo escaped from a home in Indiana, startling one woman as she parked in her driveway and spotted it on the hood of her car, and was later captured after an hours-long search. 
On Thursday morning, authorities in Indianapolis shared an update that the pet monkey had been "captured safely" after scouring a local neighborhood for the animal. 
Momo had been spotted several times by area residents, including Karri Harbert, who said she pulled outside of her home on Wednesday when the monkey approached her. 
"I immediately got back in, closed the door and it jumped onto the hood of my car," Harbert told Storyful.
RELATED: Dog resembles the Hulk after dipping head into lake
Harbert posted a video to Facebook showing the monkey indeed on the hood of her vehicle and said several police officers soon arrived – telling her to remain in her car.
"I was starting to get out of my car again and the police (several of them) pulled up and told me to stay in the car, that there is a very aggressive monkey on the loose! You can't make this stuff up," she wrote on Facebook. 
The Indianapolis Metropolitan Police Department later confirmed that it was helping the local animal care services department with trying to find the pet monkey. Police said it had been spotted in the city's far east side.
"There are reports of minor injuries from the monkey, but we can't confirm it is from bites," IMPD said Wednesday evening on X. "Please do not approach him."
On Thursday morning, the monkey was spotted running down a nearby street, according to FOX59.  A dog barked at Momo, startling the monkey and causing him to jump into some trees, the local news station reported. 
Police, along with Momo's owner, arrived and were trying to coax him out with a peach, the station reported.
By about 11 a.m. local time, the Indianapolis Metropolitan Police Department shared an update that the money had been captured. 
"That was more than enough monkey business for us," the department wrote on X. 
RELATED: Commander, Biden's dog, no longer at White House after 'series' of biting incidents
This story was reported from Cincinnati.