Napa police officer involved in Friday shooting identified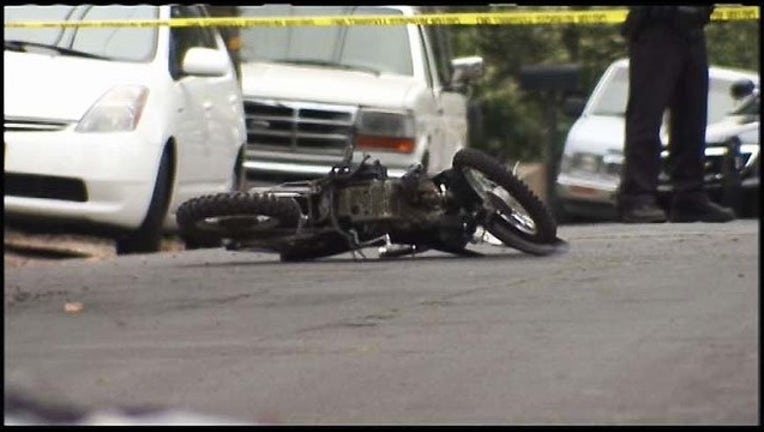 article
NAPA, Calif. (KTVU and wires) -- Napa police Sunday identified an officer who shot and killed a man in the city's Alta Heights neighborhood on Friday. 
Officer Thomas Keener fired three shots at 41-year-old James Richard Jimenez after a brief pursuit, police said. On Friday, shortly before 5 p.m., the Napa Police Department's special enforcement unit, which includes Sgt. John Corrigan, Officer Curtis Madrigal, Officer Adam Davis and Keener, were preparing to serve a search warrant in the 1400 block of East Avenue. 
Police said the special enforcement unit is tasked with overseeing quality of life and gang investigations. The same enforcement unit had served a search warrant at Jimenez's home one month prior and Jimenez was subsequently arrested on suspicion of possessing ammunition and narcotics, which police said he is prohibited from possessing due to prior convictions. 
On Friday, officers were parked outside of Jimenez's house when they saw Jimenez speed past on a motorcycle. The officers activated their lights and siren and chased Jimenez as he allegedly sped away, police said. 
Jimenez lost control of the motorcycle at the intersection of Spring Street and Hill Avenue, roughly a block away, police said. As officers approached Jimenez, they reportedly yelled "Police, show us your hands, show us your hands." Instead, Jimenez allegedly reached for his waistband for what officers recognized as a handgun, police said. 
Keener fired three shots, striking Jimenez in the front of his body with one of the bullets striking his torso, police said. Police said officers immediately began performing CPR and other life-saving measures before he was transported to Queen of the Valley Medical Center in Napa, where he died from his wounds. 
Officers seized a handgun, suspected methamphetamine and "a substantial amount of cash" from Jimenez, police said. Police said the Napa County Sheriff's Office is conducting a separate investigation into the incident. Per department protocol, all four officers are on paid administrative leave, police said. 
Police said the Napa County Health and Human Services Agency is offering a health needs assessment and brief crisis counseling for individuals and families affected by this incident. 
Anyone who wishes to the use these services can call (707) 259-8151. Law Enforcement Chaplaincy of Napa County is also available to assist and can be accessed by calling (707) 479-5812.