National Aquarium to move dolphins into refuge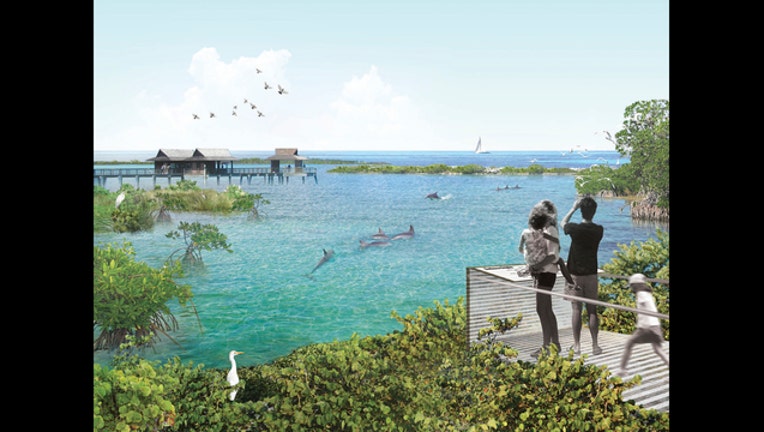 article
MIAMI (AP) — Eight dolphins that have spent their lives swimming in tanks will be retired from the National Aquarium in Baltimore into a seaside sanctuary.
By announcing plans to move its dolphins into the ocean enclosure by the end of 2020, the aquarium sails into uncharted waters for the marine mammal industry.
People for the Ethical Treatment of Animals welcomed the news, and the CEO of the Humane Society of the United States blogged that his counterpart at the aquarium "has done something terribly important."
"There's no model anywhere, that we're aware of, for this," aquarium CEO John Racanelli told The Associated Press in an interview ahead of Tuesday's announcement. "We're pioneering here, and we know it's neither the easiest nor the cheapest option."
But SeaWorld, which announced a partnership with the Humane Society after ending its orca breeding program, staunchly rejected calls to release its whales and dolphins.
The aquarium's Atlantic bottlenose dolphins won't simply be released into open seas. Officials haven't said how large the enclosed sanctuary will be, but Racanelli said it would be measured in acres, not square feet.
Potential sites in the Florida Keys and the Caribbean have been explored.
The sanctuary would have a full-time staff, "excellent water quality" in a temperate climate, isolation pools for medical care or temporary refuge from harmful conditions and barriers to stop breeding among the dolphins or mingling with wild dolphins, Racanelli said.
Only the oldest dolphin in the group has ever swum in ocean water: a female captured in 1972. Six were born at the aquarium and one was born at SeaWorld in Orlando.
Ranging in age from 7 to 44, they stopped performing scheduled shows in 2012 but remain on display in 25-year-old facilities.
"We've learned a lot, obviously, about how to take care of them, about how to ensure that they thrive," Racanelli said. "As that learning evolution has continued, it's become clear to us we can go even further in terms of their health and welfare by taking this kind of step."
The aquarium has considered new options for its dolphins, including moving them to other institutions or renovating their tanks, for several years amid growing public distaste for live animal shows.
Ringling Bros. and Barnum & Bailey Circus sped up the retirement of its touring elephants to a Florida refuge under increasing scrutiny prompted by concerns over animal cruelty. SeaWorld's decision to phase out its signature animal followed years of declining attendance, cancellations by entertainers, the loss of a marketing partnership with Southwest Airlines and protests that continued through now-abandoned plans to build larger tanks for its orcas.
Three animal advocacy groups, including the leader of campaigns to make commercial tuna fishing "dolphin safe" and release the whale that starred in "Free Willy," have announced intentions to jointly create a seaside sanctuary for captive orcas, belugas and dolphins.
Until the Baltimore aquarium's announcement Tuesday, institutions keeping marine mammals have argued against such proposals. Critics of "sea pens" or other sanctuaries say such efforts fail and have harmed the animals, including Keiko from "Free Willy" and two dolphins set free off Key West in 1996 by the activist featured in the documentary "The Cove."
Members of the Association of Zoos and Aquariums make decisions "appropriate for the animals" in their care, and the National Aquarium will work with state and federal agencies as it relocates its the dolphins, the association's interim president and CEO, Kris Vehrs, said in a statement.
Humane Society CEO Wayne Pacelle said Racanelli's plans are "more evidence that animal-based facilities" are adapting to cultural shifts and prioritizing the animals' well-being. SeaWorld officials, however, believe their animals are safest in their current displays and help educate the public about protecting their counterparts in the wild.
"Sea cages for our whales are high risk," SeaWorld spokeswoman Aimee Jeansonne Becka said in an email.
Racanelli said the National Aquarium's dolphins will remain in human care throughout their lives in the new habitat.
Initial costs for building the sanctuary depend on seaside land values, but the costs of dolphin care should be lower in ocean waters that don't need regulating as they do in the aquarium, Racanelli said. Decisions about access for researchers and visitors will come later.
A brief closure of the marine mammal facility and negative publicity after the 2011 deaths of two newborn dolphins lost the aquarium $1.9 million, according to an internal document. An informal dolphin program was launched with higher general admission fees, and revenue grew from $45.9 million that year to $53.5 million in 2014 before dipping last year, according to its annual reports.