Nearly 90 million in Northeast, Mid-Atlantic still trapped in polluted air as Canadian wildfire smoke thins
Air quality levels improved to their best levels in days across the Northeast and mid-Atlantic on Friday. Still, pockets of unhealthy air remained as the smoke-choked region from Canadian wildfires eagerly awaits an anticipated wind shift this weekend to scour out the remaining haze.
The air quality index (AQI) dropped below 100 in New York and Washington, D.C. on Friday morning, which is considered "moderate." It was in the low 100s around Philadelphia. The readings are a far cry from the hazardous readings that crossed 300 – and in some cases, 400 – on Wednesday and Thursday.
TRACK CANADA WILDFIRES SMOKE MAP FORECASTS AND AIR QUALITY DATA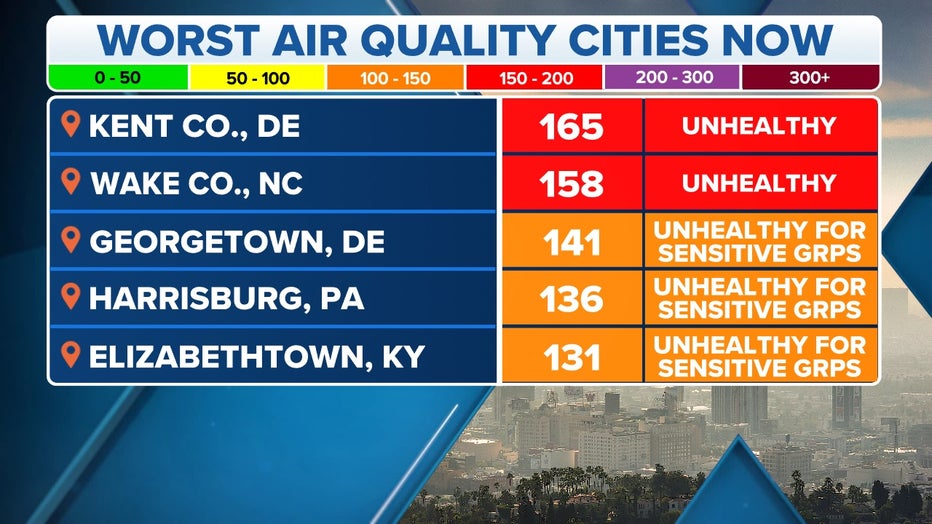 Current top-5 worst air quality readings in the U.S. ((FOX Weather))
Yet the smoke had spread more to the west and south since its initial surge across the Canadian border Wednesday, and there were still some areas experiencing smoke thick enough to be considered unhealthy, especially for sensitive groups such as children, older adults or those with heart and lung ailments.  
WHAT'S THE STATUS OF CANADIAN WILDFIRES SENDING SMOKE INTO THE U.S., AND WHEN WILL IT END?
Friday's peak readings were expected in the Mid-Atlantic and Ohio Valley, and air quality alerts still remain in effect across Pennsylvania, New Jersey, Delaware and into Indiana, Ohio and Michigan. "Orange" level air quality alerts were in effect for the greater Pittsburgh and western Pennsylvania areas Friday, warning sensitive groups to take extra precautions.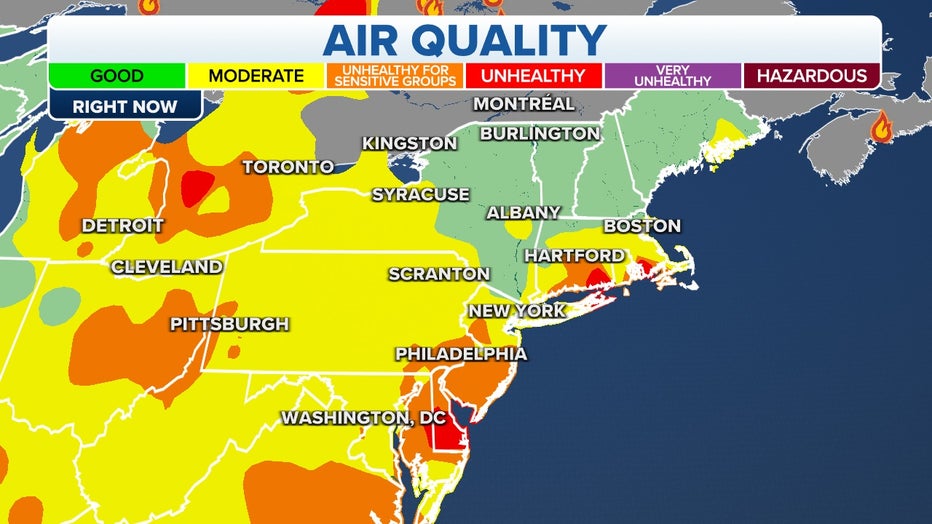 Current air quality map. ((FOX Weather))
Raleigh, North Carolina, crossed 150 on Friday morning, while Pittsburgh, Columbus, Ohio, Louisville, Kentucky and Richmond, Virginia all had readings over 100.
No readings in the U.S. had been over 200 as of Friday morning, and wildfire smoke was expected to continue thinning through the day. Still, skies will remain hazy through the northeastern quarter of the U.S.
Record-setting air quality levels Wednesday
The smoke wreaked havoc for millions on Wednesday and Thursday as a thick plume of smoke cast a surreal pall over New York City and Washington, DC.
Towering skyscrapers and monuments disappeared in the distance, replaced by an orange fog that irritated eyes and throats, and many described a "campfire-type" smell.
SEE EERIE ORANGE SKIES OVER NEW YORK CITY AS CANADIAN WILDFIRE SMOKE BLANKETS NORTHEAST
Officials urged residents to stay indoors as much as possible during the worst of the plume as air quality levels reached hazardous heights never before recorded in the region. 
Several flights were delayed across the Northeast, with airports in New York, Philadelphia and Washington, DC, slowing arrivals and departures due to very low visibility.
WHAT TO DO WHEN WILDFIRE SMOKE SMOTHERS YOUR AREA, AND HOW TO KEEP YOUR HOME'S AIR CLEAN
Major League Baseball games in all three of those aforementioned cities were postponed amid the smoky haze, and even New York's famed Broadway couldn't escape the impacts, postponing performances of Hamilton.  Schools in New York City went into remote learning to keep students and staff at home, and in nearby Belmont Park, all horse races were canceled.
Relief on the way
But blue skies are on their way back – or at least gray – across the region as a weather pattern shift finally gets under way early in the weekend.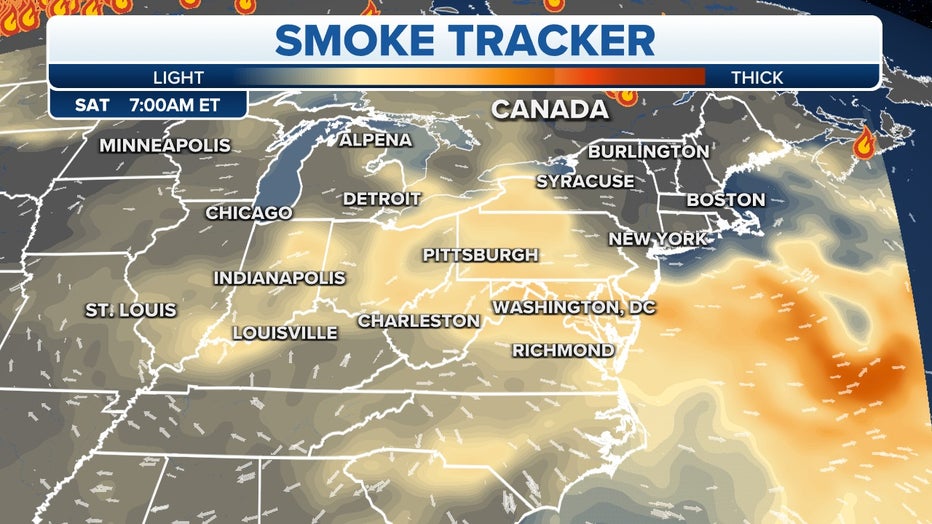 24-hour forecast for Canada wildfire smoke. ((FOX Weather))
An area of low pressure that has been swirling around New England and helping to funnel smoke in from the north will slowly slide away Saturday, while a new storm system moves into the Great Lakes, allowing the winds to shift back around to the west and southwest.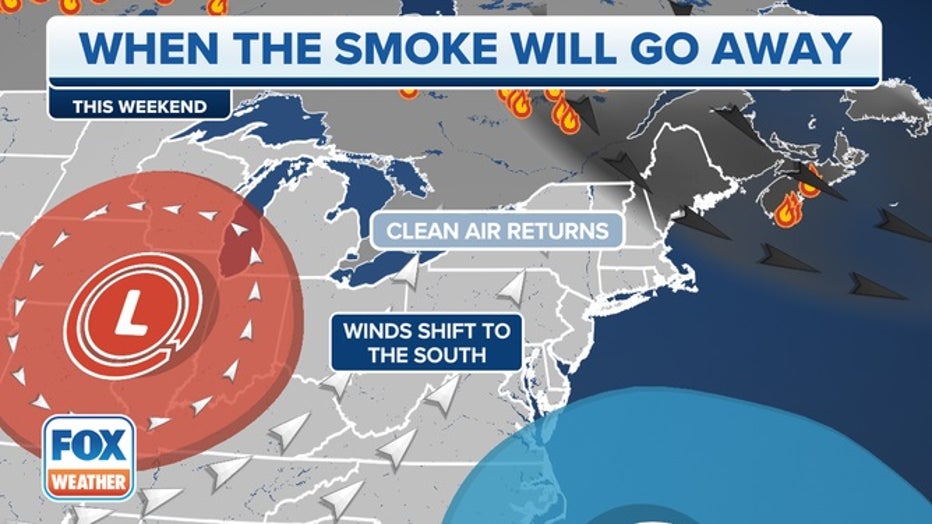 The fresh breezes will push the smoke back across the border and out to sea, improving air quality across the region back to near normal levels.
This is a developing story that will continue to be updated Friday as conditions improve.