Netanyahu surges to victory in Israeli vote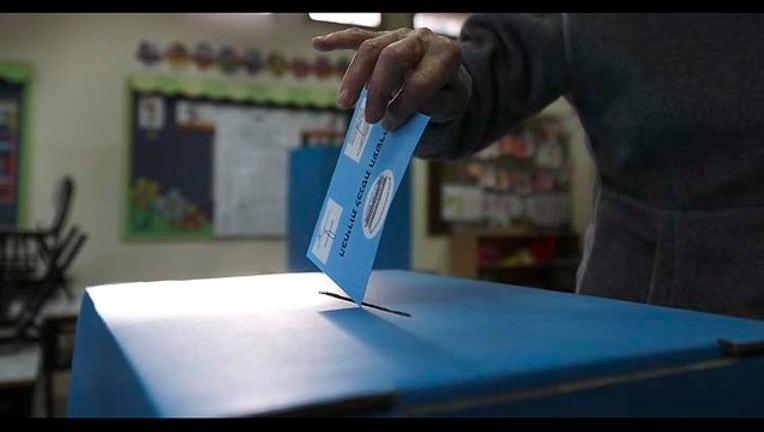 article
TEL AVIV, Israel (AP) — Prime Minister Benjamin Netanyahu's right-wing Likud Party scored a resounding victory in Israel's election, final results showed Wednesday, a stunning turnaround after a tight race that had put his lengthy rule in jeopardy.
Netanyahu surged ahead after a last-minute lurch to the right in which he opposed Palestinian statehood and vowed continued settlement construction, setting the stage for fresh confrontations with the White House just weeks after criticizing U.S. talks with Iran in a divisive address to Congress.
With nearly all votes counted, Likud appeared to have earned 30 out of parliament's 120 seats and was in a position to build with relative ease a coalition government with its nationalist, religious and ultra-Orthodox Jewish allies.
On Wednesday, Netanyahu visited the Western Wall in Jerusalem's Old City, a remnant of the biblical Jewish Temple and the holiest site where Jews can pray. "I'm touched by the weight of the responsibility that the people of Israel have put on my shoulders. I wish to say that I will do anything in my power to ensure the well-being and security of all the citizens of Israel," he said.
The election was widely seen as a referendum on Netanyahu, who has governed for the past six years. Recent opinion polls indicated he was in trouble, giving chief rival Isaac Herzog's center-left Zionist Union a slight lead. Exit polls Tuesday showed the two sides deadlocked but once the actual results came pouring in early Wednesday, the Zionist Union dropped to just 24 seats.
Given the final results, it is all but assured that Israel's largely ceremonial President Reuven Rivlin will task Netanyahu with forming a new government. Netanyahu says he hopes to do so quickly, within two to three weeks.
"Against all odds, we achieved a great victory for the Likud," Netanyahu told supporters at his election night headquarters, declaring victory even before final results were known.
Netanyahu focused his campaign primarily on security issues, while his opponents pledged to address the high cost of living and housing crisis while accusing him of being out of touch. Netanyahu will likely look to battle that image now by adding to his government Moshe Kahlon, whose upstart Kulanu party captured 10 seats with a campaign focused almost entirely on bread-and-butter economic issues. Kahlon is expected to be the next finance minister.
A union of four largely Arab-backed factions became Israel's third largest party — with 14 seats — and gave Israel's Arab minority significant leverage in parliament for the first time. Ten parties in all made it into parliament.
Herzog conceded defeat, saying he called Netanyahu and offered him congratulations. He signaled that he would not join forces with Netanyahu and would rather head to the opposition.
"I think that at this moment what Israel needs most of all is another voice, a voice that offers an alternative and a voice that tells it the truth," he said outside his Tel Aviv home. "It must be clear that for the citizens of Israel, the challenges remain the same, the problems are the same. Nothing has changed."
Netanyahu's return to power for a fourth term likely spells trouble for Mideast peace efforts and could further escalate tensions with Washington.
Netanyahu, who already has a testy relationship with President Barack Obama, staked out a series of hard-line positions in the final days of the race that will put him on a collision course with much of the international community.
In a dramatic policy reversal, he said he now opposes the creation of a Palestinian state — a key policy goal of the White House and the international community. He also promised to expand construction in Jewish areas of east Jerusalem, the section of the city claimed by the Palestinians as their capital, where violence has increased in recent months.
The Palestinians, fed up after years of deadlock with Netanyahu, are now likely to press ahead with their attempts to bring war crimes charges against Israel in the International Criminal Court.
"Now, more than ever, the international community must act," said Palestinian official Saeb Erekat.
The world overwhelmingly supports the establishment of a Palestinian state in the West Bank, east Jerusalem and the Gaza Strip, areas captured by Israel in 1967, and opposes settlement construction.
With the race close, Netanyahu reneged on his previous stated support for a Palestinian state in an attempt to shore up his hawkish base. But peace talks last collapsed nearly a year ago, and it's unclear whether the next government will pursue any drastic policy changes.
Netanyahu also infuriated the White House earlier this month when he delivered a speech to the U.S. Congress criticizing an emerging nuclear deal with Iran. The speech was arranged with Republican leaders and not coordinated with the White House ahead of time in a rare breach of diplomatic protocol.
In Washington, White House spokesman Josh Earnest said Obama was confident strong U.S.-Israeli ties would endure far beyond the election, regardless of the victor.
Throughout the campaign, Netanyahu portrayed himself as the only politician capable of confronting Israel's numerous security challenges.
Avi Degani, president of the Geocartography polling institute, who had predicted an outright Likud victory, said ultimately Netanyahu's experience prevailed. "There was a situation where many people wanted to replace him but there was no one whom they wanted to replace him with," he said.
Rivlin will now meet with all ten parties that entered parliament and hear their recommendation for who should try to form the next government. Rivlin will then task the leading candidate, almost certainly Netanyahu, with putting together a coalition that makes up a majority in parliament. Netanyahu will remain prime minister throughout the process.
Netanyahu appears to have 67 backers who would join a right-wing nationalist government, but he could still surprise and try to reach out to centrist rivals in order to present a more moderate face to the world.