New charges for California dad in child torture case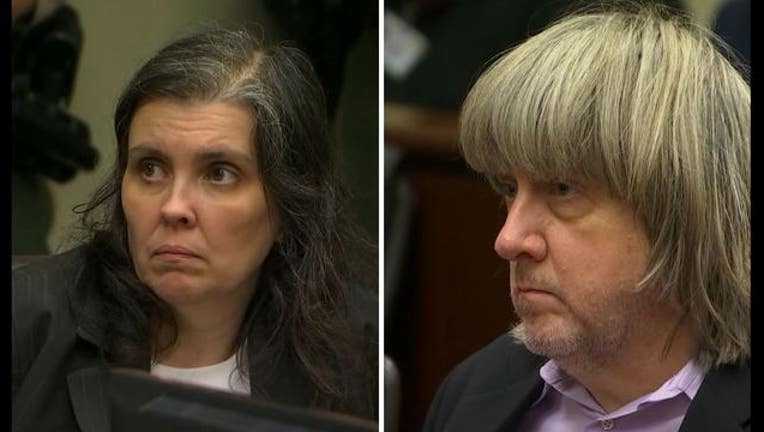 article
RIVERSIDE, Calif. (AP) - Prosecutors have filed eight new charges against a California father accused of shackling and starving some of his 13 children, alleging that he lied on government forms about their schooling.
The Riverside County district attorney's office said Friday that David Turpin was charged with eight felony counts of perjury related to paperwork he filed yearly with the California Department of Education certifying his children were receiving a fulltime education in a private day school.
John Hall, a spokesman for the district attorney's office, said one charge was filed for each year the paperwork was completed from 2010 to 2017.
Turpin and his wife Louise previously pleaded not guilty to torture, child abuse and other charges in a case that has drawn international attention since the couple's 17-year-old daughter escaped the family's Perris, California, home in January and called 911.
Authorities said evidence of starvation was obvious, with the oldest sibling weighing only 82 pounds, and the children were shackled as punishment, denied food and toys and allowed to do little except write in journals.
Turpin, who appeared in court briefly Friday wearing a sage green button down shirt and yellow tie, didn't enter a plea to the new charges during a brief hearing in Riverside. His attorney declined to comment after the hearing.
The couple, who are each being held on $12 million in bail, is due back in court May 18 and has a preliminary hearing scheduled for June 20.
State records show Turpin listed the family's home address in Perris, California, as the site of a private day school.
The children, who were removed from the home and initially hospitalized, ranged in age from 2 to 29.
___
Associated Press reporter Michael Balsamo in Los Angeles contributed to this report.