Newsom threatens counties that defy shelter-in-place orders
SACRAMENTO, Calif. - California Gov. Gavin Newsom said Wednesday that counties where leaders don't adhere to shelter-in-place orders, especially when they have signed "attestations," will have to face financial consequences.
By that, Newsom meant that California's counties must comply with state and federal COVID-19 rules if they want part of up to $2.5 billion in funding through the state budget, according to details of a budget deal expected to win approval in the Legislature, first reported by the Sacramento Bee.
"There are some that have made rhetorical comments about not giving a damn," Newsom said in some of his most strident comments to date. "That's exactly why I look forward to signing this budget that will afford me a little bit of leverage in that conversation."
The money is intended to help local governments pay for services needed because of the pandemic. But it is contingent upon counties following emergency orders to enforce the safety measures as they gradually reopen the economy.
"When people simply thumb their nose and do not come with a collaborative spirit ... then by all means the state of California has a responsibility, an obligation — legally and otherwise — to enforce those laws and to utilize the tools that are afforded us," he said.
Newsom said he plans to hand out the money monthly, based on counties' compliance. However, the budget bill before lawmakers leaves it up to local governments to certify to the state that they are complying.
Orange County Board of Supervisors Chairwoman Michelle Steel called the budget measure "an act of extortion, and an arbitrary exercise of power."
Assemblyman James Gallagher, a Republican who is fighting the Democratic governor in court over his orders, said Newsom "is instituting a one-size-fits-all mandate, this time with major financial consequences if, in his sole discretion, we haven't complied."
"And now in our time of greatest need, our federal funds are being held hostage," he added.
The bulk of the funding is from the federal government through the Coronavirus Aid, Relief, and Economic Security Act, also known as the CARES Act, including $550 million for local governments to house people who are homeless or at risk of losing their homes because of the pandemic, and another $1.8 billion for county and local governments for homelessness, public health, public safety and other pandemic-related services.
The League of California Cities said it is "eager to learn more details about how cities will be eligible to access these funds," while the California State Association of Counties noted that the federal money is "specifically intended to partially reimburse counties for COVID-19 costs" and is needed immediately to preserve the safety net.
Newsom also implored members of the public to help out too and do their part, as the number of coronavirus cases are on the rise.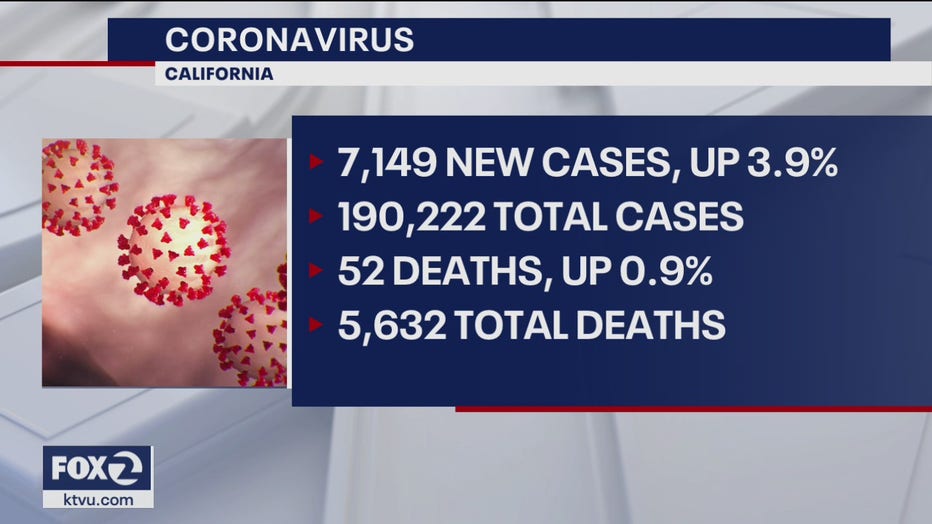 "We cannot do what we've continued to do for the last few weeks," Newsom said. "As we go back to our old habits, we are spreading the virus." 
Addressing the strong desire for playdates and get-togethers, Newsom said people have to remember to wear masks, stop hugging each other and keep at least six feet apart from each other. 
Newsom also apologized to the health directors, who have been getting death threats, including Santa Clara County Dr. Sara Cody, and those who have been forced to quit their jobs because some members of the public are angry at the shelter-in-place orders. 
And then he listed off a host of data to show why vigilance is necessary. 
On Monday, Newsom said there were 4,230 cases statewide, a number that shot up to 7,149 cases on Wednesday -- a 69% increase in two days. 
Newsom also pointed on the "positivity rate," which is down overall, but ticking upwards over the last week or so. 
During the beginning of the coronavirus outbreak in late March and early April, the rate was about 40 percent. Today it's about 5.6 percent.
And while the overall rate is down, Newsom noted that last week, the positivity rate was 4.8 percent. 
Hospitalizations have also increased by 29% increase over 14 days, he said.
This story was reported from Oakland, Calif. The Associated Press contributed to this report.