Niemi leads Sharks past Predators 2-0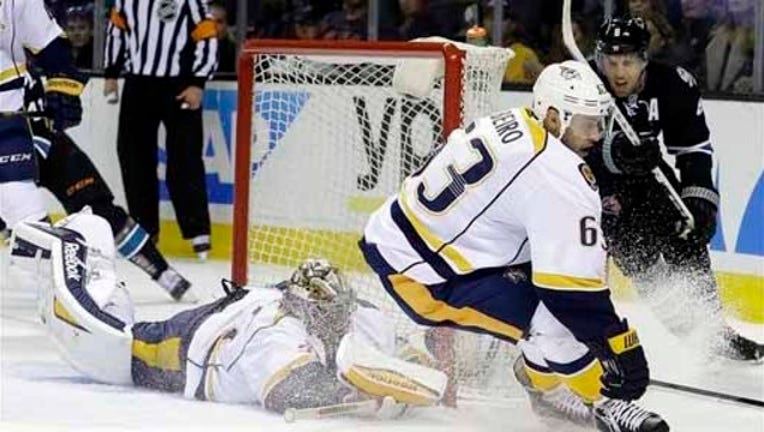 article
SAN JOSE, Calif. (AP) — Antti Niemi is playing his best hockey at the most important time of the season for the San Jose Sharks.
Niemi made 35 saves to shut out Nashville for the second time this season, and Tomas Hertl scored a power-play goal late in the second period to lead the Sharks to a 2-0 victory over the Predators on Thursday night.
Niemi has stopped 74 of 75 shots the past two games to help the Sharks move within three points of Los Angeles and Calgary, who currently hold the final two playoff spots in the Western Conference. Those teams each have a game in hand.
"Nemo was very strong again," coach Todd McLellan said. "He looks very confident, and the team feels good with him in there right now. He made some very difficult saves look easy. There wasn't a lot of leftovers laying around the crease areas."
Niemi followed up a 29-save performance in December with another strong game against Nashville to lift the Sharks to their fourth win in five games. Just as in that 2-0 win on Dec. 13, it was Hertl who delivered the winning goal against Pekka Rinne. Tommy Wingels added an empty-netter.
Rinne made 19 saves for the Predators, who have lost seven of eight games to fall into a tie for first in the Central Division with St. Louis. The Blues have two games in hand.
"It's still not good enough because we're not winning," captain Shea Weber said. "You can sit here and say 'good effort' all you want, but we need those two points to make it count."
Niemi followed an impressive 39-save performance on Monday against Pittsburgh with another big outing. He robbed Craig Smith while sprawled on the ice in the second period and made key saves on two third-period power plays for Nashville to protect the 1-0 lead.
Niemi later made a pad save on Mike Fisher, who came in alone short-handed with less than 2 minutes to play.
"They capitalized on the power play and we didn't," Nashville defenseman Roman Josi said. "It's so important to make your chance count. We just have to find a way to score goals."
The Sharks struggled to generate many shots against Rinne through most of the first two periods and looked discombobulated on their first three power plays that generated just two shots.
But McLellan sent out the second unit to start the man advantage after Mattias Ekholm was called for slashing Joe Pavelski late in the second period, and it immediately paid off.
Chris Tierney won the opening faceoff and got the puck back to Justin Braun, who put a shot on net. Hertl was there for the rebound and swept a backhand past Rinne for his first power-play goal since Nov. 1.
"The power play wasn't what we needed to do the first three times," Pavelski said. "We kept working and got another chance. They went out and really established the momentum for us. It was a big turning point in the game."
In fact, it was the first power-play goal scored by someone other than the five-man first unit since Melker Karlsson got one against the New York Rangers on Jan. 10. Wingels' empty-netter also came on the power play from the second unit.
The teams were scoreless in the first period despite Nashville outshooting San Jose 14-6, and the Sharks having a pair of power plays. San Jose had the best chances but Logan Couture and Tierney missed the net from in close, and Hertl had a goal waved off because he knocked Rinne into the net.