Nieto has 2 goals and assist as Sharks beat Canucks 6-2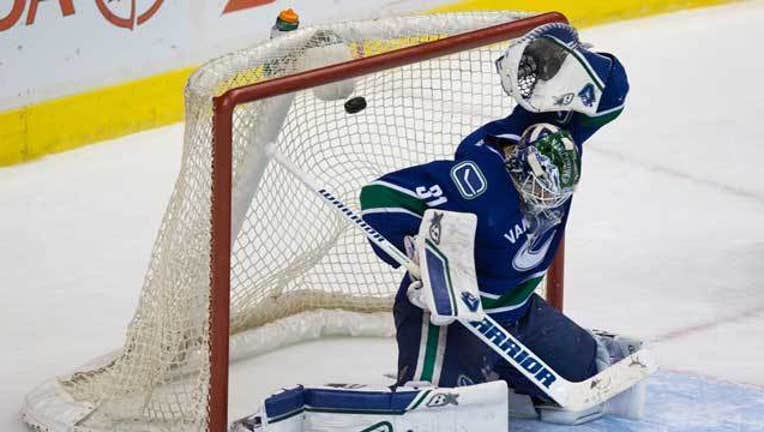 article
VANCOUVER, British Columbia (AP) -- Matt Nieto had two goals and an assist in leading the San Jose Sharks to a 6-2 victory over the Vancouver Canucks on Tuesday night.
Chris Tierney, Melker Karlsson, Logan Couture andMarc-Edouard Vlasic also scored for San Jose, which was coming off a 4-0 home win Monday against Montreal. The Sharks have won seven straight in Vancouver, including the postseason.
Antti Niemi made 26 saves for San Jose.
Henrik Sedin had both goals for Vancouver, which is second in the Pacific Division, three points ahead of San Jose, Los Angeles and Calgary.
Canucks goalie Jacob Markstrom had a rough return to the NHL. He allowed three goals on four shots before getting yanked in the first period.
Markstrom made his season debut, with starter Ryan Miller injured and backup Eddie Lack resting after giving up a combined 10 goals over his last two games,
On the Sharks' first shot, just more than three minutes in, Tierney recovered a Canucks turnover in the Vancouver zone and fired the puck over Markstrom's shoulder.
Karlsson scored on San Jose's second shot of the game when he backhanded the puck in while on his stomach during a goal-mouth scramble at 7:18.
Couture, on a give-and-go with Nieto, put in a rebound 27 seconds later to end Markstrom's night and bring in Lack, who finished with 23 saves on 24 shots.
The Canucks got on the board just a minute into the second while on the power play. Daniel Sedinbackhanded a pass to twin brother Henrik Sedin, who scored his 14th goal of the season. It was his 900th career NHL point.
The Sedins connected again at 9:12 of the second as Daniel found Henrik with a beautiful pass and the Vancouver captain converted his second of the game to cut the lead to 3-2.
The Sharks restored the two-goal advantage at 11:45 when Patrick Marleau stripped Daniel Sedin of the puck and dished to the slot, where Nieto rocketed a shot past Lack.
Vancouver finished the period with an extended 5-on-3 advantage, but couldn't capitalize.
Nieto and Vlasic both scored empty-net goals in the final 3 minutes to seal the win.
NOTES: Zack Kassian did not dress because of the flu. ... Injured NBA star Steve Nash dropped the ceremonial puck.