Nightclub lets San Francisco symphony tune in to young fans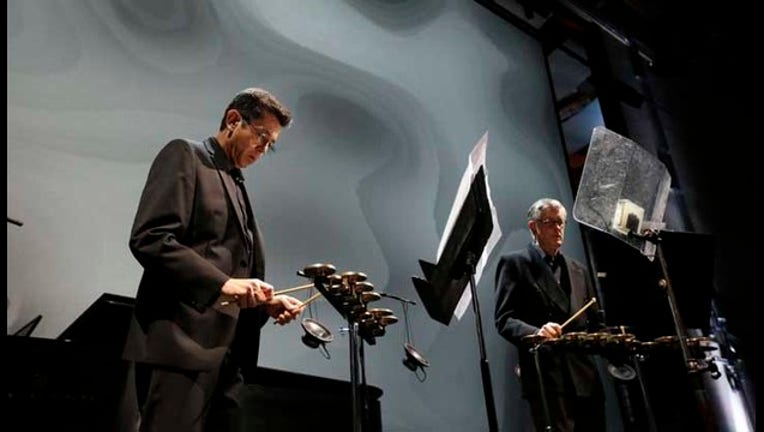 article
SAN FRANCISCO (AP) — A Vegas-style nightclub with high-tech light and sound, video screens and several stages has become San Francisco's hottest venue for classical music.
SoundBox is the San Francisco Symphony's latest effort to attract a younger audience as it faces dwindling ticket sales and an average attendee age of over 60. With sold-out performances that mix traditional and modern sounds in a casual, tech-friendly atmosphere, many say the city's symphony just hit the right note.
The nightclub built inside a cavernous rehearsal hall behind the imposing Davies Symphony Hall offers an alternative to the traditional concert hall experience.
It's a space in which the audience and musicians can explore a huge swath of music, said Michael Tilson Thomas, the San Francisco Symphony's music director.
"Defying expectations of a standard concert experience is really what this space is all about," said Brent Assink, the symphony's executive director.
On a recent evening, the nightclub, with high ceilings, bare walls and worn floors, was a lot like a trendy venue with the 20- and 30-something crowd mingling, lounging on comfy ottomans or sitting at high tables and talking by candlelight.
When the music started, the room fell silent and the audience was soon engrossed by two of the symphony's veteran percussionists who opened with a 12-minute tinkling piece on crotales, or antique cymbals, accompanied by a digital sound.
Musicians perform in casual clothes instead of tails or black gowns, and the audience wears bow ties, fedora hats or hooded sweatshirts and jeans. Mobile device use is encouraged. And instead of receiving a printed program, attendees can learn more about the performance by downloading the club's app.
SoundBox has a full bar serving fancy cocktails and gourmet finger foods that's open throughout the performance.
Despite the club atmosphere and a recent sellout crowd of 450, many of them standing room only, the performance felt intimate, with many attendees sitting on cushions a few feet away from the performers.
"Sometimes we get used to our technology. We're so used to our iPads and our iPods and DJ music, and you forget that all this started with these percussions, and strings and drums," said Nishat Jannah, a 30-year-old hairstylist from San Francisco who has attended two performances.
"It's fascinating to have a venue where you can feel at home and have something different," Jannah said.
With its stages backed by video screens, the SoundBox uses technology to draw in the audience, opening each performance with a short video presentation. The venue also takes into account the shorter attention spans of the younger generations, and the two-hour productions include two leisurely intermissions.
The symphony's first four-month season at the club, which included nine performances and ended in April, was sold out, in part due to tickets selling at $25. The second season starts in December.
"I was 10 feet away from people who are rocking these instruments, and you appreciate (the music) more as opposed to seeing them from normally where I would be — back in the balcony — because that's what I could afford pricewise," said Nathan Ornell, 24.
Here, "you can see the sweat in their face and how passionate they are," he said.