No. 5 Wildcats pull away for 73-51 win over Bears at Pac-12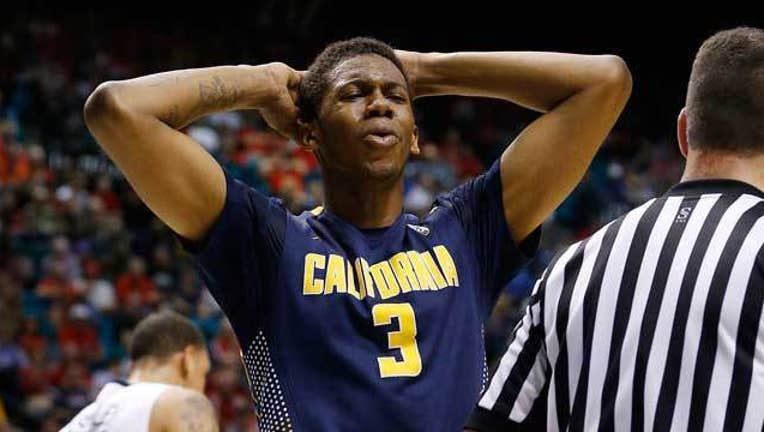 article
LAS VEGAS (AP) — Arizona was unable to get much of a flow against California's physical defense in the first half. Once the Wildcats got rolling, there was no stopping them.
Stanley Johnson had 19 points, Brandon Ashley added 15 and No. 5 Arizona ran away from Cal in the second half for a 73-51 victory in the Pac-12 tournament quarterfinals Thursday.
"The familiarity, the intensity (of conference tournaments) can sometimes catch you off-guard," Arizona coach Sean Miller said. "I don't know if it necessarily caught us off-guard, in the first half, but we really regained who we are in the second half."
Top-seeded Arizona (29-3) had trouble shaking the Bears in a rough first half before taking control with a run sparked by its defense early in the second.
Rondae Hollis-Jefferson had 10 points, six rebounds and was the catalyst forArizona's defense.
T.J. McConnell added 13 points and six rebounds for the Wildcats, who move on to face the winner between USC and UCLA in Friday's semifinals
"They played well in the first half and we kind of stagnated," McConnell said. "Credit Cal for that, but we made the plays when we needed to."
No. 8 seed Cal (18-15) played better than it did in two blowout losses toArizona during the regular season, but faded after the Wildcats made their second-half run.
Tyrone Wallace had 19 points to lead the Bears, who shot 34 percent. David Kravish had 12 rebounds, but was held to six points on 3-of-13 shooting.
"It's tough when you don't establish a post presence," Cal coach Cuonzo Martin said. "We need spacing around the floor and move the ball out of the post to find shooters."
Arizona won its second straight Pac-12 regular-season title and is trying to add something that had been elusive: The conference tournament title.
The Wildcats have reached the title game three times in Miller's six seasons, but have not won the championship since 2002, when Luke Walton was tournament MVP.
The first step was to knock off Cal, a team they beat by a combined 62 points in two games this season.
The Bears rolled over Washington State in the opening round with an impressive offensive show and stood toe to toe with Arizona in a physical first half.
Cal didn't shoot particularly well, but limited Arizona's second chances and was steady defensively to stay within 33-27 at halftime.
"We were battling. When shots went up, we were trying to find bodes," Wallace said. "On the offensive end we were able to get some shots down."
Hollis-Jefferson was the spark for Arizona. The athletic forward is always revved up, but seemed to have it in an extra gear against Cal.
He soared in for a tomahawk dunk over Kingsley Okoroh, blocked Wallace from behind and guarded different players on three straight possessions during one stretch.
Hollis-Jefferson also got tangled with Dwight Tarwater, which led to a shove and some jawing, and had to be escorted away by the officials after colliding with two players diving for a loose ball.
Hollis-Jefferson continued to fight for every inch and loose ball, and had a dunk in transition during a 9-0 run that put Arizona up 46-32.
"Rondae does everything for us," Miller said. "He made some big plays defensively for us and a couple times in transition really ignited us."
Arizona stretched the lead after its early run, smothering the Bears defensively to reach the tournament semifinals for the fifth straight year.
TIP INS
Cal: Kravish and Ashley were called for double technical fouls late in the second half after getting tangled and shoving each other. ... The Bears hit 4 of 14 from 3-point range.
Arizona: The Wildcats made 6 of 11 from 3-point range. ... Johnson and Ashley each had seven rebounds.
UP NEXT:
Cal has to wait to see if it will get a postseason bid.
Arizona will face the Southern California-UCLA winner in Friday's semifinals.