North Bay fire victim has beloved, discontinued appliance replaced in last ditch effort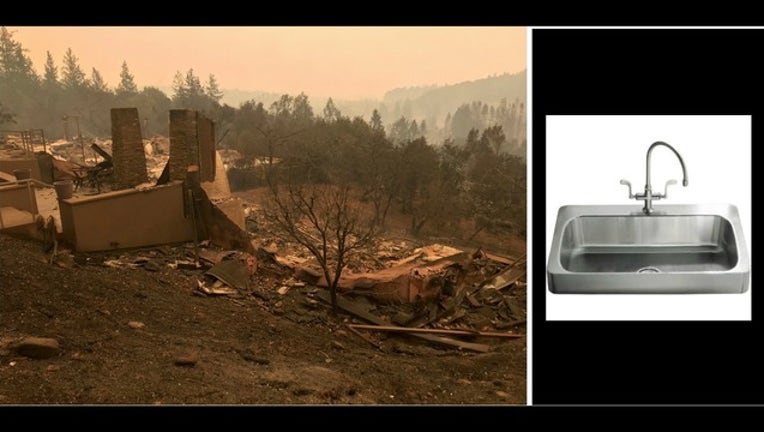 OAKLAND, Calif. (KTVU) - A Wisconsin-based, American manufacturing company founded in the 19th century issued a small act of kindness that meant the world to a North Bay family that lost their home in the devastating wildfires last October. 
Kathy Culley loved her kitchen sink. It was a fixture in the home she and her husband built in Santa Rosa's Fountaingrove neighborhood – which was severely scorched by the blaze – that she missed dearly. And when all restoration resources were exhausted, she reached out to the president of Kohler Co., the maker of her beloved sink, and received news that until then was buried by letdown. 
The Culley's lost everything to the Tubbs fire. They made it off their property safely with their dogs, a little bit of clothes, family photos and passports. After the annihilation, they battled with finding a rental and gathering insurance information, all the while assuring loved ones they were safe. 
"The weeks [and] months that followed were all about trying to get some sense of normalcy in a house that wasn't ours," Culley said. "Adjusting to life in a very different environment has taken a long time. And, in fact, we still aren't feeling settled." 
And as they set up their rental, which required purchasing everything from salt and pepper shakers to salt and pepper to fill the shakers, Culley longed for her beloved sink. She learned early on the sink had been discontinued. Devastated, she searched online and found one on eBay. 
"I froze when I saw it, then I bought it for $800," Culley said, "I would have paid three times that amount to have it back."
But after purchasing the sink the seller contacted her an hour later and said he actually didn't have it. Culley was devastated.
She spoke with her husband about the despondency. The two own KC's American Kitchen in Windsor. In fact, Kathy Culley believes her restaurant background has a lot to do with her cherished sink, which was sat above the countertop – not even partially submerged – with a commercial-like look. Following advice from her husband, Culley decided to write to the president of Kohler Co.
And then a month later, David Kohler, President of Kohler Co. in Kohler, Wisconsin, instructed someone within the company to find the sink somewhere in their headquarters. The employee found a demo sink that had been stored away. Turns out it was the only one left of that model. 
"I almost cried when they called me," Culley said. "Faith in humanity restored, and I just believe that Kohler deserves a big shout out for this small act of kindness that was huge to me."
Beyond going out of their way to track the sink down, Kohler gave it to Culley for free and handled the shipping costs. 
"So kind," Culley said. "So generous." 
The Culley's are moving forward with rebuilding their home. They expect to have the foundation poured within a couple weeks. And while a sink is a small piece of a household rebuild, it now represents human kindness, in coordination with comfort and familiarity.