Oakland council committee joins growing chorus calling for audit of Alameda County sheriff's office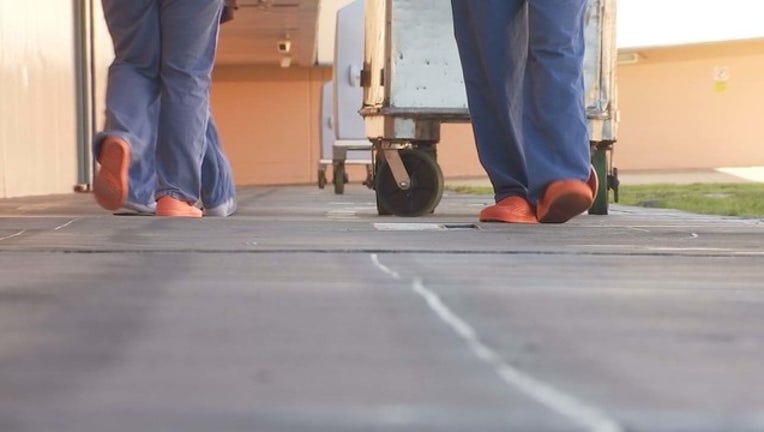 article
OAKLAND, Calif. (KTVU) - An Oakland city councilwoman has joined a chorus of lawmakers and civil rights activists in calling for an independent audit of the Alameda County Sheriff's Office.
Nikki Fortunato Bas' request also follows a 2 Investigates report that detailed the alleged mistreatment of women at Santa Rita Jail, among other findings. Bas is spearheading the effort to get the Alameda County Board of Supervisors to allocate money next year for an independent performance and financial audit of the sheriff's office. 
Women sue Santa Rita over humiliating treatment; sheriff says facility is 'best big jail in the nation' 
The resolution, which passed unanimously on Tuesday at the Public Safety Committee, now echoes similar requests made by Calif. Sen. Nancy Skinner (D-Berkeley) and the Berkeley City Council. The resolution, which is mostly symbolic although there is a significant number of people arrested in Oakland who end up at Santa Rita Jail, is scheduled to be voted on by the full city council on May 21. The resolution was also co-sponsored by Oakland Mayor Libby Schaaf and City Councilman Dan Kalb. 
In March, Sheriff Gregory Ahern told 2 Investigates that he welcomed any audit and his spokesman, Sgt. Ray Kelly, added that the sheriff's budget is ballooning because of the rising costs of housing inmates, and paying employee salaries and benefits. Kelly said a financial audit will likely find that the Alameda County Sheriff's Office actually needs more money. Last month, Ahern decided to close the Glenn E. Dyer Jail in Oakland as a cost-cutting measure.
And on Tuesday, Kelly reiterated that point: "We welcome any audit. We are audited routinely by multiple entities. We stand by what we said previously."
Richard Valle, the president of the Board of Supervisors, had previously expressed concern over how much this type of audit would cost, and told 2 Investigates in March that a smaller scale audit regarding the efficacy of program services at Santa Rita Jail is already being conducted. Valle did not immediately return comment by email or phone on Tuesday, as the board was on a retreat. 
Senator calls for audit of sheriff, jail 
Bas countered that a fuller, independent audit will "ensure transparency" as to how county dollars are being spent and hopefully prevent more human rights violations at the jail. 
The councilwoman cited the 33 in-custody jail deaths since 2013, a fact highlighted in an East Bay Express story titled, "The Most Dangerous Place in Alameda County," and the 29 women who have sued the sheriff's in the last five years, alleging abuse and mistreatment in various civil lawsuits. That includes Candace Steele, a pregnant mother who gave birth alone in an isolation cell while guards initially ignored her screams, a story detailed in by 2 Investigates in November 2018.
At the time, Ahern disputed the mistreatment and said he runs "the best big jail in the nation." 
Ahern also pointed to sheriff's department data showing that the majority of deaths were a result of suicide or natural causes. And the data also shows the number of deaths has been trending downward.
Bas noted that the Alameda County jail population has decreased significantly over the past 10 years, but the Board of Supervisors has increased the sheriff's budget by $144 million, according to data compiled by the Ella Baker Center. 
That's why, Bas and her colleagues are now asking their county counterparts to take a stronger look at that data from an outside auditor.
"A strong performance audit will generate crucial evaluative data that can thoroughly assess all current practices and policies while provide lifesaving recommendations for implementation," she wrote in her memo to her colleagues. "An independent audit of the [sheriff's office] would shine a light on issues that must be addressed ... in order to increase the safety and wellbeing of the Oakland community."