Oakland police release log of events from BBQ controversy at Lake Merritt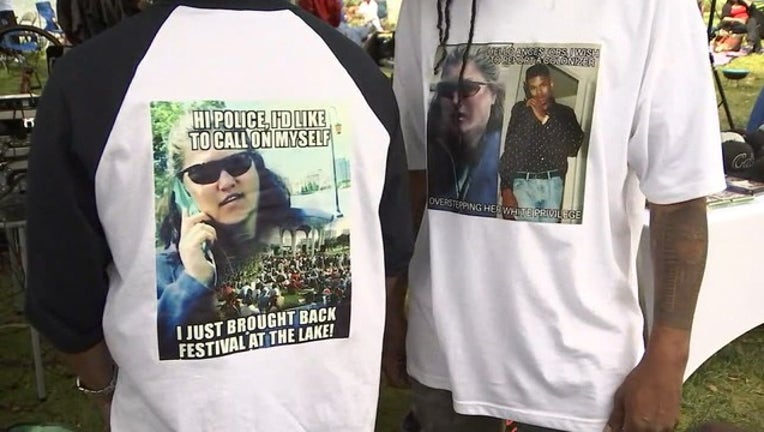 article
OAKLAND, Calif. - Oakland police on Thursday released the log of events stemming from what is now a national BBQ controversy, after KTVU filed a California Public Records Act seeking the information.
Most of what is in the brief April 29 log has already been made public. But there are a few new highlights that include:
The reporting party, Jennifer Schulte, felt the woman who took the cell phone video of her, Michelle Snider, was harassing her. The report states that Snider shoved Schulte. (On a video that Snider took, she makes sure to not touch Schulte and states so repeatedly.)
Snider felt Schulte was "discriminating" against her husband, Kenzie Smith and friend Onsayo Abrams, for using a charcoal grill at the lake because they are African-American.
Police evaluated Schulte for a 5150 psychiatric hold, but determined "she didn't fit the criteria." A 5150 in California allows a police officer or another professional to take a person into custody for up to 72 hours to evaluate their mental state and whether they are a danger to themselves or to others.
The "weapon" listed in the log was a "charcoal grill in a non-designated area." 
The entire ordeal took nearly three hours.
Read the Oakland police report when Jennifer Schulte called 911 
KTVU  has tried to contact Schulte, whose LinkedIn profile has now been deleted, to no avail. Other media outlets have tried to reach her too, also with no success. Her online profile stated she attended Stanford University and works for an environmental firm in Oakland. 
The log, however, outlines the official timeline of the report, much of which has already been told through Snider's now-viral cell phone video. Snider went down to the lake on that Sunday after her husband warned her that he was being harassed by Schulte and that if he ended up in jail, Schulte was the reason why. %INLINE%
The spot where they were on Lake Merritt does not allow for charcoal grills, and Schulte had called 911 to report the two men, who are African-American. On Snider's video, Schulte insists that their race didn't matter, but off-camera, the men said she called them the N-word and told them to get out of the park.
Since then, Schulte has become the butt of many jokes across the country and the city of Oakland has responded with parties and a massive "BBQing While Black" cookout last weekend. This week, Oakland City Councilwoman Rebecca Kaplan nominated Smith for a post on the city's Parks and Recreation Advisory Commission.
Here are some of the highlights of the police log:
11:22 a.m. The first call to police was initiated. WEAPONS (sic) IS USING A CHARCOAL GRILL IN AN (sic) NON-DESIGNATED AREA at 2324 Lakeshore Ave. near Cleveland Cascade. 
1:08 p.m. RP IN 415 WITH SUSP (Reporting party is in a disturbance with the suspect.)
1:08 p.m. SUSP FOLLOWING RP (Suspect following reporting party.)
1:08 p.m. Priority changes from 3 to 1.
1:11 p.m. RP (Reporting party) SOUNDS 5150 (police code for when people are put into an involuntary psychiatric hold)
1:14 p.m. Reporting party can hear suspect following her. SUSP (suspect) MAD THAT RP (reporting party)  WAS HARRASSING (sic) HER OVER HER BBQ.
1:18 p.m. Argument moves to Quik Stop at Brooklyn and Merritt avenues.
1:17 p.m. SUSP REPEATING THAT RP WAS HARRASSING (sic) HER BBQ FOR 2 HRS -- NOW RP UPSET. SUSP IS CONFRONTING HER.
1:18 p.m.  2 FW (two white females) ARGUING AT QUIK STOP.
1:35 p.m. upon arrival, observed RP SCHULTE, Jennifer walk out of Quik Stop followed by FW (female white), later identified as SNIDER, Michelle, who was filming RP with cell phone.
1:38 p.m. SCHULTE stated that she placed a call for service of OMC violation and waited for 2 hrs. She then decided to confront the violator who was using a charcoal grill inside a prohibited area. SNIDER who is the violator's wife, thought that RP was discriminating against her husband. SNIDER shoved SCHULTE and followed her to document. SCHULTE then called 911. SCHULTE  wanted SNIDER to stop following her. SCHULTE wanted the incident documented and wanted the violator removed.
1:42 p.m. SCHULTE wanted to complain against the call taker. I called Sgt. Jew who responded to the scene. I asked SNIDER to leave the area which she did.
1:44 p.m. I evaluated SCHULTE for W&I 5150 hold, but she did not fit the criteria.
2:13 p.m. "Made contact with a group of citizens who were using charcoal two grills. (Sic.) I advised them of what had occurred and the applicable violation. The citizens agreed to pack up the grills. 
3:01 p.m. Incident closed.