Oakland port approves exclusive negotiations with A's for Howard Terminal site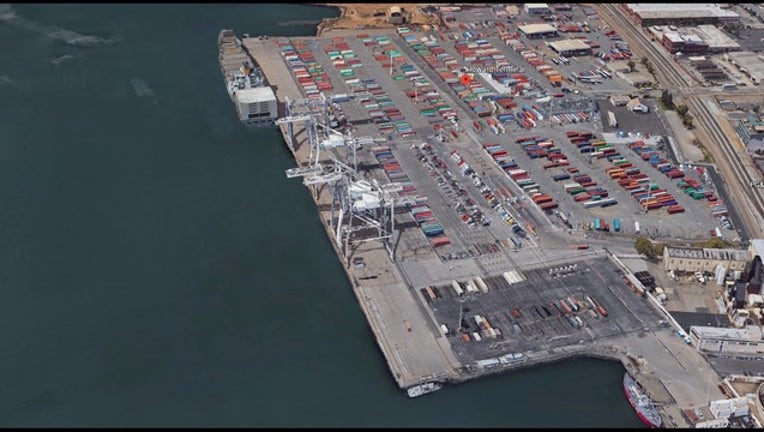 article
OAKLAND, Calif. (KTVU/BCN) - Port of Oakland commissioners on Thursday approved a one-year agreement for exclusive negotiations with the Oakland A's baseball team about the Howard Terminal site as the possible location for a new ballpark, port officials said today.
"Today's unanimous vote by the Port Commissioners brings us all one step closer to our shared goal -- watching our A's play ball in Oakland for generations to com," said Oakland Mayor Libby Schaaf. "Through these negotiations I'll remain focused on keeping the A's rooted in Oakland in a way that's responsible to our taxpayers and enhances neighborhood vitality."
The waterfront Howard Terminal, located northwest of Jack London Square, is one of two sites the A's are looking at for a new ballpark. The other is the team's current home at the Oakland Coliseum.
The A's are putting up $100,000 as part of the negotiating agreement, and the deposit is refundable if negotiations terminate before the year is up, according to the port.
Oakland city officials said last month that they had entered into a similar exclusive negotiating agreement with the A's about Howard Terminal as well as the Coliseum site.
A's president Dave Kaval has said the team is willing to buy the entire 120-acre Coliseum complex in exchange for paying the more than $135 million currently owed by the city and Alameda County at the site.
The Coliseum is one of the oldest stadiums in Major League Baseball and the complex also includes Oracle Arena, home of the Golden State Warriors, although the basketball team will be moving across the Bay to San Francisco next year.
The 60-acre Howard Terminal site currently supports Oakland maritime operations including long-term vessel berthing, container and truck parking and storage, and longshoremen training and administration, according to the port.
Last September, the A's announced they wanted to build the new stadium near Laney College and Lake Merritt, but the Peralta Community College District's board of trustees eliminated that option in December, saying it would no longer negotiate a sale of the site to the team.
Mayor Schaaf has said she would prefer a new stadium being built at the Howard Terminal site rather than the Coliseum site but said "either site presents an opportunity."
Kaval said last month that he hopes a decision on a new stadium site is made by the end of the year so the new ballpark can be ready in time for the 2023 season.
The A's are currently 13-12 this season, 3.5 games behind the first-place Houston Astros.