Oakland teachers union creates massive rift over statement regarding Israel and Palestine
OAKLAND, Calif. - The Oakland Education Association created a massive rift after putting out what many see as an inflammatory anti-Israel statement that angered teachers who didn't agree with the message and made many Jewish community members feel upset and scared.  
The message that the OEA executive board posted on Friday – which has since been amended – stated that while they mourn the loss of "both Palestinian and Israeli lives," the union also stated that they "unequivocally condemn the 75-year-long illegal military occupation of Palestine."  The union made no reference specifically to the Oct. 7 Hamas terrorist attacks. 
The message put the full blame of the current conflict on Israel, without noting any nuances or the complicated history that Israelis and Palestinians share.
"The Israeli government created an apartheid state and the Israeli government leaders have espoused genocidal rhetoric and policies against the people of Palestine," the original OEA post stated. "As educators of a diverse community here in Oakland, including those with family and friends directly impacted, our conscience demands that we say clearly that OEA calls for a ceasefire and an end to the occupation of Palestine."
Sara Holderfield said as a teacher union representative at Chabot Elementary School, she would have never approved the message to go out "because of its divisiveness in one of the most diverse cities in the world."
She added that global politics should not be what the union should be wading into anyway. 
"We should be focused on keeping our students and staff safe and providing an excellent education for all students. Full stop," she said in an interview on Tuesday. "We have no business taking a stand on complex political issues that touch the lives of so many in our community."
Holderfield said that the union should take down its "dangerous message" as well as what she called the one-sided antisemitic curriculum the union is urging educators to teach, called Teach Palestine. 
It's not as if parents don't want their children to learn about the conflict; it's that they think this version of history is flawed and biased.
As of Tuesday morning, OEA's post had been taken down from Instagram, but was still up on Facebook, until that too, was amended. 
KTVU contacted OEA president Ismael Armendariz, vice president Kampala Taiz-Rancifer and two other union leadership members by email on Monday and Tuesday.
None responded to requests to speak for an interview. 
But in an email, OEA issued another statement, acknowledging that the union's executive board had made a "harmful mistake."
The new statement said the union "unequivocally" condemns antisemitism and Islamophobia, calls for the release of hostages held by Hamas and advocates for a ceasefire. 
However, the union also did not retract any of its previous statements that blame Israel and urge the Teach Palestine curriculum, and they posted this new statement to the OEA Facebook page. 
Holderfield said the union leadership should consider resigning because of their "egregious judgment."
The Oakland Unified District distanced itself from the union's statement and tried to smooth over the situation.
"OUSD disavows the various polarizing statements on the conflict issued by organizations in the OUSD community this past weekend. During these heartbreaking times, we are focused on supporting all members of our community affected by human tragedy," the district statement read in part. 
Many in the Jewish community who are worried about the rise in antisemitism – evidenced by graffiti in San Francisco and Oakland that read "Kill the Jews" and "Fuck Israel" – are also well aware that there is a rise in Islamophobia, too. And they denounce hatred on both sides. 
Indeed, Muslims and Arabs have felt ostracized in schools, too. 
In Los Angeles, for example, a Muslim organization condemned public school officials for "not acknowledging the dispossession of the Palestinian people," after a "We Stand With Israel" message was posted on the district's official website.
And in Oakland, there are those who support OEA's original message, including Hatim Nasser, who is from Yemen and is the father of a student at Sankofa Elementary. 
"We need to hear about the Palestinian's turmoil," he said. "And all of the Israeli atrocities." 
But what many in the Bay Area Jewish community want is a recognition that neither side should be demonized. And teachers, they say, especially should not perpetuate hatred and historical inaccuracies. 
A teacher at Montera Middle School in Oakland, for example, had a poster hanging in the classroom that reads: "From the River to the Sea. Palestine Will be Set Free."
That chant is a common call-to-arms for pro-Palestinian activists especially on college campuses, explains the American Jewish Committee. The slogan calls for the establishment of a state of Palestine from the Jordan River to the Mediterranean Sea, erasing the state of Israel and its people. 
The poster is especially upsetting to one student in the class, whose grandfather was forced to leave Egypt in the 1950s because he was Jewish. He moved to Israel for his own safety. 
The student can no longer make eye contact with the teacher.
Oakland parent Megan Bacigalupi said that this is "certainly not welcoming language for Jewish students to see in their classroom" and the student and their parent have been "very afraid" to speak up to the teacher. 
"This is obviously very troubling to Jewish families," said Bacigalupi, who shared a photo of the poster with KTVU. "And no one has responded, not the principal or the superintendent." 
As of late Tuesday afternoon, a district spokesman said the poster had been taken down. 
In the meantime, she and other parents have created a parents WhatsApp group to respond to the union statement and other acts of antisemitism that make their children feel unsafe. 
"The purpose is to be in community with each other when people are upset," she said. "This is teachers and families coming together, primarily Jewish but non-Jewish as well."
 Lisa Fernandez is a reporter for KTVU. Email Lisa at lisa.fernandez@fox.com or call her at 510-874-0139. Or follow her on Twitter @ljfernandez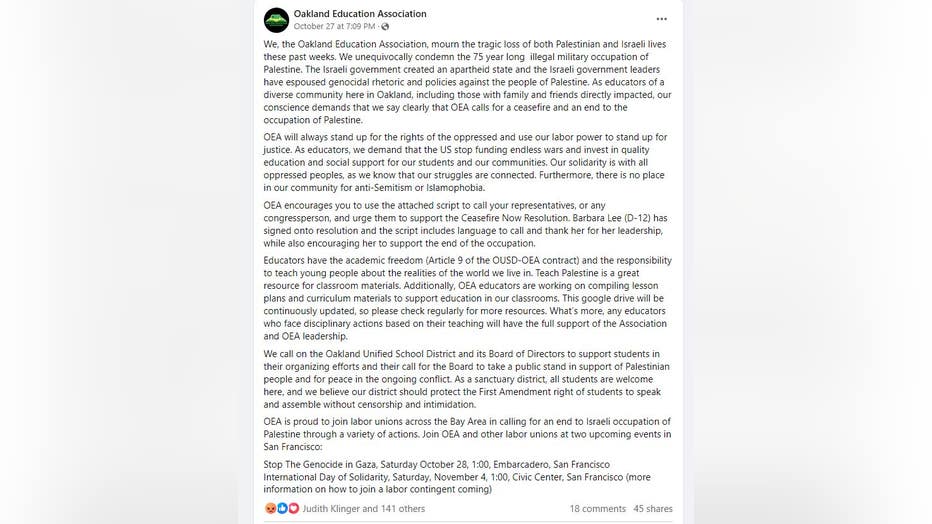 OEA statement on Israel and Palestine.