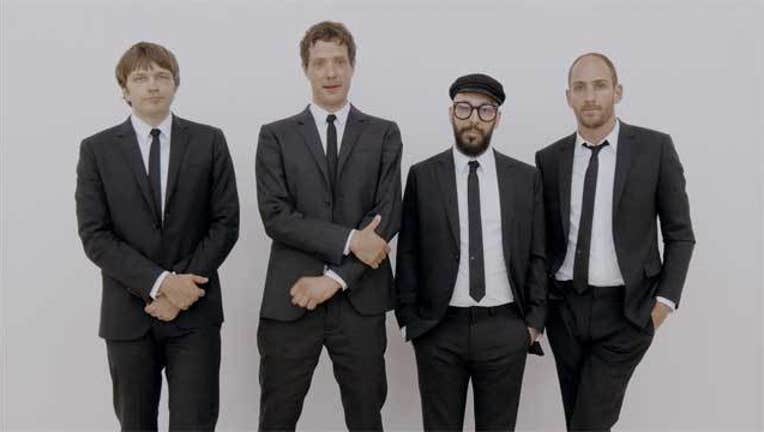 article
Kulash would relocate to Chicago to join Norwind, keyboardist/guitarist Andy Duncan and drummer Dan Konopka in 1998 to form OK Go. The band would develop a regional following, serve as the house band for several live performances of NPR radio show This American Life with host Ira Glass and refine it's punchy style of hook-heavy pop on a pair of demos that eventually scored the quartet a deal with Capitol Records. 
The band got some exposure when the single "Get Over It" from their eponymous 2002 debut was featured on the soundtrack of the EA video games Triple Play Baseball 2002 and Madden NFL 2003, but it was the clever video to the track that would point the way to the key to their future success. The band's sophomore album Oh No in 2005 got a boost when the goofy clip for the single "A Million Ways" featuring the band members performing a choreographed dance in a backyard went viral.
After the success of that breakout single, OK Go shot the moon with the massive popularity of the YouTube video for "Here It Goes Again" with the band's synchronized treadmill dance routine racking up tens of millions of views. The ubiquitous clip and song elevated the quartet to theater headlining status. Despite the departure of Duncan after that album and splitting with Capitol following the release of their third effort Of the Blue Colour of Sky, OK Go has remained a perennial summer festival favorite and touring concert draw thanks to the band's high-energy live performances and consistently innovative videos.
Late last year, OK Go released it's latest album, the electronic-tinged Hungry Ghosts produced by noted studio maven Dave Fridmann (The Flaming Lips, Weezer, Tame Impala and many others) that was met with glowing reviews. The band also notched another hit with its contribution to the "Hot Tub Time Machine 2" soundtrack, the hard-hitting, profane pop gem "You're a F--king Nerd and No One Likes You." OK Go headlines two shows in the Bay Area. LA-based lo-fi psych-pop band White Arrows opens both shows. 
OK Go
Friday, March 20, 8 p.m. $20-$22
The Catalyst
Saturday, March 21, 8 p.m. $25-$35
The Warfield