'A best friend just like him': One-eared shelter dog tears ear off his favorite stuffed toy
article
RALEIGH, N.C. - A shelter dog in North Carolina is melting hearts on social media with his favorite stuffed toy.
The SPCA of Wake County in Raleigh said Bruno "came from a difficult situation" and was chained up outside his entire life — "freezing winters, hot NC summers, all of it." He lost one of his ears when he was attacked by another dog and couldn't get away while chained up.
"You would never know he had such a tough start to life — despite his pouty eyes, he's a very happy and loving guy, and his tail absolutely never stops wagging! He's well-behaved, cuddly, and very smart," SPCA workers told FOX TV Stations.
"Despite being attacked, he still likes other dogs, and he loves every person he meets. He's got a big heart and a forgiving soul."
READ MORE: Abandoned dog found with handwritten note reunites with owner
At the shelter, when a staff member went to Bruno's cage to check on him one day, they found that he tore one of the ears off his favorite stuffed toy — "the same ear he's missing himself." The staff member took photos to share the sweet moment.
"Bruno knows there's nothing wrong with him, and now he has a best friend just like him to prove it," the shelter said on Facebook. "You're perfect just the way you are, Bruno."
The post, which was shared tens of thousands of times, had several comments from people interested in taking Bruno home. Bruno was so popular, he "maxed out" on pending adoptions and went home with his future family a few days after going viral.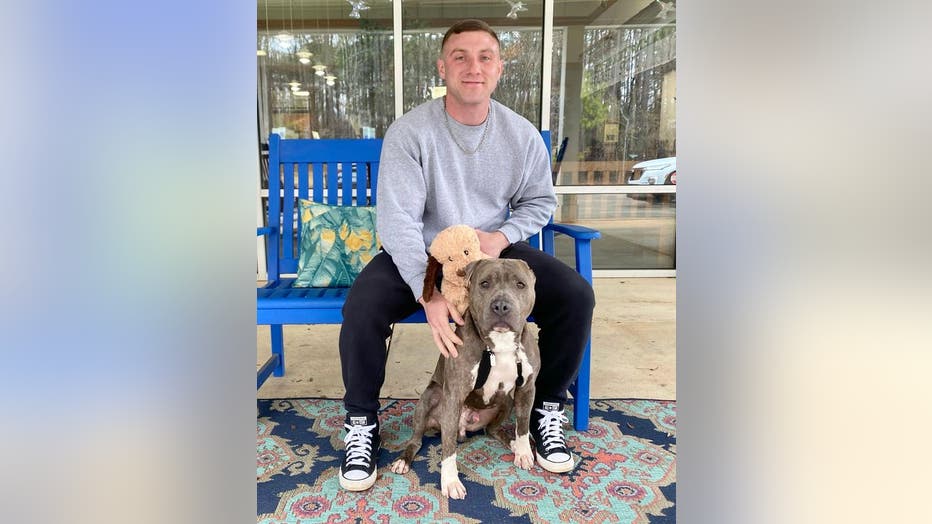 Bruno with his new family (SPCA of Wake County)
Bruno was diagnosed with heartworms and is being treated by the SPCA of Wake County thanks to donations.
"He'll be in a foster period for the next couple of months while we provide that lifesaving heartworm treatment, but once his treatment is complete, his adoption will be official," the shelter said.