Pacific cruise liner brawl involving 23 family members sends guests fleeing to cabins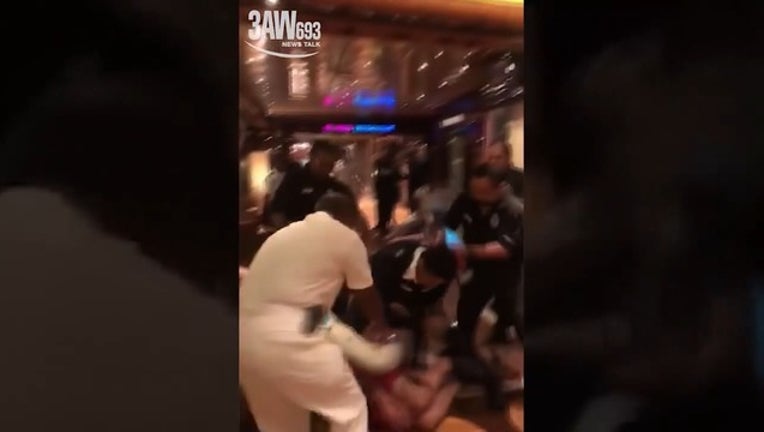 article
MELBOURNE, Australia (AP) - A South Pacific cruise was interrupted by brawls apparently caused by a 23-member family who threw punches at other passengers, some of whom said they locked themselves in cabins to escape three days of violence.
The Carnival Legend arrived in its home port of Melbourne on Saturday, a day after a family was offloaded in an unscheduled stop in Eden, New South Wales in Australia. Police said they were investigating the incident and the operator apologized for the "disruptive behavior" by the group that was removed from the cruise liner.
The "big Italian family" spent days attacking Australians aboard the ship, with people "getting strangled and punched up," passenger Lisa Bolitho told reporters.
"Very violent, they were full-on attacks," she said.
She also questioned the ship's management, quoting the captain as saying, "'What do you want me to do about it - throw them overboard?'"
Cellphone video footage purportedly of the brawl on Friday shows security guards fighting and trying to separate passengers amid shouting and kicking.
Bolitho's son Jarrah said he was among those targeted and fled and locked himself in the cabin with his mother.
"I was watching the fight and one guy came up to me and said 'Do you want to go too bro?'" he said, adding the offenders were in their late teens and early 20s. "My mum had to drag me away from it all. They were trying to pick on any Aussie they could find."
Carnival Cruise Line said it was offering guests a 25 percent future cruise credit as a "goodwill gesture" but some passengers criticized the offer.
"I won't be travelling Carnival ever again so a 25 percent off a future cruise in my eyes is unacceptable," Mark Morrison said.
The cruise liner with more than 2,000 passengers was on a 10-day trip from Melbourne to New Caledonia, a French territory in the South Pacific.